Secret White House Coronavirus Task Force Reports Contradict Public Claims by Trump, Pence
As the White House repeatedly downplayed the state of the pandemic throughout the summer and pushed for states to rapidly reopen, its own coronavirus task force was quietly sending reports to states that directly contradicted the public remarks offered by President Donald Trump and Vice President Mike Pence, showed documents that were unveiled Monday by a congressional panel.
The House Select Subcommittee on the Coronavirus Crisis released eight reports, ranging from June 23 to August 9, from the White House Coronavirus Task Force that were provided to states.
The reports, which were not previously available to the public but some of which were previously published by Public Integrity, show that while Trump and Pence publicly urged reopenings and tried to quell fears by saying the resurgence of the virus was "overblown" and that it is "going to disappear," top health officials within the administration warned "red zone" states about increased spread and advised specific mitigation efforts that often went ignored.
Further, the Democratic-led committee concluded, "many states are still failing to comply with key Task Force recommendations, including some recommendations first made nearly two months ago."
"Rather than being straight with the American people and creating a national plan to fix the problem," Majority Whip James Clyburn (D-S.C.), head of the committee, said in a statement, "the president and his enablers kept these alarming reports private while publicly downplaying the threat to millions of Americans."
The panel specifically references four states—Florida, Georgia, Tennessee and Oklahoma—that it said "acknowledged" receiving the private reports and recommendations, yet largely ignored them by not "implementing additional public health measures recommended by the Task Force to stop the spread of the virus."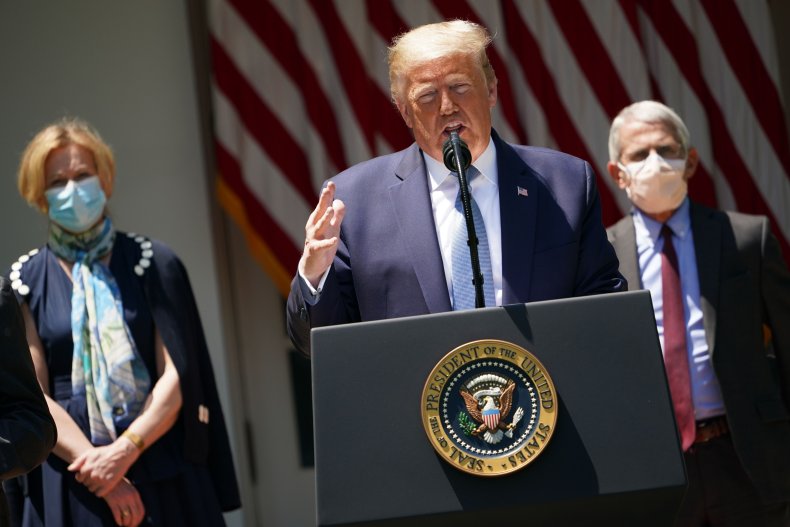 The committee's top Republican, House Minority Whip Steve Scalise (R-La.), described the panel's release of the task force reports as "another phony scandal" from his Democratic colleagues. He said the state coronavirus data has been available and failed to unearth any new information, adding that Democrats should work with Republicans "rather than playing politics during the pandemic."
"At no point in the Democrats' latest fake news do they acknowledge that cases continue to decline, testing continues to increase, therapies continue to improve and vaccine trials are proceeding at an historic pace," Scalise said in a statement. "President Trump is leading the national coronavirus response and is empowering state and local officials to take the actions needed to best protect the lives of those residing within their borders."
The earliest White House task force report to states on June 23 said that seven states were in a "red zone" and that new cases were up by 70 percent in Arizona, 72 percent in Texas, 87 percent in Florida, 93 percent in Oklahoma and 134 percent in Idaho. One week earlier, on June 16, Pence penned an op-ed that "panic is overblown" about a second wave.
A July 5 report said 15 states were in the "red zone" and that Florida "has seen a significant increase in new cases and a significant increase in testing positivity over the past week continuing from the previous 4 weeks." Two days later, on July 7, Trump rebuked a grim assessment by Dr. Anthony Fauci, a task force member and the country's top infectious disease expert, by saying that "we've done a good job" and "I think we are going to be in two, three, four weeks, by the time we next speak, I think we're going to be in very good shape."
A July 14 report said 19 states were in the "red zone" and that "more testing is needed." That same day, Trump inaccurately claimed that "no other country tests like us. In fact, I could say it's working too much. It's working too well."
An August 2 report said 23 states were in the "red zone" and warned about the spread in Louisiana, South Carolina and Oklahoma. The week prior, on July 28, Trump told Axios that "it's under control as much as you can control it."
"They are dying, that's true. And you have—it is what it is," the president continued. "But that doesn't mean we aren't doing everything we can."
On August 3, Trump tweeted that "cases up because of BIG Testing! Much of our Country is doing very well. Open the Schools!"
An August 9 report showed that 48 states and the District of Columbia were in red or yellow zones.
The congressional panel concluded that many states refused to implement recommendations from the White House Coronavirus Task Force meant to curb the spread.
In a letter to the coronavirus subcommittee, Georgia Governor Brian Kemp (R), who recently dropped a lawsuit against Atlanta Mayor Kesha Lance Bottoms (D) over a mask mandate, wrote that Americans in both Georgia and the U.S. "grew complacent."
"Summer holidays coupled with televised protests caused many to let their guard down and abandon guidance provided by public health officials," Kemp wrote.
In other examples, the committee noted that Florida has declined to initiate a mask mandate, despite the task force's June 29 advice to do so; Tennessee refused a mask mandate and to close bars and limit restaurant activity in red and yellow zones; and Oklahoma rebuffed the task force's mask mandate recommendation.
In total, the committee concluded after reviewing the task force reports, "14 states that have been in the 'red zone' since June 23 have refused to impose statewide mask mandates per Task Force's recommendations—including states with severe case spikes like Arizona, Florida, Georgia, Oklahoma, South Carolina, and Tennessee."