Secretary Blinken Reassures Ukraine's President Ahead of Biden's High-Stakes Putin Call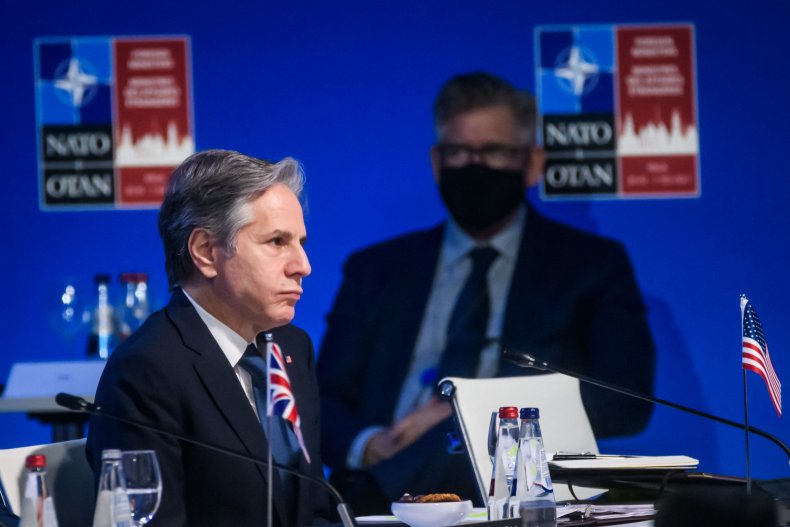 Secretary of State Antony Blinken sought to reassure Ukrainian President Volodymyr Zelensky of U.S support before President Joe Biden's high-stakes talk with Russian President Vladimir Putin.
Biden and Putin are expected to discuss issues including Russia's escalating conflict with Ukraine during a secure video call on Tuesday. During a Monday call with Zelensky, Blinken "reiterated the United States' unwavering support for Ukraine's sovereignty, independence, and territorial integrity in the face of Russian aggression," according to a statement from Secretary of State Spokesperson Ned Price.
"The two agreed on the need for a peaceful, diplomatic resolution to the conflict in the Donbas and the full restoration of Ukrainian sovereignty over its internationally recognized borders, including Crimea," Price said.
Zelensky said that he and Blinken had "agree positions" in a tweet after the call, while expressing gratitude to the U.S. and other "strategic partners" and allies for continuing to support Ukraine sovereignty and "territorial integrity."
Tensions have reached a boiling point amid reports that Russia has placed up to 175,000 troops along the Ukraine border while Putin warns NATO against expanding into Ukraine. There have been suggestions that Putin may be planning to invade the country, although it is unclear whether a decision has been made.
During a Thursday meeting, Blinken warned Russian Foreign Minister Sergey Lavrov that there would be "serious consequences" if Russia were to invade Ukraine, while stressing that "the best way to avert crisis is through diplomacy." Lavrov agreed that Russia does "not want any conflicts."
Regardless, tensions remained high ahead of Biden's call with Putin. A senior Biden administration official said during a press call on Monday that the U.S. hoped to avoid "the direct use of military force" and favored addressing the conflict with "a combination of support for the Ukrainian military, strong economic countermeasures" and increased support to NATO.
Putin recently warned the U.S. to heed its "red lines" on the Ukraine conflict and avoid "exacerbating the situation." Kremlin spokesman Dmitry Peskov told reporters that U.S.-Russia relations were "a rather dire state" on Monday, while insisting that Putin was looking forward to his call with Biden and would listen to any proposals with interest.
Biden held a conference call with NATO leaders including German Chancellor Angela Merkel, U.K. Prime Minister Boris Johnson, French President Emmanuel Macron and Italian Prime Minister Mario Draghi on Monday. The leaders discussed the military build-up on the Ukraine border and what a White House readout of the call described as "increasingly harsh rhetoric" from Russia.
"They called on Russia to de-escalate tensions and agreed that diplomacy, especially through the Normandy Format, is the only way forward to resolve the conflict in Donbas through the implementation of the Minsk Agreements," the readout stated. "The leaders underscored their support for Ukraine's sovereignty and territorial integrity."
"They agreed that their teams will stay in close touch, including in consultation with NATO allies and EU partners, on a coordinated and comprehensive approach," it continued.
Newsweek reached out to the White House for comment.