Secretary of State Mike Pompeo Denies Inspector General's Firing was Retaliation, Calls Allegation 'Patently False'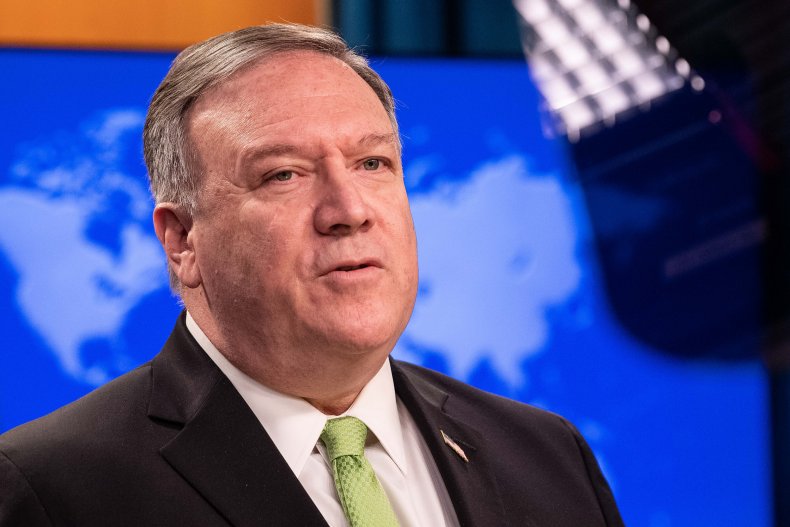 Secretary of State Mike Pompeo defended the firing of a State Department watchdog and said "it's not possible" that the move was retaliation for an investigation into him personally and his authorization of a major arms deal with Saudi Arabia.
"Patently false," he told reporters of the allegations Wednesday. "It's all crazy stuff."
President Donald Trump announced the firing of the agency's inspector general, Steve Linick, Friday night and Pompeo has faced accusations that he pushed the firing to quash investigations into using his staff for personal favors and the handling of an arms deal with Saudi Arabia, which were both reportedly under investigation by Linick at the time of his termination.
But on Wednesday, Pompeo said he didn't know what the inspector general was investigating.
"Let's be clear, there are claims that this was retaliation for some investigation," he said. "I had no sense of what investigations were taking place inside of the inspector general's office and couldn't possibly have retaliated."
Pompeo declined to elaborate on what specific issue prompted him to recommend Linick's firing, if not the investigations, citing "personnel" matters but said he believed he should have "frankly done it some time ago."
House Foreign Affairs Committee Chair Eliot Engel (D-New York) and Senator Bob Menendez, a New Jersey Democrat who is ranking member on the Senate Committee on Foreign Relations, have launched a joint investigation into the firing.
In a letter to the White House seeking additional information, Engel and Menendez claim that Pompeo orchestrated Linick's firing, and "it is our understanding that he did so because the Inspector General had opened an investigation into wrongdoing by Secretary Pompeo himself."
"Such an action, transparently designed to protect Secretary Pompeo from personal accountability, would undermine the foundation of our democratic institutions and may be an illegal act of retaliation," they wrote in the letter to the White House.
Trump has said he fired the inspector general at Pompeo's urging but didn't know about the investigations.
"I never even heard of him, but I was asked to (fire him) by the State Department, by Mike," Trump told reporters Monday during a public appearance. "I don't know anything about him other than the State Department—and Mike, in particular—I guess they weren't happy with the job he's doing or something."
Trump said he encouraged members of his administration to terminate Obama appointees if they want.
"The inspector generals, when they're put in by Obama—just like it could be that if they were put in by me and it was somebody else's administration, especially the other party, it could very well be that you'd be treated unfairly," Trump said. "We've had a lot of cases where we thought that was unfair."
House Speaker Nancy Pelosi (D-California) called Linick's firing "scandalous," during her weekly press briefing on Tuesday.
"This is undermining truth," she said.
Pelosi has blasted the firing in the past in a written statement as reflective of Trump's "dangerous pattern of retaliation against the patriotic public servants charged with conducting oversight on behalf of the American people."
Pompeo didn't directly deny allegations that had federal employees perform personal tasks, including walking his dog.
"I've seen the various stories that someone was walking my dog to sell arms to my dry cleaner," Pompeo said. "I mean, it's all just crazy."
Trump similarly dismissed the ethics allegations earlier in the week.
"They're bothered because he's having somebody walk his dog, is you're telling me?" Trump said. "This is what you get with the Democrats. Here's a man supposed to be negotiating war and peace with major, major countries, with weaponry like the world has never seen before. And the Democrats and the fake news media—they're interested in a man who is walking their dog."
Pompeo acknowledged he responded to questions in writing earlier this year for an inspector general review but he didn't elaborate on the scope.
"I don't know if that investigation is continuing or has been closed out," he said.