Secretary of State Mike Pompeo Says Hong Kong No Longer Autonomous from China, Threatening Trade Status
Secretary of State Mike Pompeo has told U.S. lawmakers that Hong Kong was no longer autonomous from mainland China, threatening the city's special trade status as encoded in U.S. law.
"Today, I reported to Congress that Hong Kong is no longer autonomous from China, given facts on the ground," Pompeo tweeted Wednesday. "The United States stands with the people of Hong Kong."
The move came as the National People's Congress in Beijing deliberated a bill that would allow more stringent measures taken against Hong Kong's push for greater independence from the rest of China, which is ruled by the Chinese Communist Party. The former United Kingdom colony was handed back to China more than two decades ago and placed under mainland rule as part of a "one country, two systems" framework designating Hong Kong a special administrative region.
This limited self-rule allowed Washington to maintain a special status for U.S. companies doing business with entities in Hong Kong not enjoyed by those in mainland China. As critics assert that Beijing has steadily expanded its influence over the city in recent years, the revocation of this special status could have serious implications for Hong Kong's status as a major center for international finance.
In November, President Donald Trump signed into law the Hong Kong Human Rights and Democracy Act requiring these favorable trade ties to be contingent on an annual State Department assessment of Hong Kong's political status.
In a full statement released later Wednesday, Pompeo described Beijing's bill as "disastrous" and asserted, "No reasonable person can assert today that Hong Kong maintains a high degree of autonomy from China, given facts on the ground."
The previous day, White House press secretary Kayleigh McEnany carried a message from Trump saying: "He's displeased with China's efforts and it's hard to see how Hong Kong can remain a financial hub if China takes over."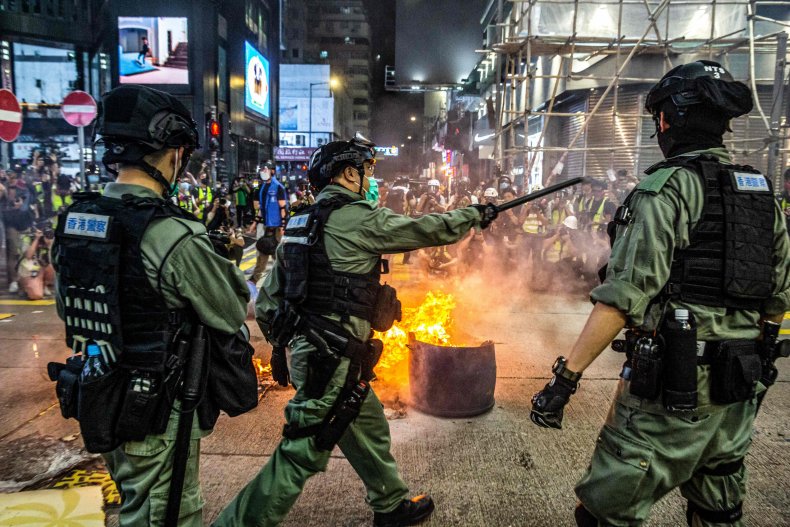 In a statement sent to Newsweek, Beijing's embassy in Washington maintained that the Chinese government had the final say on all affairs concerning Hong Kong.
"Hong Kong is a special administrative region of China. Hong Kong affairs are China's internal affairs and allow no external interference. The Central Government is responsible for upholding national security in China, as is the case in any other country," an embassy spokesperson said.
"The National People's Congress' decision about Hong Kong SAR national security legislation targets a very narrow category of acts that seriously jeopardize national security and has no impact on Hong Kong's high degree of autonomy, the rights and freedoms of Hong Kong residents or the legitimate rights and interests of foreign investors in Hong Kong," the spokesperson continued.
"It will provide a fundamental guarantee for the effective implementation of 'One Country Two Systems,'" the spokesperson added. "As for foreign meddling in Hong Kong affairs, we will take necessary countermeasures in response."
The remarks echoed comments made earlier Wednesday by Chinese Foreign Ministry spokesperson Zhao Lijian at a press conference in Beijing.
Local Hong Kong officials have also voiced their displeasure at foreign comments. Chief Secretary for Administration Matthew Cheung condemned "hypocrisy and double standards" criticisms from abroad, urging Hong Kong residents to not buy into any "conspiracy theory" over the national security bill during a media briefing Wednesday.
Australia, Canada and the U.K. have joined the U.S. in expressing opposition to the proposed law, which has set off renewed protests in Hong Kong. The city is still reeling from months-long, explosive demonstrations organized against a previous local government proposal that would allow for the extradition of suspects to other parts of China but these rallies stalled as a result of the novel coronavirus outbreak.
Opposition from Washington toward Beijing's policies in Hong Kong have represented yet another challenge for relations between the world's top two economies. While the U.S. and China managed to reach a phase-one deal in January to halt their tit-for-tat trade war, disputes over the handling of the pandemic and other geopolitical issues such as territorial questions over Taiwan and the greater South China Sea continue to be the source of heightened tensions.
This article has been updated to include a statement by the Chinese embassy in Washington.