Secretary of State Mike Pompeo Says Initial Lack of Information From China About Coronavirus 'Put Us Behind the Curve'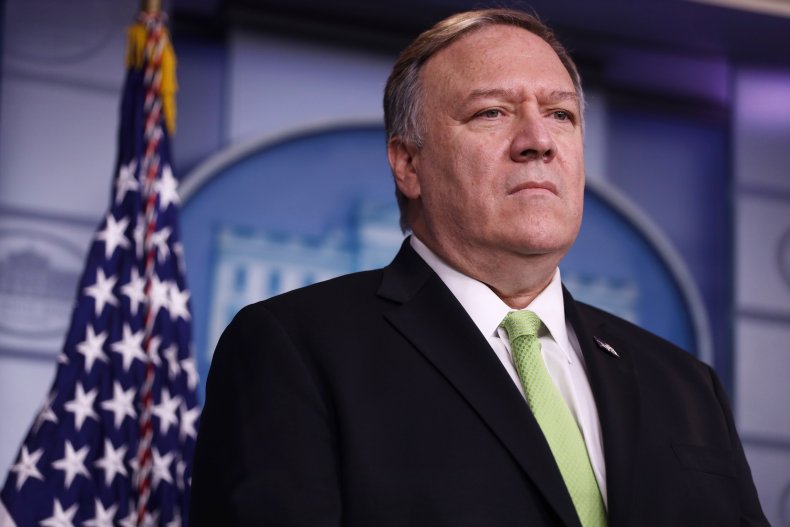 On Friday, Secretary of State Mike Pompeo stated that China's reluctance to provide coronavirus information during the initial stages of the outbreak put the U.S. "behind the curve."
"The information we got at the front end of this thing wasn't perfect and has led us now to a place where much of the challenge we face today has put us behind the curve," Pompeo said during a Friday interview with CNBC's Squawk Box. "And that's not the way infectious disease doctors tell me it should work. It's not the way America works with the transparency and openness and the sharing of information that needs to take place."
COVID-19, the illness generated by the novel coronavirus, originated in Wuhan, China, but as of Friday, March 6, has surpassed 100,000 confirmed cases across the globe according to a tracker from Johns Hopkins University. The tracker indicates there are currently 236 confirmed cases of COVID-19 in the U.S. and 14 deaths, 13 of them in Washington state.
Worldwide over 3,400 people have died from the virus, the tracker said. However, of the 100,686 cases documented by the Johns Hopkins tracker, 55,753 are considered to be recovered.
While Pompeo's comments about China's lack of information on the virus come on Friday, this is not the first time he has criticized the country for its handling of the outbreak. On February 25, Pompeo spoke to the Associated Press, claiming China was using censorship to downplay the spread of COVID-19, following the country's expulsion of three Wall Street Journal reporters after they reported on the virus.
"Expelling out journalists exposes once again the government's issue that led to SARS and now the coronavirus, namely censorship," Pompeo told the Associated Press.
"Had China permitted its own and foreign journalists and medical personnel to speak and investigate freely, Chinese officials and other nations would have been far better prepared to address the challenge," Pompeo added during a state department news conference on February 25.
In February, China was reporting several days of decreasing cases, but a few days later reported more than 15,000 additional cases. The change in cases came when China altered their reporting so that cases previously reported as "clinically diagnosed," became cases of "confirmed" COVID-19.
Pompeo also noted that he believes in the United States' ability to combat and respond to the spread of COVID-19. "I'm confident that we can handle it here," he said. "I'm confident that we'll handle it better than any nation in the world."