SEC's Confederacy History Should Have No Bearing on 2020 Football Season
From east to west in the Southeastern Conference, history from the Confederacy lurks through campus quads up to school traditions. And even while social injustice and police brutality protests embroil the country, college football's most dominant conference isn't necessarily saying the South will rise again, but it's saying it will continue playing football.
This is while one of the country's preeminent doctors says football won't be played because of the COVID-19 (coronavirus) pandemic.
All 14 school members of the Southeastern Conference have declared they plan to restart in-person classes on their campuses this fall. That pretty much means football will be played in the South, which shuns the statement of Dr. Anthony Fauci, who said football "may not happen this year."
Fauci, who is the director of the National Institute of Allergy and Infectious Diseases, told CNN on Thursday that players in a contact sport like football should be tested often.
"Unless players are essentially in a bubble—insulated from the community and they are tested nearly every day—it would be very hard to see how football is able to be played this fall," Fauci said. "If there is a second wave, which is certainly a possibility and which would be complicated by the predictable flu season, football may not happen this year."
Meanwhile in the South, the top conference of college football is dealing with pressures from its own players and media—from College Station, Texas to Gainesville, Florida—about how to deal with statues, a state flag and fight songs that commemorate figures and traditions tied to slavery, the Civil War and any racial undertones that derived over the last 155 years since the war officially ended.
Earlier this evening, the SEC officially said it would not hold any conference championships in the state of Mississippi until the state removed the Confederate flag from its official state flag.
Texas A&M quarterback Kellen Mond has led a charge on his campus to remove a statue of Sul Ross. But who was Sul Ross? Lawrence Sullivan "Sul" Ross was the Lone Star State's governor in the late 1880's who later became the Texas A&M president who secured state funds to start up nearby Prairie View A&M University, which is an historically-black university which plays in the HBCU conference of SWAC.
However, Ross was a brigadier general for the Confederate army during the Civil War, and he needed a pardon from President Andrew Johnson to avoid prison.
Mond issued a statement this week to say Ross's statue still needs to be removed from campus.
"The values of Texas A&M University do not align with RACISM, VIOLENCE, SLAVERY & SEGREGATION, but Jimbo Fisher's most prominent saying will always stick with me: 'Your actions speak so loud I can't hear what you're saying,'" Mond said. "The Lawrence Sullivan Ross Statue NEEDS to be removed. Texas A&M University, I NEED to see ACTION."
Then in Gainesville, Florida on Thursday, this school decided to sever ways with its popular "Gator Bait" cheer that reportedly has racial ties going back to the early 1900s.
"While I know of no evidence of racism associated with our 'Gator Bait' cheer at UF sporting events, there is horrific historic racist imagery associated with the phrase," UF president Ken Fuchs said. "Accordingly, University Athletics and the Gator Band will discontinue the use of the cheer."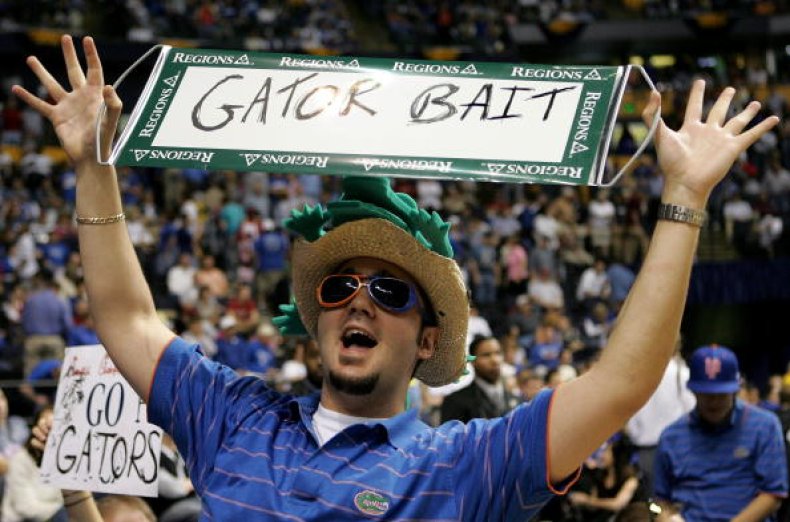 School by school, from Columbia, Missouri (University of Missouri) to Columbia, South Carolina (University of South Carolina), and from Baton Rouge, Louisiana, to Tuscaloosa, Alabama, and every other school in the SEC, coaches and players have tried bridging the social justice gap.
All schools have declared they will try to open their campuses this fall, and they all plan on playing a full football schedule this fall. That is, unless a second virus wave sweeps through the South like an unexpected storm.