Security Camera Catches Bizarre Footage of Man Dropping Off, Trying On High Heels
A series of videos have gone viral after a TikToker shared footage taken on her home's security camera that caught a man in the act of some mysterious behavior.
In the first video which has now been viewed over 500,000 times, TikToker @_missmills_, whose first name is Sonya, shows a pair of high-heeled black shoes that she says she found outside of her house.
What follows is footage of a man who seems to have dropped the shoes of outside of their front door for no apparent reason.
"Lol someone please explain…" the video's caption reads.
Another video of security camera footage went viral last year when a woman claimed to have discovered her husband cheating on tape, Newsweek reported.
The video, which was posted to TikTok in October, has racked up over 5 million views. The TikToker @Kaylie271 wrote, "When your husband is too sick to go on the family trip you planned" on-screen while showing the footage captured on her Ring doorbell camera.
The clip shows a man, who is understood to be Kaylie's husband, exiting the front door and standing on the porch. A woman follows him shortly after and leaves after the two share a kiss, Newsweek reported in December.
The woman told Newsweek that she confronted her husband when she realized what was going on and in a follow-up video said she will "abso-f**king-lutely" be leaving him.
In another video posted by Sonya after the initial shoe drop-off the TikToker writes "Guess who came back last night…" over a screen grab of security camera footage.
The first footage she shared on her account had the date stamp of December 13, 2021, the second video has a date stamp of three days later.
In the second video the man appears to just look around the area in front of the camera to then walk away.
"[H]e's looking for the shoes," one commenter writes.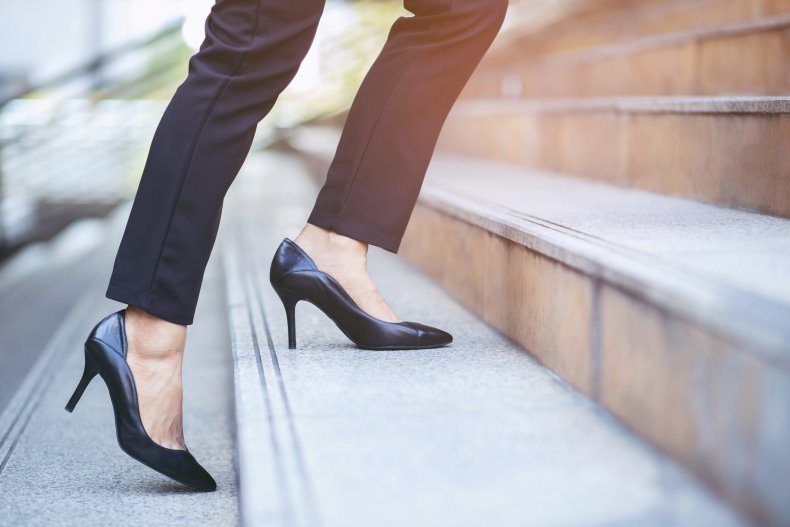 In the next video posted of the footage, date stamped December 21 the man comes back again appearing to look around for something and when he doesn't find what he's looking for, he walks away.
Everything comes to a head when the TikToker said she decided to put some old shoes outside to "see what happens."
What follows is footage of the man examining the pairs of shoes sitting outside and then removing his own shoes to try on a pair of the high-heels. He then picks up another pair of the shoes that are black, like the ones he left behind, and begins the walk away with them.
"Well... that wasn't what I was expecting…," the TikToker captioned the video.
One commenter pointed out that there might be more going on than meets the eye.
"When are you gonna report police so he can get the help he needs. Rather than milking him for more [TikTok] videos."
In the "finale of the saga" as the TikToker puts it in a video posted this week, she shows footage date-stamped on December 30 of a police car in front of her home. Following the footage she shows screenshots of messages from an undisclosed person that reads: "Just an update, we managed to detain him yesterday."
"Investigators will be handed over to another IO," the next message continues.
It's not clear if the messages are from someone associated with the police, but her caption reads "a bit of an anti-climatic [sic] ending but it's over."
"[T]he police were (100 emoji)," she writes.
Newsweek contacted Sonya for comment.