What Are Security Clearances? How Long They Last and the Different Types, as John Brennan Has His Revoked
Government security clearances were thrust into the national spotlight Wednesday when President Donald Trump revoked former CIA Director James Brennan's clearance, citing the Russia investigation as well as what Trump described as "erratic behavior" and "lying."
Brennan, a career CIA employee who served under Presidents Barack Obama and George W. Bush, has since accused Trump of attacking his political opponents. But some of the president's supporters have said Brennan no longer requires a clearance since he is no longer with the agency.
As the head of the CIA from 2013 to 2017 under Obama, Brennan would have access to the most secret intelligence and thus the highest clearance available: top secret.
After top secret, the second-highest clearance is called secret and the third and lowest level is confidential, according to the State Department's official website.
There is also a level called Sensitive Compartmentalized Information, which "provides access to all intelligence information and material that require special controls for restricted handling within compartmented channels," according to the nonprofit GoGovernment.org.
The higher the level, the more information Brennan and other intelligence officials can view, but the average citizen cannot simply apply for a clearance and leaf through sensitive documents.
Instead, a person must first be a government employee or work for a government contractor. Your agency then sponsors you through the clearance approval process. It must also be determined if your government agency job even requires a clearance.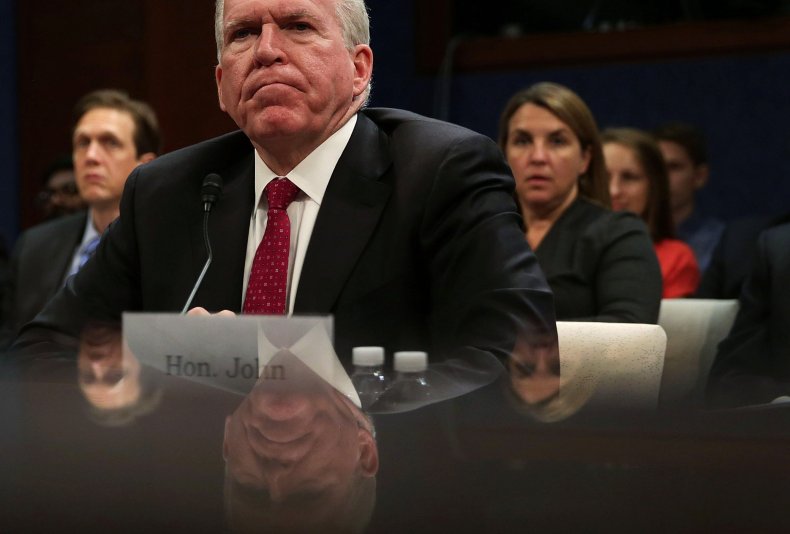 Those who apply for a security clearance must fill out a Standard Form 86 and provide the government information dating back 10 years, according to USAJobs.gov. There is also the SF-85 form for a background check, which is mostly run by the U.S. Office of Personnel Management, or OPM.
The SF-86 form may sound familiar in regards to the Trump administration. White House adviser and Trump son-in-law Jared Kushner reportedly failed to list a number of foreign contacts and other information when he initially filed the paperwork, and his clearance was taken away before being reinstated in May.
But even after going through the process and receiving a clearance, some of the levels require another background check years later. A confidential clearance is "reinvestigated" after 15 years, GoGovernment says, while secret is 10 years and top secret is five years.
The process for obtaining a clearance has been subject to criticism recently. A report by the Office of the Director of National Intelligence, released in March, found that over 4 million people had a clearance as of late 2016. But fewer clearances were being granted due to an "investigative backlog" at OPM, as well as a lack of funding.