Security Failures at USG Media Agency Prove Need to Hire Americans First | Opinion
President Donald Trump recently issued an executive order aimed at aligning federal contracting and hiring with the interests of American workers. Just days after its issuance, we are now learning of disturbing news demonstrating how urgently needed the order was. Bombshell revelations emerging from the U.S. Agency for Global Media (USAGM) show that President Trump's predecessor not only undermined the interests of American workers, but in so doing imperiled our national security—raising questions about the hiring practices and security procedures of other federal agencies, when it comes to non-Americans.
As detailed previously, USAGM is a little-known agency, yet one of great importance. It is the federal government's broadcasting arm for global audiences, tasked with overseeing several networks charged with "inform[ing], engag[ing] and connect[ing] people around the world in support of freedom and democracy," and doing so "consistent with the broad foreign policy objectives of the United States." To achieve its mission, it directs entities such as Radio Free Europe, Radio Free Asia and, perhaps most notably, its flagship Voice of America (VOA), to represent America in broadcasting authoritative, uncensored news to peoples across the world. Among its most noble efforts are those USAGM undertakes to evade the firewalls of tyrannical regimes, providing those laboring under them with the free and open flow of information and ideas their leaders loathe.
Consistent with President Trump's recent executive order, federal law and utter necessity, as VOA reported in early July, USAGM ordered a review of some 76 J-1 visa holders in VOA's employ, as well as those at other USAGM entities. Related reports indicated USAGM would not be approving staffer visa renewals or extensions, meaning some might have to leave the country.
The media pounced on the agency's visa review policy, portraying it as a callous assault on journalists. But as with previous moves under new USAGM CEO Michael Pack, the agency claimed it was seeking to re-align the agency with its mission.* As a spokesperson explained at the time, scrutinizing J-1 visa holders was about "protect[ing] U.S. national security," and ensuring that "hiring authorities and personnel practices are not misused."
Now we know why these individuals merited scrutiny.
On July 23, Mr. Pack announced that several in-depth assessments of USAGM had unearthed "systemic, severe and fundamental security failures, many of which have persisted for years." This week, Pack released one such report from the Office of Personnel Management (OPM), the oversight team of which is responsible for reviewing executive branch agencies' personnel suitability and vetting programs. Its findings were horrifying. OPM asserted that:
USAGM employees have not been properly vetted, yet currently have access to government systems, facilities and, in some cases, sensitive or classified information. More importantly, USAGM employees wishing to change jobs could have their investigations reciprocally accepted by a new agency, which would not know the investigations (and subsequent favorable adjudication) were invalid.
An OPM review of a sample of USAGM background investigations found holes in documentation ranging from missing employment and residence records, to security files and FBI fingerprint and name checks.
Nearly 40 percent of USAGM's 4,000 employees have reportedly not been fully vetted.
This is unsurprising, given that the OPM report highlighted how USAGM had failed to act on more than half of OPM's 37 recommendations to shore up USAGM's security processes and bring it into compliance with the law. These failures came under holdover leadership handpicked by President Barack Obama—leadership that remained in place until June 2020, when Senate Republicans finally overcame Democrats' stonewalling to confirm Mr. Pack as USAGM CEO.
Context is important here. The aforementioned security lapses arose at an agency created to serve America's national security and foreign policy apparatus in the critical information domain. In recent years, it had not only often failed to fulfill its mission, but actively worked against it by siding with our adversaries. The latter is outrageous, but the former is downright dangerous—particularly since VOA has reportedly hired foreign nationals from hostile countries, such as China and Iran. These are the very nations that received the most egregious regime-friendly coverage.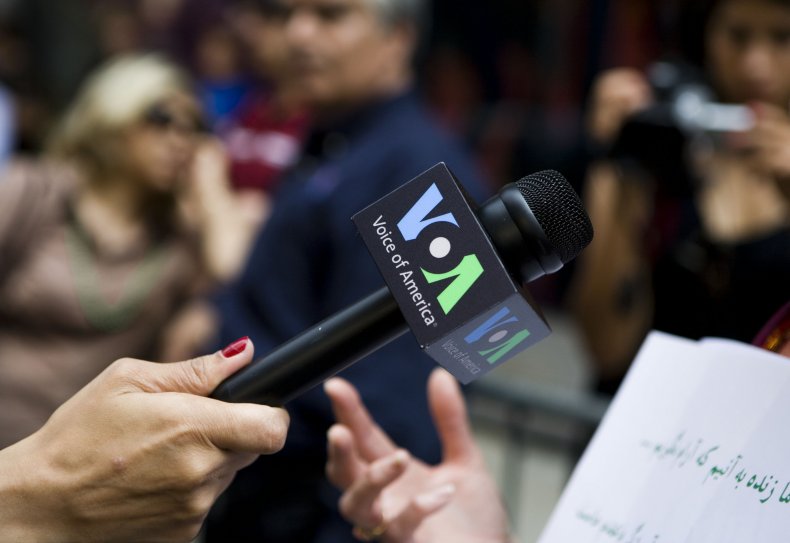 Why VOA would hire employees under J-1 visas is in and of itself baffling. As Rep. Joseph Kennedy (D-MA) admitted in a scathing letter to Mr. Pack critical of the foreign worker freeze, J-1 visas enable "foreign citizens to temporarily work in the United States in ways that promote cultural exchanges" (emphasis mine). Congressman Kennedy must have missed the irony, as this point undermines his argument. The U.S. government's media apparatus manifestly does not exist to facilitate "cultural exchanges," but rather to serve U.S. policy. There exist visas specifically for foreign journalists, an option USAGM seemingly could have availed itself of, should it have felt the need to hire foreigners to fulfill its mission.
Some might argue that J-1 visa holders include "Specialists," encompassing those with expertise in foreign languages, who could be of particular value to VOA. Yet are we to believe that of the 76 positions held by J-1 visa holders, not a single American was fit for hiring?
Consistent with past attacks, The Washington Post's editorial board has chastised Mr. Pack for USAGM's foreign worker review, dubbing him an "alt-right filmmaker" intent on "dismantl[ing]...independent journalism." By contrast, its media reporter holds up an impacted J-1 visa holder as the paradigmatic victim—a non-American at VOA who speaks seven languages and claims to "love this country," yet may lose his job under the visa freeze. The gentleman is a Spaniard serving VOA's Latin American bureau. Left unsaid by the Post is that there are millions of patriotic Americans who are fluent in Spanish, some subset of which is undoubtedly capable of holding such a position. Where is the sympathy for them? It also turns out that while this particular employee is VOA's Spanish-language White House correspondent, his social media is rife with references implicitly and explicitly illustrating his view that the president he covers is racista—a racist. Such public expressions of hostile opinion towards the commander-in-chief almost assuredly violate USAGM's standards & principles, as well as VOA's charter and best practices.
Similarly stunning is that U.S. taxpayer dollars are being used to advertise green cards for foreign broadcasters to work at USAGM—an organization that, once again, exists exclusively to promote American values on behalf of Americans.
Of course, there may be foreign journalists qualified to serve the federal government's international broadcasting arm. But given the pervasive failures in vetting in such a sensitive area as government media, which is ripe for espionage and influence activities, combined with the imperative to put American workers first in entities like Voice of America, the status quo would seem to be untenable, if not unconscionable.
When critics of USAGM policy note that sending such employees back to their home countries could endanger them, one must also ask: Do we really think the Chinese Communist Party and Iran's Khomeinist mullocracy would be unaware of their citizens' whereabouts and activities? Assuming they are in the loop, prudence dictates the federal government consider that even among candidates with pristine backgrounds, they may be susceptible to influence from their ruling regimes. If these non-citizens love America, and fear for their lives, it stands to reason that they would seek asylum, and to become Americans, rather than face the wrath of their rulers.
There is nothing cold-hearted about putting Americans first in the American government, and at agencies aimed at promoting America's positions. Rather, it is fair, just and proper to do so, particularly in areas impacting national security. Put simply: Non-citizens do not have an inalienable right to work for the federal government, and non-vetted non-citizens pose a massive security risk to our nation.
The controversy at USAGM raises a broader question with which America must grapple: To what extent do such hiring and vetting issues plague other agencies, and to what end for American workers and our national security? Hopefully, President Trump's executive order, which mandates executive department and agency heads assess the economic and national security impact of foreign worker hiring practices, will help us get to the bottom of it.
*As noted in a prior piece, I interacted with Mr. Pack over several days during the Publius fellowship program of the Claremont Institute, where he previously served as president. I am currently a fellow at the Claremont Institute.
Ben Weingarten is a senior fellow at the London Center for Policy Research, fellow at the Claremont Institute and senior contributor to The Federalist. He is the author of American Ingrate: Ilhan Omar and the Progressive-Islamist Takeover of the Democratic Party (Bombardier, 2020). Ben is the founder and CEO of ChangeUp Media LLC, a media consulting and production company. Subscribe to his newsletter at bit.ly/bhwnews, and follow him on Twitter @bhweingarten.
The views expressed in this article are the writer's own.