Security Footage Shows NYPD Confrontation With Hammer-Wielding Suspect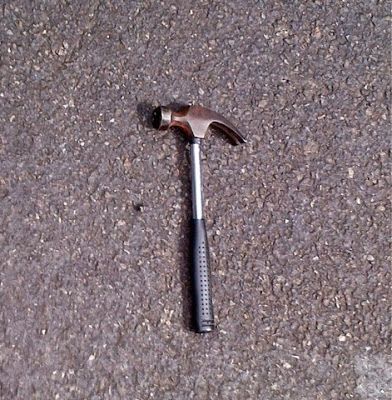 On Wednesday, a man wanted for striking two women in their heads with a hammer was shot in New York City after an altercation with police officers.
Just after 10 a.m. at 37th Street and 8th Avenue, officers Geraldo Casaigne and Lauren O'Rourke spotted the hammer-wielding suspect. They approached him after noticing he matched the description of a man who attacked two women the night before. The man pulled out a hammer and swung it violently with the claw side facing out, the NYPD said. While the suspect was swinging a hammer at her, Officer O'Rourke fell. Officer Casaigne then shot the suspect four times, hitting him twice: once in the arm and once in the torso.
The NYPD released a video of the incident, taken on a nearby security camera:
As a result of the incident, Officer O'Rourke was treated at Bellevue Hospital for abrasions and lacerations in the back of her head and on her back. The suspect was also treated at Bellevue for his injuries and is in critical but stable condition.
The suspect faces assault chages. The hammer was recovered from the scene.