Security Guard for Reporters Covering Smash-and-Grab Killed by Robbers Targeting Camera Gear
A security guard for a television news crew reporting on a smash-and-grab theft at a store in Oakland, California, last Wednesday was killed by a man who tried to steal the crew's camera gear, according to local police.
KRON-TV reporters were at the scene covering an earlier robbery in which 12 thieves wearing masks and hoods raided a local clothing store on the 300 block of 14th Street.
Then, three men—one armed with a gun—pulled up in a car and tried to steal their camera equipment, the San Francisco Chronicle reported.
When the security guard, Kevin Nishita, tried to intervene, one of the robbers allegedly shot him in the lower abdomen, KRON reported.
First responders rushed Nishita to a hospital in critical condition. He died of his injuries on Saturday.
Bullet shrapnel also hit a man standing nearby. He was taken to a local hospital in stable condition.
The KRON reporter, who has not been identified, did not suffer any injuries, the news station reported.
Nishita leaves behind a wife, two children, and three grandchildren. At the time of his death, he worked as a guard for Star Protection agency. He previously served as a police officer at the Oakland Housing Authority, Hayward Police, San Jose Police and the Colma Police departments.
Nishita retired in 2018, according to Colma police.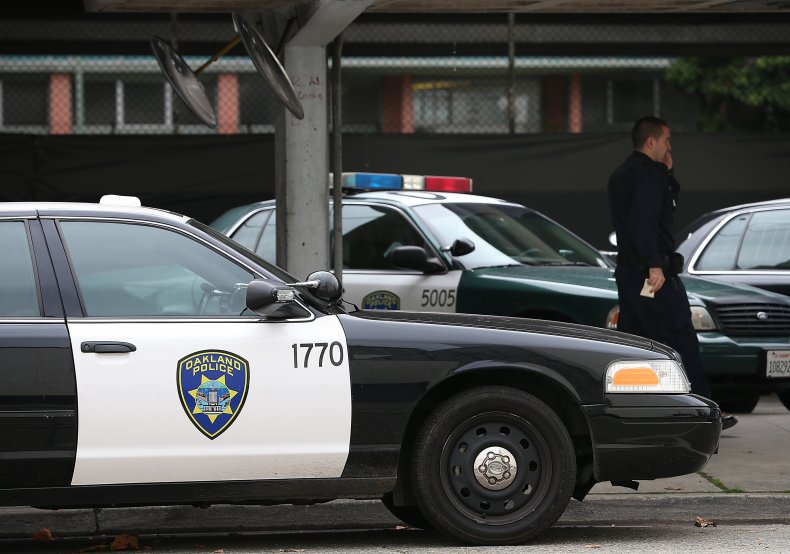 While serving in Colma, Nishita received the 2018 Chief's Award, which is given to an employee who "embodies a high moral character and demonstrates exemplary performance in all areas of police work," the department wrote in a statement.
Tributes poured in for Nishita following the news of his death.
Colma Police Sgt. Dawn Marchetti told KRON: "His smile would light up a room for sure. He would give the shirt off his back to anybody that needed it. He was always there for anyone, for anything, anytime."
"My heart is broken. I'm scared for me. I'm scared for my colleagues. Friends from all stations are talking to each other-our own support group. And then woke up to heartbreak. He was my friend. He was our friend and now he is gone," KRON reporter Will Tran wrote on Twitter.
"The shock and fear from the day of the shooting are back all over again. I don't even know where to begin. I'm so angry that such tragedy happened to a man whose everyday job was to protect others. RIP Kevin. Thank you for your service," tweeted KRON reporter Kelly Kim.
"Words cannot express my heartbreak," KRON journalist Maureen Kelly said. "Kevin Nishita was a good man who took his job seriously. He kept me and my colleagues safe. He did not deserve this. He and his family will be forever in my prayers."
Police are offering up to $32,500 for information leading to the suspect's arrest. Anyone with tips is asked to contact investigators at (510) 238-3426.
Authorities are also asking the public to help find a suspect vehicle: a white, 4-door 2004 to 2008 Acura TL that has a sunroof and no front license plate, KRON reported.