See Cher, Diane Keaton, Gianni Versace and Other Celebrities' Epic Swimming Pools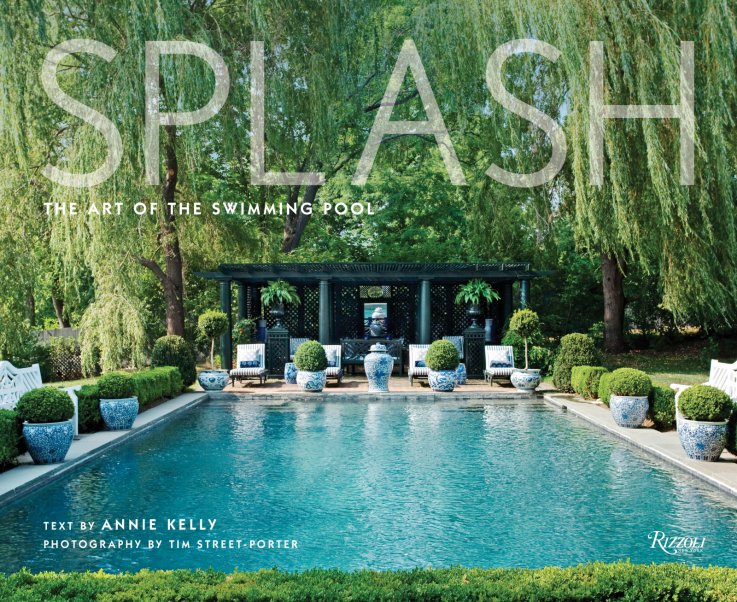 Water. We can't get enough of it. We swim in it, drink it, and bathe in it. It reflects the sky in its purity, and inspires peace and tranquility. A swimming pool has become an integral part of a home, extending the usable space into a garden. It can be designed to mirror the architecture of the house or act as a destination point elsewhere on the property. Swimming pools have become so popular over the last fifty years, with one in almost every suburban backyard, that it is easy to forget that their documented origin goes back over five thousand years.
While people have been bathing since humankind's first discovery of rock pools, the Great Bath at the site of Mohenjo-Daro in modern-day Pakistan was most likely the first recorded swimming pool. Dug during the third millennium BCE, this pool was lined with hand-cut blocks of stone and covered with a tar-based sealant.
Both the ancient Greeks and Romans built artificial pools for athletic training and health reasons. A fresco, from around 470 BCE, discovered in the Tomba del Tuffatore in Greece shows a remarkably modern-looking depiction of a figure leaping into water from a diving board. Roman emperors enjoyed private swimming pools in which fish were also kept; hence one of the Latin words for a pool is piscina. These were decorated with columns and statues, and included colorful wall frescos and mosaics. The first documented heated swimming pool was built in Rome in the first century BCE. Roman enthusiasm for pools spread across the empire—they could be found from Hadrian's Villa near Rome to the town of Pompeii, and they became an accoutrement that spread to France and Germany as well as in the famous town of Bath in England.
In Asia, the Sinhalese built a pair of pools called Kuttam Pokuna in the kingdom of Anuradhapura, Sri Lanka, in the fourth century BCE, while in China, the Huaqing hot springs at the foot of Mount Lishan have been in continuous use for over three thousand years.
In Latin America, Inca palaces were built near natural geothermal ponds, while cenotes in Mexico, deep natural pools of water used for ceremonial purposes, were used for centuries to bathe in as well as being a convenient ceremonial repository for gold and jewels.
After the fall of the Roman Empire, the popularity of swimming pools waned as regular bathing became uncommon in Europe for many hundreds of years until the fashion revived in the 1700s. At that time, docks were added to European rivers to help with the new fashion of bathing in the summer.
However, the real resurgence occurred when swimming became a competitive sport at the newly reestablished Olympic Games in 1896. Then, possibly inspired by pools recently discovered in colonial India, swimming pools began to be built in England, and their use spread to Europe, Australia, and America.
In Australia, the first seawater pool was built near Brisbane in 1819. Due to its popularity, and encouraged by a warm, Mediterranean-style climate, pools extended along Australia's east coast over the next hundred years.
One of the first public pools in the United States was built in Brookline, Massachusetts, in 1887. Soon other cities followed suit, especially in California. Pools quickly became the province of the rich and famous. Mary Pickford and Douglas Fairbanks built a pool in 1920 at their Pickfair mansion in Beverly Hills that was large enough to float a canoe, while compulsive builder William Randolph Hearst installed a swimming pool at his palatial California showplace, San Simeon, in 1924, that he later reworked into the Neptune Pool, surrounded by marble colonnades.
By the 1920s, American architects began to integrate swimming pools into their house plans. Richard Neutra's Lovell Health House, with its innovative sprayed-concrete pool, was built in 1929, while Frank Lloyd Wright added one to his 1924 Ennis House in 1940, using the same concrete blocks as he had in the iconic Aztec-like main building.
This new enthusiasm for swimming pools was ignited by the legendary swimmer Esther Williams, who popularized swimming as an everyday sport in the 1940s. Called "America's mermaid," she swam through many movies in revealing bathing suits, introducing aquatics for the first time to an enthusiastic audience. By the 1970s, there were more than a million pools in the United States, mostly in suburban backyards. This was a big step as the swimming pool was no longer just in the realm of Hollywood and the very rich. Helped by cheaper construction materials, servicemen returning from World War II found themselves buying brand-new suburban tract houses, which often came complete with swimming pools and the accompanying lifestyle. With the development of heaters, underwater lighting, auto-fill sensors, and valves, pool construction was made even easier in the 1950s and 1960s.
It was only a matter of time before these ubiquitous symbols of suburbia came to the attention of artists and photographers. Californian artist Ed Ruscha responded in 1968 with an artist's book titled Nine Swimming Pools and a Broken Glass, photographed in Las Vegas. Later on he created the artwork for a pool in the San Fernando Valley for his brother, the photographer Paul Ruscha. However, one of the most famous painters of swimming pools is David Hockney, whose painting A Bigger Splash of 1967 came to define a particular moment in time in Beverly Hills. He went on to paint the inside of his own pool around 1978, as well as a large one commissioned for the Hollywood Roosevelt hotel in 1988. The East Coast painter Eric Fischl brings a more unnerving perspective to the ubiquity of the suburban swimming pool, using them in his realistic paintings as backdrops of disconnection in family relationships.
Despite countless appearances in art, film, and literature, a swimming pool does more than function as a stage for human drama. It can enhance life dramatically, as thousands of Americans discovered after World War II. To be able to create a private oasis at home was a completely new invention; this pursuit began a new wave of design incorporating water, plants, and architecture, which we hope to continue to inspire and encourage with this book.
This article is excerpted from Splash: The Art of the Swimming Pool by Annie Kelly amd Tim Street-Porter. International renowned architecture and design photographer Tim Street-Porter has authored and photographed many successful books, including Casa Mexicana, The Los Angeles House, Tropical Houses, Los Angeles, and has coauthored numerous publications with his wife Annie Kelly, among them the best-selling Rooms to Inspire series and Casa Mexicana Style. He is also a frequent contributor to many lifestyle and design magazines, such as Architectural Digest, House Beautiful, Elle Decor, Vanity Fair,and the New York Times.Annie Kelly writes about design and travel for magazines in America and abroad, including Belle,1st Dibs' Introspective, The Los Angeles Times, and French Architectural Digest. She is the author of Casa Mexicana Style, the Rooms to Inspire series,and Casa Mexico, among several other titles. She is also a decorator whose work has been included in Architectural Digest,House and Garden, House Beautiful, Traditional Home, Elle Decor, and World of Interiors.