See Governor Greg Abbott's Newly Completed Border Wall Section in South Texas
Texas GOP Governor Greg Abbott unveiled the first completed section of his new border wall during a Saturday press conference in the rural town of La Grulla, which sits across from the Rio Grande.
At 30 feet tall and with metal bollards, this portion of the wall currently spans about 800 feet, according to news outlet Border Report. The builders intend for the section to run 1.3 miles upon completion. This portion of the wall is about a mile away from the Rio Grande's border with Mexico.
In attendance with Abbott at the presentation was Texas General Land Commissioner George P. Bush, whose agency donated the farmland where the wall is to be built, according to Border Report. The General Land Office manages state property and has played a key role in permitting the wall's development.
Abbott told Fox News this past Friday that he would be able to build his border wall for less money than the wall planned by former President Donald Trump because of the governor's ability to develop on property owned by the General Land Office. The federal government would have had to purchase land to build Trump's wall.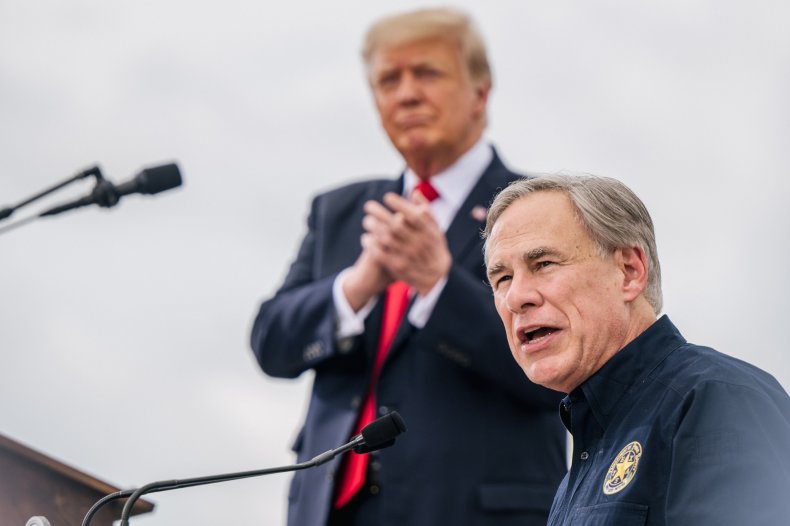 "We are building this like any private property owner would have the right to build a wall or fence in their own yard, and we're not using federal land. We're using state land," Abbott said, according to Border Report. "And so the federal government has no authority whatsoever to interfere with our ability to build this wall and to secure our state."
Funding for the project comes from roughly $3 billion set aside by the Texas Legislature for border security. In addition, the state has raised over $54 million for the wall's construction through private donations.
Bush, a grandson of former President George H.W. Bush, called Saturday's event a "momentous occasion" that had been driven by "the people of Texas who said enough is enough. Enough of open borders. Enough of disorderly chaos led by coyotes, smugglers and traffickers who do harm to our state," according to Border Report.
Border officers have come into contact with over 1.85 million people at the Southwest border between January and November this year, according to U.S. Customs and Border Protection. Over the past two months, Texas' Rio Grande Valley sector has seen the greatest number of border crossers, with CBP reporting over 93,000 confrontations.
While Abbott has advocated for the wall as a means of curbing these encounters, Democratic Representative Henry Cuellar, who represents Starr County, where Abbott's wall is being built, does not see the project as a solution.
"Border walls are ineffective, cause harm to the environment, induce severe flooding and encroach on private property," Cuellar told Border Report.
"While Governor Abbott wants to address the humanitarian crisis at the southern border, he must look to alternative solutions. I remain staunchly opposed to border walls, which are cost-prohibitive and ineffective. Instead, let's focus on technology, equipment and personnel," the congressman said.