See It: Topless FEMEN Activist Tries to Steal Jesus Statue From Vatican Nativity Scene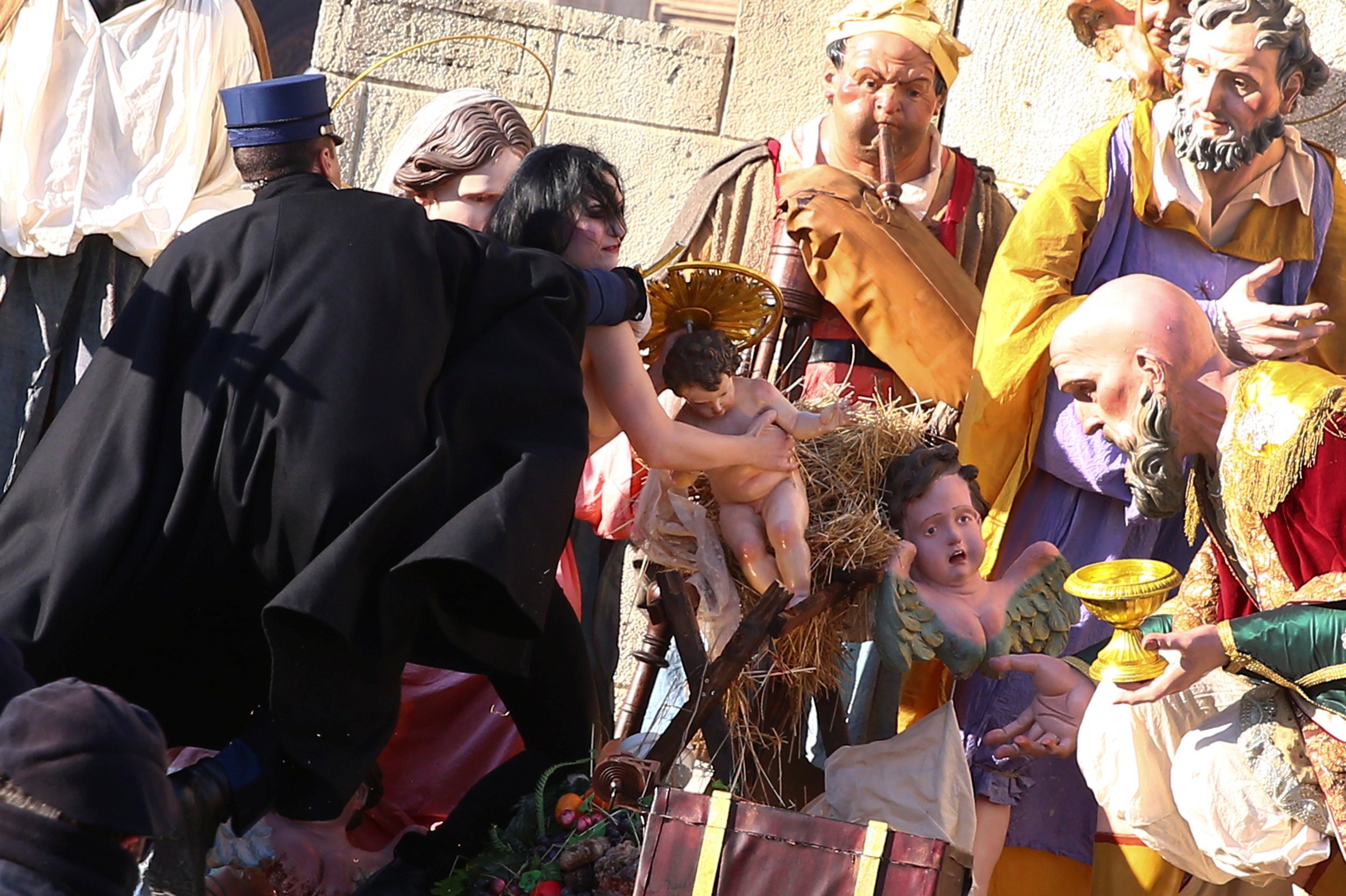 A topless woman from Ukrainian-French radical feminist group FEMEN made a run for the statue of baby Jesus in the Vatican Nativity scene on Monday but was stopped before she was able to snatch it.
The woman—wearing just pants and shoes—jumped over the guard rails protecting the creche in St. Peter's Square and bolted after the baby Jesus shouting, "God is woman." She had that same slogan painted across her bare back, Reuters reported.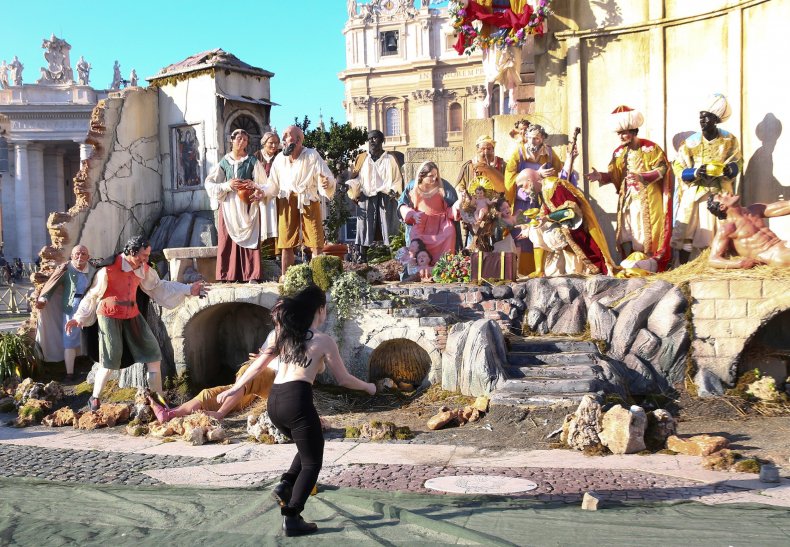 A Vatican police officer managed to catch and detain her before she was able to grab the replica Christ child, according to a Reuters photographer who captured the incident.
The woman was identified on FEMEN's website as Alisa Vinogradova. She was described as a "sextremist."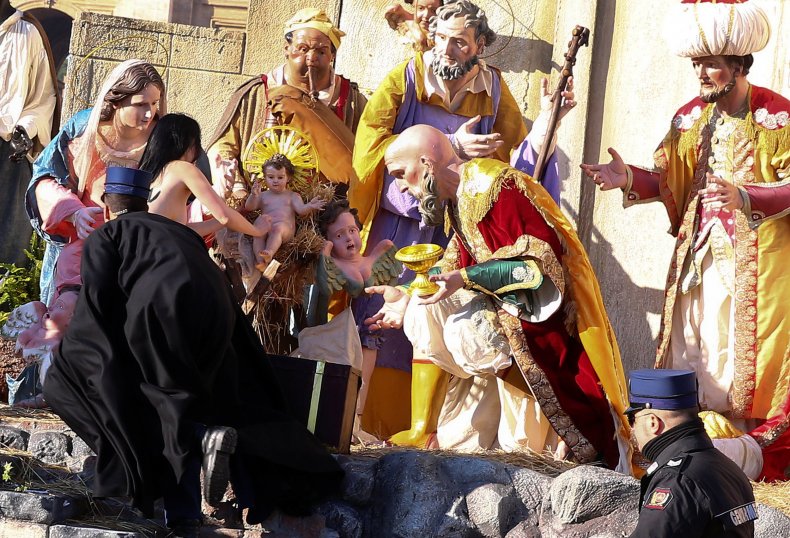 A different FEMEN activist staged the same stunt on Christmas Day 2014, but she actually managed to steal the baby Jesus statue from the nativity scene before being arrested.
The group says its goal is "complete victory over patriarchy."
Monday's attempted heist occurred two hours before Pope Francis delivered his annual Christmas message to 50,000 people in the square and to the world's one billion Catholics. This year, the Pope took aim at President Donald Trump for his decision to recognize Jerusalem as the capital of Israel and his anti-immigrant stance.
FEMEN activists are known for doffing their tops in the name of feminism. In November 2012, the group attacked a demonstration against same-sex marriage by dressing as topless nuns and spraying unknown liquids on attendees bearing the words, "Fuck Church," "In gay we Trust," and "Holy sperm."
The group also regularly targets the Vatican and has staged numerous topless protests during the Pope's weekly Sunday sermons.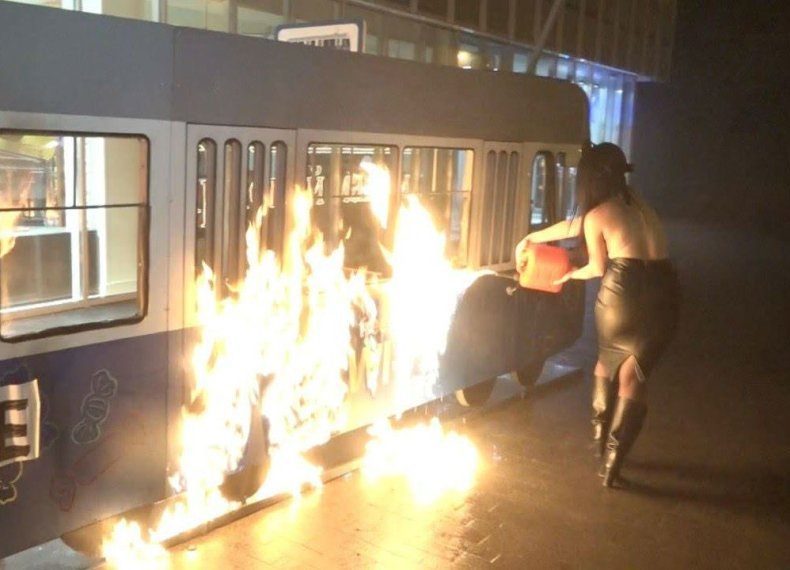 Also this year, Vinogradova photographed herself setting afire to a decorative train outside the flagship Roshen chocolate store of President Petro Poroshenko to protest his alleged use of offshore accounts that was revealed by the Paradise Papers.
"Let the burning tram take Poroshenko back to place there are no high taxes, no war, no poverty, no Ukrainians who are so hated by the chocolate baron," FEMEN posted on Facebook.