See Jon Stewart Channel Donald Trump on Colbert's 'Late Show'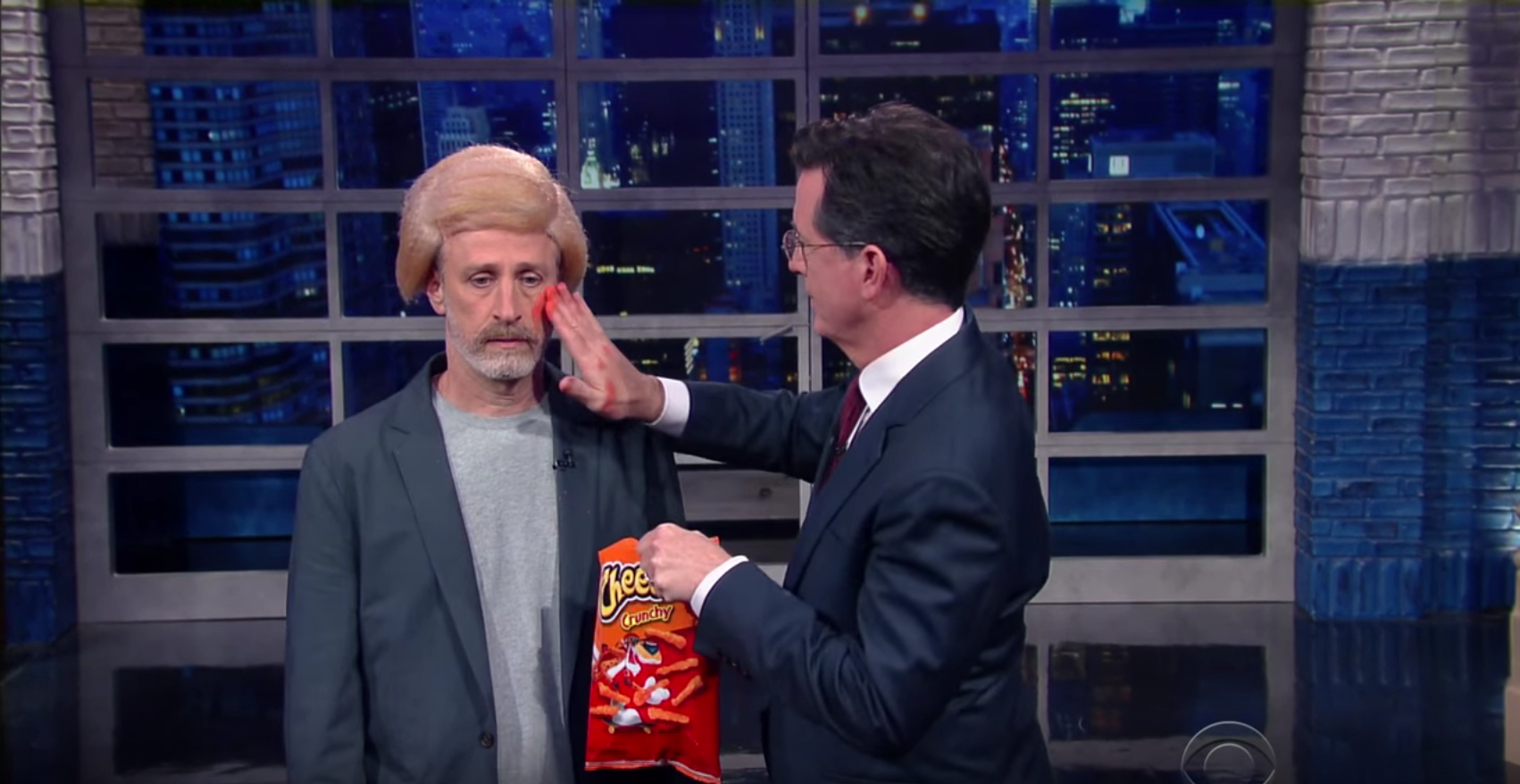 "I have this issue I care about very deeply," Jon Stewart told his Daily Show successor, Trevor Noah, on Monday night in his first appearance on the show since he stepped down as host. "I was realizing that I don't have a show and nobody gives a [bleep] anymore," he added. So he came back to use Noah's show to garner some attention—but not, he promised, to take it back.
The issue in question is the James Zadroga 9/11 Health and Compensation Act, a bill passed in 2010 to provide health care funding and compensation for 9/11 responders who got sick working at ground zero, Stewart explained.
"Funny story, the government told them the air was safe, but it gave them cancer," he said. The act was funded for five years only. Now, despite evidence of a link between the responders' diseases and the air at ground zero and funding that is running out, the act has yet to be renewed, Stewart told Noah. Part of the bill expired on October 1, and the rest is set to follow in October 2016.
But Stewart wasn't satisfied just crashing Noah's show. He also wanted a piece of Stephen Colbert's Late Show. On Thursday, he walked in unannounced midway through Colbert's monologue in much the same stealthy way he'd appeared on The Daily Show behind its unsuspecting host. As it happens, both hosts had been talking about animals at the time—Noah about the iguana as king of the reptile kingdom and Colbert about the bald eagle that had attacked Donald Trump during a photo shoot for Time magazine in August.
"What brings you to this neck of the television?" Colbert asked, once the reason for the sudden standing ovation became apparent. Stewart requested the chance to make a last-minute pitch to Congress about the Zadroga Act.
But before he'd even finished uttering his first sentence, Colbert interrupted. "Borrrrrrriiinnnnnng!" he yelled. "Sorry, Jon, sorry, I hate to go pro on you here, but you've been out of the game for a while. That's got no zazz, all right?" he added. "No one is going to listen unless you—I don't know how to put this—Trump it up a little."
So Colbert lent Stewart a Trump-do wig, which he said he keeps on hand for whenever he has to say something important, and added some "makeup," rubbing bright orange Cheeto dust on his face. Colbert advised, "Bring da noise, bring da Trump."
"These 9/11 first responders are the most top-notch, first-class, diamond-encrusted heroes America can produce," Stewart blathered, getting very much in character. "Tweet at your congressman with the hashtag #worstresponders. Tell them Donald said pull up your big-boy pants and make America great again. Pass the Zadroga Act or..." Or what? Well, it's worth watching to get the full effect.
It seems Congress may be heeding Stewart's calls. Senate Majority Leader Mitch McConnell (R-Ky.) and House Speaker Paul Ryan (R-Wis.) reportedly said Thursday that they would include a Zadroga Act renewal in the federal spending omnibus bill.
"It's positive news," said Representative Peter King (R-N.Y.). "But until it happens, it hasn't happened."