See the Magical Moment a Manta Ray Swims Directly at Diver Before Gliding Overhead
A huge manta ray swam directly toward a stunned scuba diver before elegantly gliding over his head at the last second — and it was caught on video.
The incredible scene was filmed off the coast of Fuvahmulah Island in the Republic of Maldives, and the footage was shared on Instagram by Swedish diving instructor Johan Kinch, 20.
In the footage, Kinch is seen scuba diving in the ocean as a large figure suddenly appears in the distance.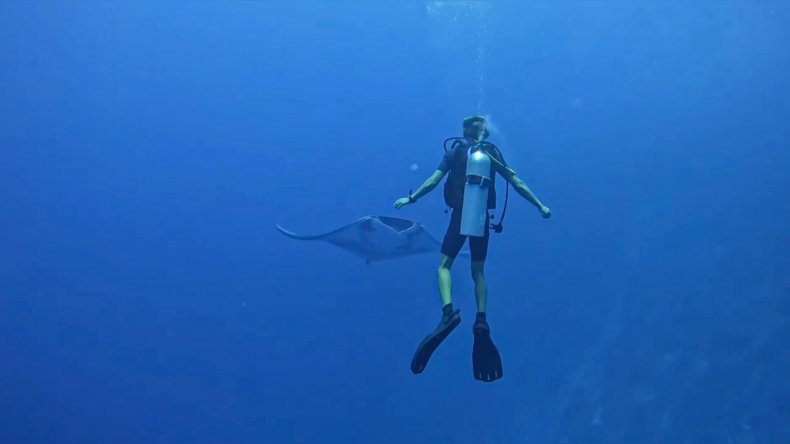 The large manta ray apparently swims directly towards the scuba instructor before gliding over his head at the last second.
Kinch called it "the most surreal moment of my life."
Kinch, who currently works in the Maldives as a diving instructor, told Zenger News: "The video was recorded at the beginning of April when I took a couple of days off from work to go on vacation to an island in the south of Maldives called Fuvahmulah.
"Fuvahmulah is actually the only coral atoll in Maldives that only consists of a single island. So basically it's one island in the middle of the open ocean, which makes the diving there very unique and challenging with strong ocean currents. Then of course, it has the highest concentration of tiger sharks in the world. It is a local island that puts huge effort into protecting sharks!"
Kinch was accompanied by diving instructor Jazmin A. Silva Diniz, 26, from Argentina.
Silva Diniz told Zenger News: "I studied marine biology at university and I'm also a lifeguard. I've worked in the diving industry for the last five years as an instructor.
"I am fully in love with the ocean. I support shark conservation and I like to show people the truth about sharks and other marine animals."
Manta rays can grow as wide as 23 feet, and survive by filtering large quantities of zoo plankton which they take into their mouths as they swim.
They give birth to live pups and are listed as vulnerable by the International Union for the Conservation of Nature.
Threats are mainly all from mankind including pollution and the danger from fishing nets as well as people that deliberately target them as they are much prized for use in Chinese medicine.
This story was provided to Newsweek by Zenger News.