See Moment Ukrainians Fire Rocket, Blow Up Russian Reconnaissance Vehicle
Ukrainian military officials released video of the moment it says shows Ukrainian soldiers firing a rocket at a Russian reconnaissance vehicle that blows up in a ball of flame.
The video footage was obtained from the 24th Mechanized Brigade of the Ukrainian Ground Forces, which said that it showed a BRDM-2, a "combat reconnaissance patrol vehicle," being destroyed by the "Royal Brigade" in the Luhansk region, in eastern Ukraine.
The 24th Mechanized Brigade is named after King Daniel of Galicia, hence its "Royal Brigade" moniker.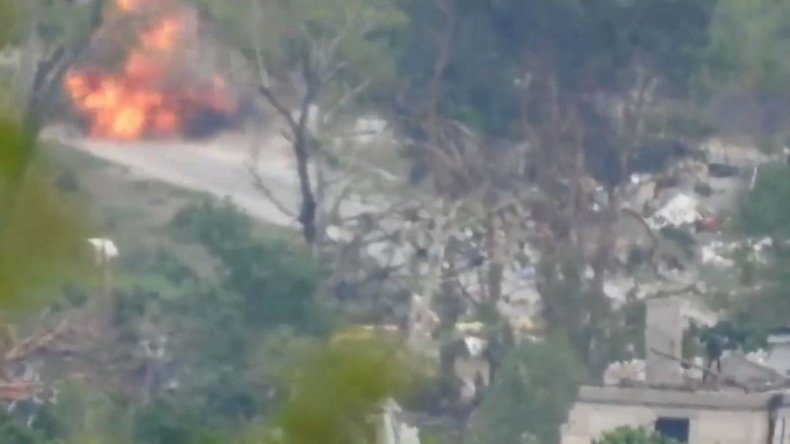 The 24th Mechanized Brigade added "Glory to the Armed Forces!" before signing off with the now-famous slogan "Slava Ukraini!", which means "Glory to Ukraine!"
The BRDM-2 is an amphibious armored reconnaissance vehicle first developed and produced by the Soviet Union and its allies.
The footage was also shared by the Ministry of Defense of Ukraine, which said: "'Beautiful!' - A serviceman of the Royal Brigade comments on the moment a BRDM-2 is destroyed.
"And it's hard to disagree with him! Professionalism in action. We continue to work!"
The General Staff of the Armed Forces of Ukraine have reported that from February 24 to June 1, Russia lost about 30,700 military personnel.
The Ukrainian military added that Russia had lost 1,361 tanks, 3,343 armored fighting vehicles, 659 artillery systems, 207 multiple launch rocket systems, 94 anti-aircraft systems, 208 warplanes, 175 helicopters, 519 tactical unmanned aerial vehicles, 120 cruise missiles, 13 warships, 2,290 military vehicles and fuel tankers, and 49 units of special equipment over the same period.
Ukrainian President Volodymyr Zelensky has called Russian strikes on a nitric acid tank in the besieged eastern city of Sievierodonetsk "madness."
Residents of Sievierodonetsk have been warned to remain in bomb shelters and to prepare masks to protect against toxic fumes.
Analysts say up to 70 percent of the city is now controlled by Russian forces, with almost all critical infrastructure and housing destroyed.
President Joe Biden said the U.S. will send Kyiv more advanced rocket systems that will help to strike enemy forces from a longer distance.
These rocket systems have double the range of the rocket systems used by Russian forces and are much more accurate.
European Union leaders have reached an agreement to ban 90 percent of oil imports from Russia, but remain undecided about natural gas imports.
Despite setbacks in eastern Ukraine, Ukrainian troops have made advances in Kherson in the south and around Kharkiv in the northeast.
June 1 marks the 98th day of the invasion.
This story was provided to Newsweek by Zenger News.