'See' Season 2: Jason Momoa Is 'Perfect, Playful and Generous' Says New Co-Star Tom Mison
Look out for See Season 2, arriving soon on Apple TV+.
See is set on Earth centuries after a deadly virus wiped out almost all of humanity. The few that survived have lost their sight over time, but two children born with the ability to see change the landscape of the survivors' way of life.
Jason Momoa and Alfre Woodard return for the dystopian drama series while big hitters Dave Bautista and Tom Mison join the cast for the new episodes, available on Friday, August 27.
Newsweek caught up with Mison (Watchmen, Sleepy Hollow) to discuss acting blind, why Momoa is the "perfect" leading man, and the outlook for See going forwards.
Season 2 opens with Queen Kane (Sylvia Hoeks) and her sister Maghra (Hera Hilmar) still on the run, searching for a new city to rule. They stumble across one that is operated by Mason's character Lord Harlan, and the mad queen decides this will be her new capital.
Explaining the origins of his new character, Mison said: "He grew up through a life of petty crime, and he knew the sisters when they were younger but through nefarious means he has come to be the lord of this city.
"Since the queen wants his city there'll be constant political battles, mind games and intense sexual tension," Mison promises.
Like many others on the show, Lord Harlan is blind and Mison had to learn how to play that convincingly as the other actors had for Season 1.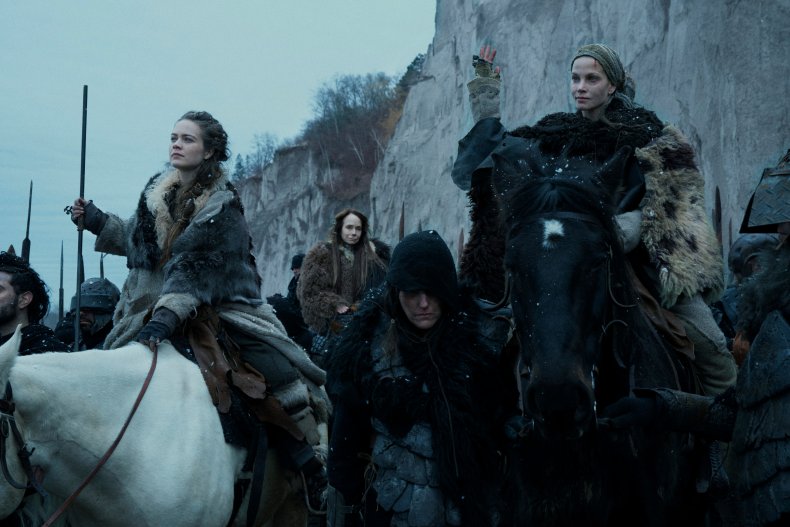 The crew of See have an ace up its sleeve when it comes to accurately and respectfully portraying visually impaired people on television—associate producer Joe Strechay.
Strechay, who's previously worked with Charlie Cox for Marvel's Daredevil, and his movement team are always on hand to help the cast of See. Mison says Strechay was an incredible asset when learning to act as someone without sight.
He said: "He's amazing, just amazing. There were things that I had no idea about like echo location. He said that he steps into a room and makes a click or a sound and can map the entire room. That is something that obviously takes years to perfect but we did a little work on that. You often see the characters [in See] do it. If you hear a click or a whistle then that's what they're doing, mapping a room."
Mison said he's come to realize blind people are underrepresented on television but See is doing a good job of respectfully correcting that wrong. "You know, it's a Jason Momoa show and of course there's action in it, so how do you have a group of people who can't see fighting? I thought it was done so intelligently and that was reassuring coming into it."
Acting as the menacing and hulking Baba Voss, Momoa is the marquee of the show and the name that everyone will find on See posters. Mison believes all the adulation Momoa receives is totally deserved.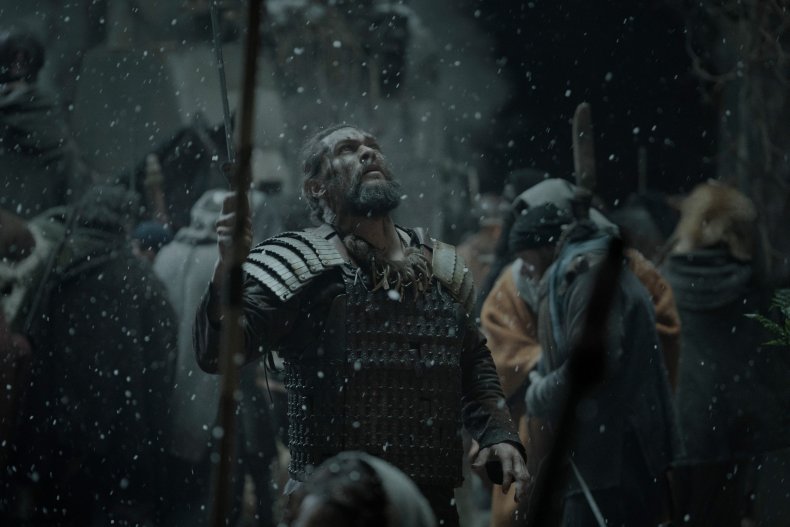 "You never know really what to expect but with Jason, I loved every second of it. He's kind of perfect to be with, he's playful and generous and a nice man. Every scene that we've done together he's always wanting to try new things and he listens to everyone's opinion. He also thinks about a scene and the show rather than what just he's doing, which is all you want from an actor," Mison said.
Mison's Lord Harlan and Momoa's Baba Voss come to blows in Season 2, which is something Mison relished in every day on set. He said: "I'm particularly lucky because my character and his character don't like each other.
"They're from very different worlds where, in his world he'd just smash my face but because he's in mine, he knows he can't do that. So I get to take the piss out of him and wind him up as much as I can." Mison continued, "There's very little more satisfying than actually making Jason corpse (laugh) and ruin his own shot, which I love.
"I love him a lot, he's a delight," Mison said.
Even before press for Season 2 started, Apple confirmed in June that there'll be a See Season 3 arriving on Apple TV+ in the future.
The renewal means the cast are staying in British Columbia, Canada, for a few more months. Mison was speaking to Newsweek from Canada whilst still filming Season 3, and he believes that more viewers will continue to flock to the show over time.
He said: "It had a strong start, See was one of their most-watched shows on launch but I heard that during the pandemic, it became not only Apple TV+'s most watched show but one of the biggest shows on streaming online. It makes sense because what do you do in lockdown? You watch Jason Momoa beat the shit out of people.
"There's little more exciting than seeing Momoa and Batista go head to head, so maybe the numbers will go up and up."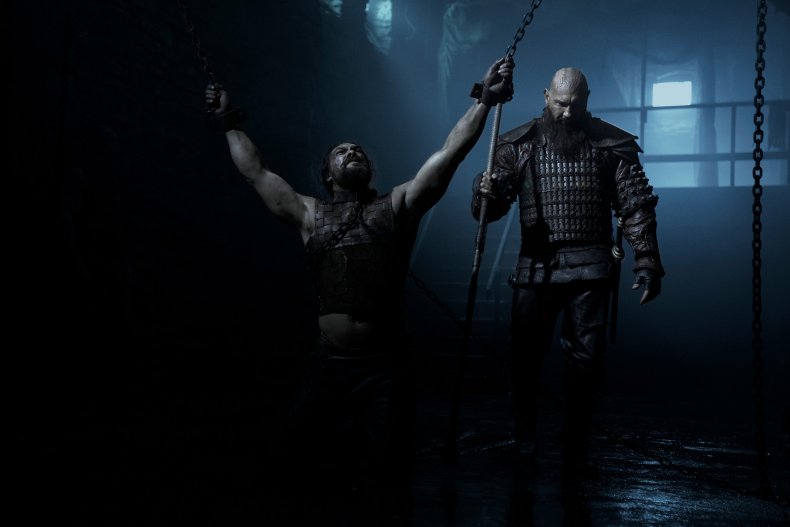 Mison said he'll wrap on Season 3 in mid-October, with the rest of the cast due to finish there on October 28. This could mean we're set for See to return again in mid-2022.
In the meantime, Season 2 of See arrives on Apple TV+ on Friday, August 27. The first three episodes will drop on that date with each episode arriving weekly every Friday afterwards.