See the Touching Moment a Distressed Baby Manatee is Rescued
A distressed 4-week-old manatee was rescued off the coast of Belize by a Florida-based research team.
A video shows a man carrying the young aquatic mammal out of the water, which was said to have been rough, and onto dry land in Belize, a country in Central America known as a haven for scuba divers.
The footage was obtained from the Clearwater Marine Aquarium (CMA), which is based in Florida and said that the rescue took place on the shores of Belize City, near the Belize Coast Guard Headquarters facing the Caribbean Sea.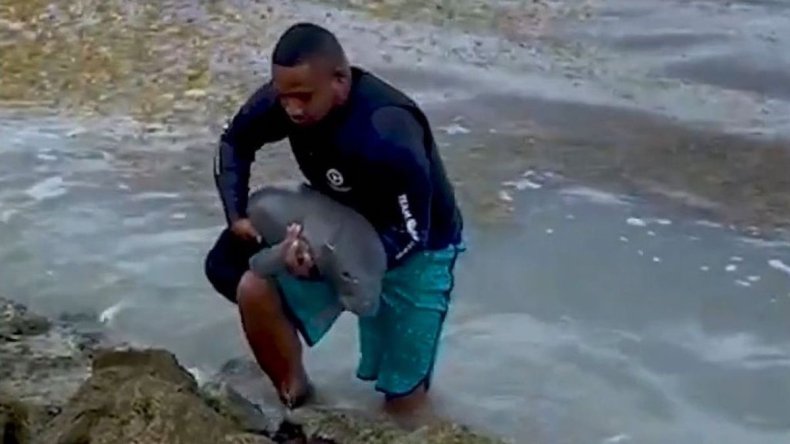 The man, who has not been named but who works for the Clearwater Marine Aquarium's Research Institute, can then be seen feeding the manatee with a baby bottle before the young marine mammal is taken to a local rehabilitation center.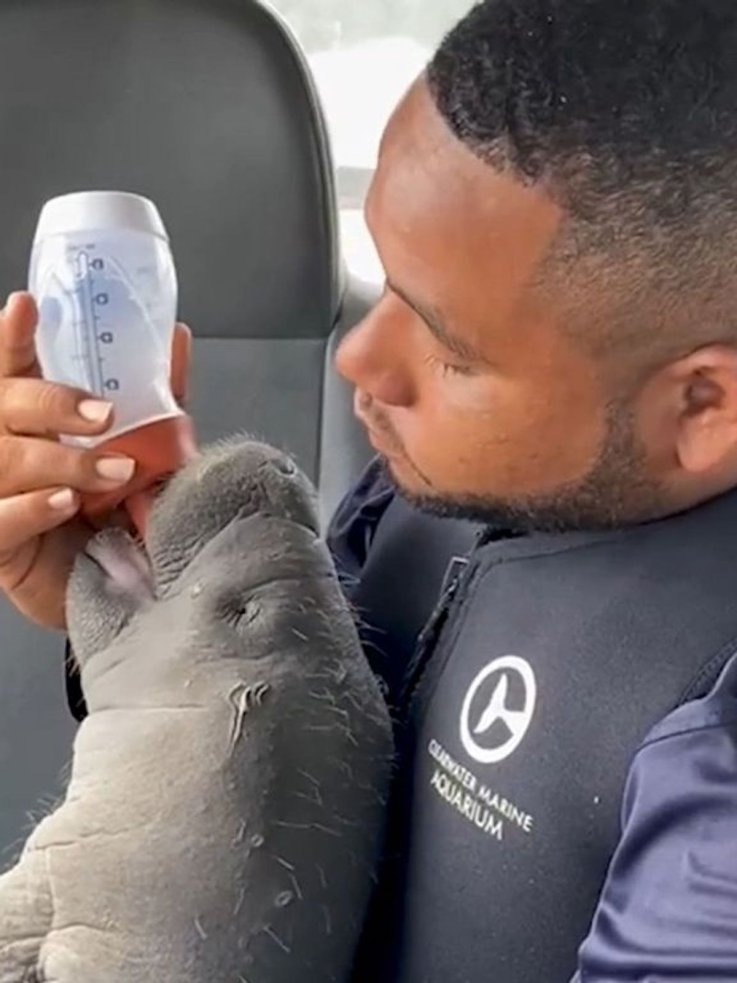 Team member of the Clearwater Marine Aquarium Research Institute feeding the rescued female manatee calf on May 27, 2022, in Belize.
Clearwater Marine Aquarium/Zenger
The Clearwater Marine Aquarium Research Institute said: "Team members of the Clearwater Marine Aquarium Research Institute rescued a female manatee calf in Belize!
"This manatee was observed alone for an extended period of time and was having difficulty breathing and navigating rough waters.
"Young manatees can become separated from their mothers during stormy weather, as they may not be strong enough to fight strong currents in the water.
"This manatee is now in the hands of WildTracks, a local rehab center where this animal is now receiving round-the-clock care."
The footage was filmed on May 27. The aquarium said that the rehabilitation center will name the young female manatee, which they said was only 4 weeks old.
The Clearwater Marine Aquarium told Zenger News: "Clearwater Marine Aquarium Research Institute works to protect and conserve our world's fragile aquatic ecosystems and the threatened species that call them home.
"CMA Research Institute focuses on the conservation of flagship species, such as manatees, dolphins, sea turtles, and right whales, to ensure greater protection for species and the sensitive habitats these animals rely on around the world."
Manatees are listed as vulnerable on the International Union for Conservation of Nature's (IUCN) Red List of Threatened Species. They are primarily found in the Caribbean and off the coast of West Africa.
The main threats to their survival are the destruction of their natural habitat and interactions with human-made objects, such as being hit by ships.
The U.S. Fish and Wildlife Service no longer considers the West Indian manatee (Trichechus manatus) to be "endangered" and downgraded its status to "threatened" in 2017, a decision that was deemed controversial.
This story was provided to Newsweek by Zenger News.