'See Who Was Better': AOC Challenges Trump to Release College Transcript After He Said She Was a Bad Student
Rep. Alexandria Ocasio-Cortez challenged President Donald Trump to release his university transcript on Thursday, hours after he claimed the congresswoman was "not even a smart person" during an interview with Fox Business.
"Let's make a deal, Mr. President: You release your college transcript, I'll release mine, and we'll see who was the better student," Ocasio-Cortez wrote on Twitter, responding to Trump's suggestion that she was "a poor student" in his interview earlier Thursday morning.
"Loser has to fund the Post Office," the congresswoman continued.
The president's comments about Ocasio-Cortez's academic record to Fox Business were loosely related to criticism of her political platforms. Trump has criticized her publicly a number of times before, as he has other Democrats and influential women politicians. The president also called California Senator Kamala Harris, Joe Biden's vice presidential running mate, a "mad woman" and House Speaker Nancy Pelosi "stone cold crazy" on Thursday.
"AOC was a poor student. I mean, I won't say where she went to school, it doesn't matter. This is not even a smart person, other than she's got a good line of stuff," Trump told Fox Business' Maria Bartiromo. "I mean, she goes out and she yaps."
Newsweek reached out to Ocasio-Cortez's office and the White House for additional comments but did not receive replies in time for publication.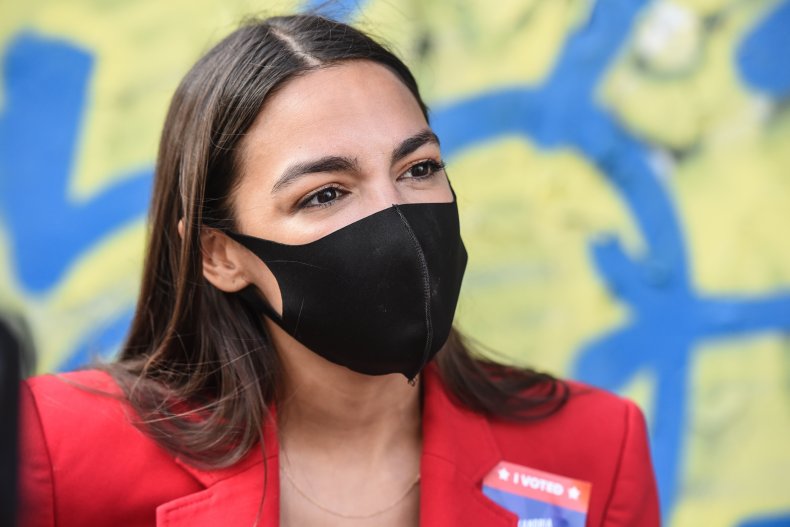 Trump openly acknowledged his opposition to allocating stimulus funds to the United States Postal Service (USPS) due to unproven concerns about the validity of mail-in voting in his remarks to Fox Business. The USPS has become a target in the president's ongoing efforts to prevent vote-by-mail procedures from taking place during the upcoming general election, despite risks associated with in-person voting during the novel coronavirus pandemic.
Democratic leaders, including Senator Elizabeth Warren, recently accused the Trump administration of attempting "to sabotage the USPS" following reports of sudden operational changes and leadership restructuring within the organization.
"They want $3.5 billion for the mail-in votes...they want $25 billion, billion for the Post Office," Trump told Fox Business on Thursday, referencing Democratic proposals for the next coronavirus relief package.
"They need that money in order to have the Post Office work, so they can take all of these millions and millions of ballots," he continued. "Now, in the meantime, they aren't getting there...But if they don't get those two items, that means you can't have universal mail-in voting because they're not equipped to have it."