It's not just seeds—Americans are receiving all kinds of unsolicited packages from China, containing items ranging from fake Ray-Ban sunglasses to a pair of used socks.
The United States Department of Agriculture believes that the mystery seeds were being sent to the U.S. as part of a brushing scam, which involves sellers sending unsolicited items (which are typically light and easy to ship) and then post fake customer reviews to boost sales.
The USDA said in a statement: "At this time, we don't have any evidence indicating this is something other than a 'brushing scam' where people receive unsolicited items from a seller who then posts false customer reviews to boost sales.
"USDA is currently collecting seed packages from recipients and will test their contents and determine if they contain anything that could be of concern to U.S. agriculture or the environment."
Now, it appears that Americans are receiving more than seeds. While the origins of these mystery items are unconfirmed, the random packages may be a part of a similar scam of which people across the country are on the receiving end.
Georgia resident Kelley Litty told WSB-TV that she received masks from China that she didn't buy: "It says China on the label for masks. 1,000 percent sure I did not order any mask. It's a complete surprise. And it doesn't make sense."
Faith Tankersley told WSB-TV that she received a fake Ray-Ban sunglasses: "I don't think people are sending this in goodwill in my opinion. I'm just afraid that there may be something harmful to them."
In New York, Dawn Proctor told WBNG that she received a package of socks from China: "No invoice attached. No note attached. The socks looked like they were used. We all kind of laughed about it. Thought it was odd and threw them away."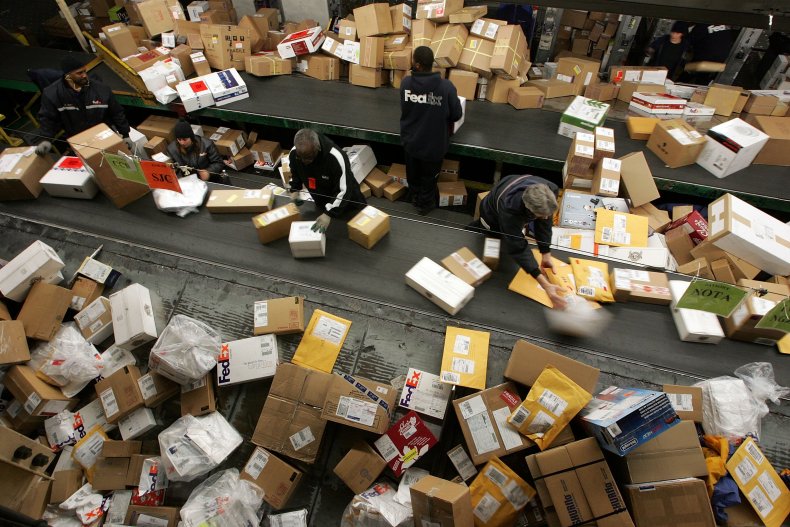 Consumer watchdog Which warned of brushing scams in a 2018 article and reported that Amazon customers were receiving items they had not ordered.
One person named Karyn who appears to be from the U.K. commented on the article on July 29, 2020, and said: "I've been getting parcels from China, there are no sender details other than a postal address which when searched doesn't tell me much, I've checked all my online accounts and there is no money being taken, they are items like nail stickers for false nail art, and a wig cap!
"Neither are of any use to me and nothing I have ordered. It seems crazy they are sending me stuff free of charge that just goes in the [trash]."
Two others also commented and said they had each received multiple packages in July 2020.
If someone has received an item as part of a brushing scam, it may mean that their personal information has been leaked, which can be dangerous.
Ray Walsh, a data privacy expert at ProPrivacy, told Newsweek: "Anybody who receives an unexpected package needs to be aware that their data is being misused by the seller.
"If you receive a brushing parcel it is vital that you hand it in to the police so that they can forward it to the US postal inspector's office for the purpose of tracking where it came from. Items received could be dangerous, which means that they must be disposed of correctly."
Walsh explained that there is no evidence of a brushing scam leading to crimes like identity theft and bank fraud.
"However, it is theoretically possible that victims' data could be exploited for these kinds of malicious purposes," he said. "For this reason, victims of brushing must carefully monitor their bank accounts and credit or debit cards for any unauthorized activity."