Seeing the Scottish Highlands by Luxury Train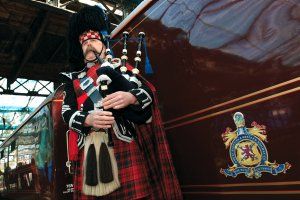 It's dinnertime on the royal Scotsman, a super-luxe holiday train traveling through the Highlands of Scotland, and several of the male guests are sporting full kilt regalia. Their well-coiffed female companions are wearing chic cocktail dresses and sparkly diamond necklaces. Crisp white tablecloths, tapered candlesticks, and hand-painted china cover the tables in the dining car. It is a snapshot of sartorial splendor and posh entertaining that seems flash-frozen from my grandparents' time.
Yet here I am, riding with my husband to celebrate our 20th wedding anniversary. I'm captivated by the promise of a vacation full of halcyon glory. Our cabin is tiny but comfortable, with twin beds (apparently, just one cabin on board has a double), a desk, and an en suite bathroom. Intricate marquetry is inlaid on the wood-paneled walls. I'm taking it all in when Michael, our host, knocks on our door holding a silver tray of champagne cocktails. Yes, thank you.
Our three-night journey aboard the Royal Scotsman begins in Edinburgh and travels up through the Scottish Highlands. We pass incredibly lush scenery with towering evergreens, rocky palisades, wild rivers, waterfalls … and distilleries. Thankfully, the train stops and we visit the Glen Ord distillery for a dram of the local elixir. Then it's off to Plockton for a motorboat ride through the loch's mist and drizzle, where we putter past a rookery of photogenic sea lions, some just 10 days old.
On another day, we go clay-pigeon shooting. Turns out, it's a lot more difficult than it looks. I blame my inferior aim on an overserving of Scotch and everyone buys it. My husband also fulfills his dream of playing golf in the sport's motherland. Through the thick fog and rain, he happily swats balls and chases them, just like at home. But here, he says, it's much more fun.
We visit Ballindalloch Castle for a spot of tea hosted by the manor house's very own aristocrats, Lord Oliver and Lady Clare, who give us a private tour. The property has been in Lady Clare's family for centuries, but they only recently opened it to select tours (and guests of the Royal Scotsman) to offset the castle's stratospheric maintenance costs.
When we leave the castle, we notice a commanding rainbow that stretches from one end of the property to the other. Did m'lady buy it as the perfect castle accessory? I'd have thought so except that each day I've noticed rainbows, which seem to follow us. We arrive back at the train, and Michael is standing out front, once more holding a tray of cocktails. Love that man.
Dinner is again formal, and my husband and I feel truly embarrassed that we didn't read the "attire" portion of our welcome packet. Our suitcase full of "cruise casual" isn't cutting it here. The meal is a choice of guinea fowl with morel mushrooms or halibut. Both are simply prepared and exquisite, as is the sticky toffee pudding with homemade vanilla ice cream. By now, we are getting to know our other 24 trainmates, who come from Argentina, Spain, South Africa, Hawaii, Italy, New Hampshire, and Tokyo. Conversation among the group is becoming easy and interesting. Afterward, we retire to the lounge car, where a fiddler and guitarist serenade us with traditional Scottish tunes.
It is exactly how I imagine the gentry traveled a few generations ago. And though it was an expensive trip (from $3,610 per person, all inclusive), I can't imagine a more romantic way to spend our 20th anniversary. A bagpiper welcomes us back to the station in Edinburgh, and my husband takes my hand to help me off the train. He's beaming. I wouldn't be surprised to discover a kilt in his suitcase when we get home.
Seeing the Scottish Highlands by Luxury Train | World