Seeing U.S. Flag Alongside North Korea's Was 'Disgusting,' Says Ex-CIA Official
An ex-CIA chief of staff said it was "disgusting" to see the U.S. flag alongside that of a "despotic regime" on Monday evening, after President Donald Trump and North Korea's leader Kim Jong Un met face-to-face for the first time.
Speaking on MSNBC, Jeremy Bash said the summit was "not an accomplishment for the American president," but rather, a win for Pyongyang. "It is a major accomplishment for Kim Jong Un. In fact, the spectacle of seeing the American flags along with the [North Korean] flags as the backdrop for that handshake is really jarring actually to see, to witness. In fact, I would say it's somewhat disgusting. It is actually a debasement of the American flag."
Bash added: "This is a despotic regime that murders its own citizens. And so, we're putting him on the same stage as the American president. Now, hopefully, it will serve a larger purpose. Which is to ensure security for American interests and our allies on the peninsula."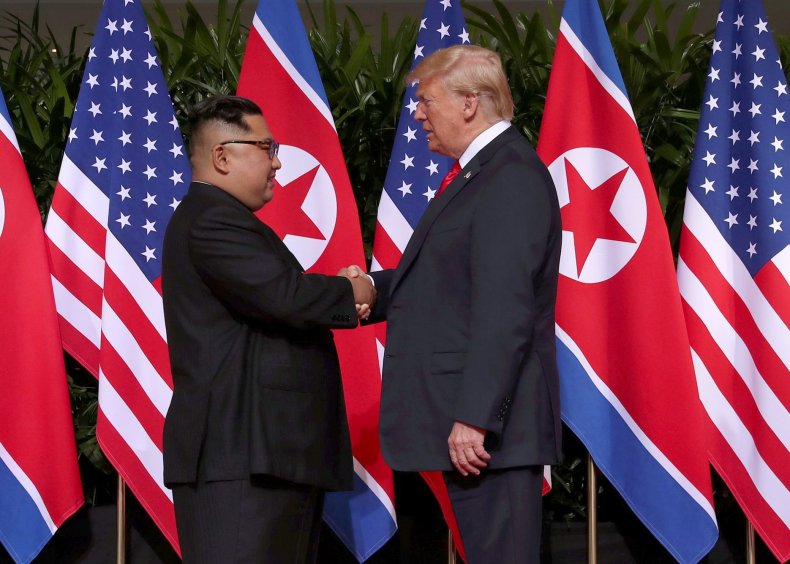 On Tuesday morning in Singapore (local time), Trump and Kim shook hands for the first time before heading to the Capella Hotel, on the secluded resort island of Sentosa, with their interpreters for the highly anticipated one-on-one meeting.
Trump boasted about his "terrific relationship" with Kim before the event. "I feel really great," Trump said to a reporter after taking his seat in the meeting room. "It's going to be a great discussion and, I think, tremendous success."
After his translator interpreted Trump's comments, Kim smiled and said: "It was not an easy path here… There's a history of holding onto our ankles, and it appeared there were times that there were unfortunate practices where they were trying to block our eyes and our ears, but we've overcome everything and come to this place."
Trump and Kim closed their meeting by signing an agreement together which committed the two world leaders to "peace and prosperity."
"Having acknowledged that the U.S.-DPRK summit—the first in history—was an epochal event of great significance in overcoming decades of tensions and hostilities between the two countries and for the opening up of a new future, President Trump and Chairman Kim Jong Un commit to implement the stipulations in this joint statement fully and expeditiously," the deal says.
Watch Jeremy Bash on MSNBC below: