Sofia's mother was desperate to save her two children from the traumatic and perpetual abuse they endured at the hands of their father. So, she helped 23-year-old Sofia and her 6-year-old brother flee their home in Central America. Months later, Sofia found herself at the U.S.–Mexico border devastated, hopeless, confused—and alone.
Sofia had no other family, no support in the U.S. She had escaped an abusive father and now faced the daunting American asylum process, something that seemed impossible to navigate successfully.
And to many Americans, Sofia is just an "illegal immigrant."
But our laws actually allow a person who is fleeing past persecution or has a well-founded fear of being persecuted in the future "on account of race, religion, nationality, membership in a particular social group, or political opinion" to seek protection within our borders.
The act of seeking asylum is not criminal. Like all humans, asylum seekers should be treated with dignity and compassion. As they navigate our complicated asylum process, the U.S. government and nonprofit organizations can work together to ensure they experience safety, love and connection.
An immigration system is only as effective as the enforcement of its laws. As Americans, we all want the laws of our land to be followed. The truth is that not everyone who seeks asylum will have—or, frankly, should have—their claim approved. Just about 31 percent of asylum claims were approved in FY2019. But it's important to remember that following the law is not incompatible with compassion. Humane policy is possible.
Over the last decade, we at Bethany Christian Services have worked to build a family-centered approach to asylum. A family-centered approach to the asylum process and support for those moving through it allows us to fully affirm both human dignity and the rule of law.
Unfortunately, asylum-seekers such as Sofia and her brother often flee to the U.S. to escape life-or-death situations in their home country, only to be treated as criminals upon arrival.
But they aren't criminals. So how do we help our fellow humans thrive, together, as a family throughout the asylum process?
Our already-backlogged asylum system is not family-centered. Not only does family detention exact a physical, mental and emotional toll on people seeking asylum, its cost is staggering. A bed in a family detention center costs an estimated $319 per person every day. Alternatives to detention, on the other hand, cost far less.
And the federal government's recent actions to move away from detention facilities suggest that the next phase of the asylum process can in fact be family-centered.
The federal government recently announced a "Home Curfew" program that could represent an important first step in shifting away from the processing and detention system that has been a hallmark of the asylum process. This is a good step, but it's still not enough. We need Congress and the Biden administration to commit to a full shift away from detention-based asylum processing.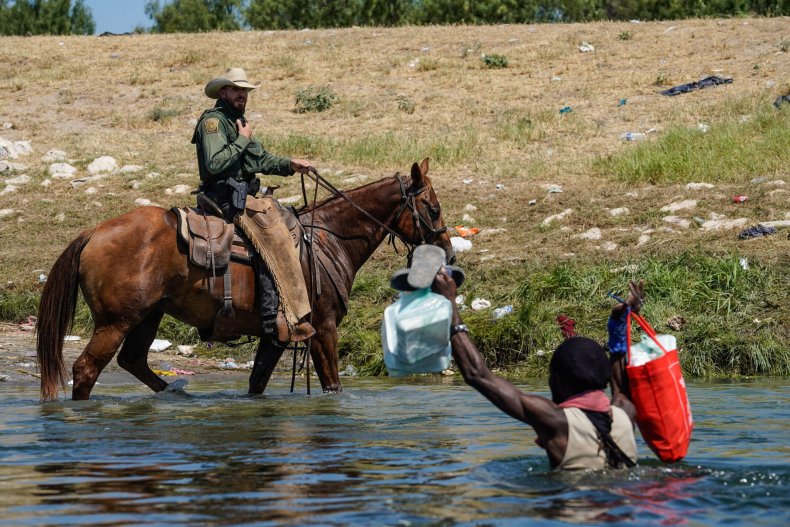 It's also been shown that family-focused asylum management processes are more compassionate, effective and less costly overall—and they generate nearly perfect legal compliance from participants.
That's in part because these family-focused asylum processes are also vastly more humane. Family detention is terrible for children. On top of the physical distress, the emotional and psychological impact of being detained in jail-like conditions in a foreign country despite having committed no crime is unfathomable.
Alternatives to detention prioritize human dignity for asylum-seeking individuals who have not committed any crime and are best supported by receiving case management to ensure compliance and access to community-based services. Like Sofia, many seeking asylum don't have a support system in the U.S. they can expect to rely on once they finally emerge from the detention system. About half the clients we encounter at Bethany Christian Services don't know anyone here in America.
That's why Bethany partners with the federal government to provide critical resources to asylum seekers and their families. We equip them with individual or group therapy for stress management, human trafficking awareness classes, child abuse prevention tactics and much more.
For so many people like Sofia, the Wraparound Stabilization Services program—which offers mental health counseling, trafficking and abuse assessments, family therapy, parenting classes and life skills courses at no costs—is often the only support they will ever receive.
Sofia found out that she was pregnant shortly after arriving in the U.S. A miscarriage stole her baby's life at 12 weeks. Amid her anguish and heartbreak, Sofia was able to find the support and care that she needed through her therapist at Bethany.
I've worked with children and families fleeing persecution for more than two decades. Serving as Bethany's president and CEO, I'm reminded every day that each child and family we serve has their own unique story and possesses inherent dignity and worth.
This is because every person has the unwavering right to seek restoration and healing, regardless of their nationality. It's simply untrue that compassionate policy requires us to somehow disregard the rule of law. We must confront the human face and real suffering of those seeking asylum by permanently moving away from detention-centered processing for asylum-seeking families.
I've seen and experienced the power of family for those seeking asylum, first-hand. I know how urgent it is to strengthen families and work to keep them together whenever possible.
The next time you hear about "illegal immigrants," think again. Many of them are fleeing for their lives and seeking asylum according to U.S. law. They all deserve to be treated with dignity and compassion. I believe the steps we are taking to create a family-centered asylum process are just the beginning.
Chris Palusky is president and CEO of Bethany Christian Services.
The views expressed in this article are the writer's own.