Did 'Seeking Sister Wife' Star Dimitri Cheat on Ashley? The Snowdens Explain Their Relationship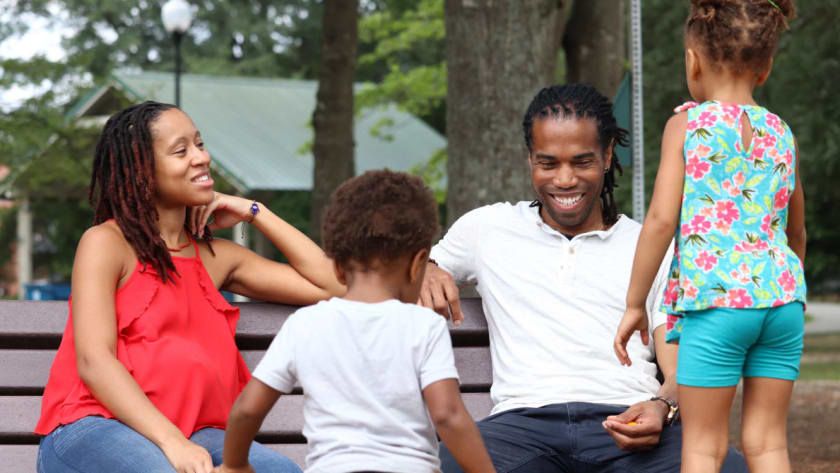 Ashley and Dimitri Snowden want to make something clear: Dimitri didn't cheat on his wife.
On Sunday's episode of TLC's Seeking Sister Wife, Dimitri confessed he hooked up with another woman. For a polygamous couple like the Snowdens, there are rules to follow when finding another wife, and Dimitri mixed them up a little. That led to a social media backlash that, while perhaps unsurprising, erupted out of a misunderstanding.
"I thought it was interesting, because cheating is when you're not aware that the person is going to have sex," Ashley told Newsweek. "I was completely aware that Dimitri would have sex with this woman, it just happened out of order."
On the show, Dimitri went out with a woman named Jocelyn, and after their first date they hooked up. He admitted that wasn't the right choice—they should have waited. But in the experience, Dmitri said he saw an opportunity for the couple to grow.
"Listen, it wasn't my brightest moment, by any stretch of the imagination, but the take away is that I was able to huddle with Ashley and come clean. She's my best friend," he said. "We're able to move forward together with a new understanding."
That might be good enough for the couple, but the Snowdens know there are some people who don't understand their lifestyle choice, polygamy, the practice where a husband has multiple wives.
Still, they were shocked by the hate they received.
It was especially difficult for Dmitri to watch his confession play out on TV—then experience the online backlash. "It hurt that this single moment in time now becomes the single thing people judge your entire being on," he told Newsweek. "I think seeing that play out again and have to relive it, being berated by literally thousands of people, I have no other words other than [to say] it did not feel good at all."
"I feel like a lot of people were rude, quite frankly, and passed a lot of judgment on us as a couple," Ashley added. "They came for him, obviously, but then a lot of women were coming for me too."
While most monogamous people might be confused by polygamy and possible jealousy, Ashley said envy is an emotion she rarely experienced.
"For as long as I have been alive, I cannot remember many instances where I felt jealous. I don't know if that was something I was taught or that was instilled in me as a child," she said, noting she was the eldest of three children and always enjoyed sharing with her siblings.
Dimitri fulfills all her needs and there is no need to be jealous, she added.
The relationship might seem unbalanced—only Dimitri has multiple partners—but Ashley said finding someone else wasn't for her. "I'm not interested in having multiple husbands," she said. "And that's not the version of the family dynamic we are trying to create."
Dimitri agreed, saying multiple husbands in the family was not part of their vision, but he made sure to note that Ashley is not an "obsession" of his. "I don't own her," he said.
That still leaves the online reaction to Dimitri's hook up. Viewers (and commenters) likely wonder how'll they'll respond to their critics. Anyone expecting fireworks, though, will be disappointed. As difficult as it was for the couple, they have no plans to retaliate.
"It's easy to respond, but we found that responding to people that are content in their misunderstanding and judgment is kind of pointless," Ashley said. "We know who we are. We are strong in our relationship and that's what is most important."
Seeking Sister Wife airs Sundays on TLC at 10 p.m. ET.