'Seeking Sister Wife' Spoilers: Snowden Family Expects Vanessa to Detox Her Body Before She Gets 'Intimate' With Dimitri
TLC's Seeking Sister Wife returns Sunday with an odd request from Dimitri and Ashley Snowden. In the newest episode, there's only one thing "left to do" for prospective sister wife Vanessa before she becomes "intimate" with Dimitri—detox.
"[The Snowdens] are ready for Dimitri to become intimate with me, and I'm excited and ready for that too," Vanessa said to the camera. "I was ready pretty much when I first met him."
"It has been a while and I'm human who has needs," she added.
In a sneak peek of the newest episode of TLC's hit reality show, Ashley requested Vanessa to detox her body using an eating plan known as the "Alkaline Diet."
"Up to this point, Vanessa knows that we eat a certain way," Ashley said to the camera. "We don't consume meat, we don't consume dairy or gluten."
"This Alkaline Diet is actually a step above that," she added.
The purpose of this diet is to eat foods that balance the body's pH. Foods approved during the 21-day diet includes most fruits and vegetables, some nuts and legumes, but absolutely no animal products.
"Dimitri and I have been eating Alkaline for a few years now, so we know our bodies are balanced," Ashley said to the camera.
The Snowdens told Vanessa they have a "specific" list of foods that can be eaten during the 21-day detox, which is "just enough time" for her body to "reset."
"I've done a lot of crazy diets in my life," Vanessa said to the camera. "I've never done one just to get some D."
"That's what they want, so I'm gonna have to do it," she added. "I couldn't say that I'm excited about it, but here we are."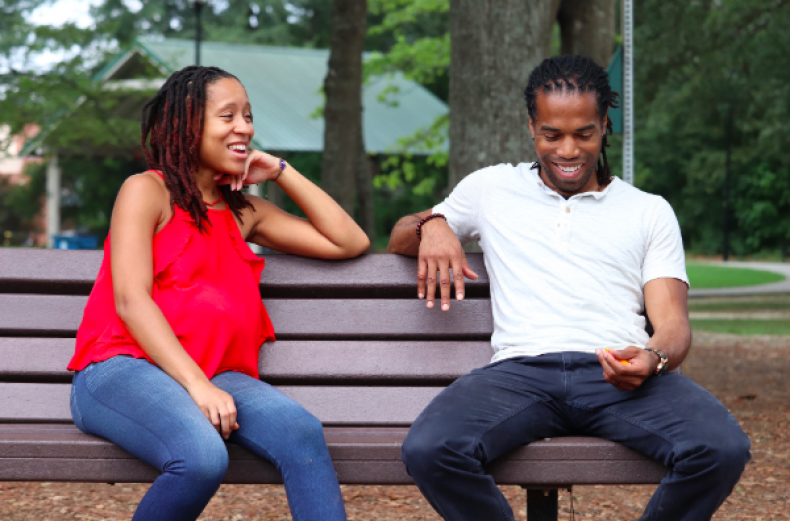 If Vanessa officially marries Dimitri, she will be the first sister wife in the Snowden family. While both Ashley and Dimitri expressed their excitement about the possibility of Vanessa joining their family, some don't seem to be on board with the idea.
In a previous episode, Dimitri introduces Ashley's mother to Vanessa during a birthday dinner.
"What is this?" Donna asks when she sees Vanessa and Dimitri enter, clearly not amused.
"All of a sudden this loud ruckus comes about, and we look up and there are him and this other person. I'm just sitting there like, 'What is going on?'" Donna told the cameras in a confessional.
Vanessa and Dimitri joined Donna and Ashley at the table. Ashley revealed she was shocked, but happy they came. Donna, however, does not seem as pleased.
"I tried to be careful with surprising you with too much, but I wanted to take advantage of the opportunity for you to meet our significant other," Dimitri says to Donna, despite her apparent discomfort with the situation.
In her confessional, Donna adds that she doesn't approve of the way Ashley and Dimitri are living: "I have no interest in this lifestyle. I can't wrap my head around it. I've always been told two queens can't live in one castle, so I'm not ready for this," she says. "I'm not."
On the previous season of Seeking Sister Wife, Dimitri and Ashley struggled to find another person to bring into their relationship. At one point, he slept with another woman, though the Snowdens did not consider it cheating.
"I thought it was interesting because cheating is when you're not aware that the person is going to have sex," Ashley told Newsweek in a previous interview. "I was completely aware that Dimitri would have sex with this woman, it just happened out of order."
Find out what happens next when Seeking Sister Wife premieres Sunday on TLC at 10 p.m. ET.