'Seeking Sister Wife' Spoilers: The Snowden's 'Awkward and Uncomfortable' Meeting With Vanessa's Twin Sister
Following last week's odd request of a detox diet, things continue to go down an awkward path as the Snowdens meet Vanessa's twin sister.
"My first impressions of Vanessa's sister is Adrienne ain't feeling it," Ashley says to the camera. "It's clear she ain't feeling it... it's kind of awkward."
"It's awkward and it's cold," adds Dimitri.
Things are clearly uncomfortable as the Snowdens, Vanessa and her sisters gather in the kitchen. Not much conversation is swirling amongst the group and when Vanessa suggests they all go out to lunch, Adrienne nervously scratches her neck and says, "whatever you want to do."
"My reservations about my sister's relationship with Dimitri and Ashley is that she is not going to get everything that she wants and deserves out of a relationship," Adrienne says to the camera. "I think she'll always be an afterthought, just as a natural dynamic from being the second wife, girlfriend or whatever it is."
As the sisters go into a separate room to freshen up, Adrienne takes the time to suggest some "sister time."
"I really want to get some alone time with her so I can get an honest answer out of her – if she's happy, if this is everything she thought and hoped it would be," Vanessa's sister adds.
The two agree to have lunch alone, but Vanessa is already feeling her sister being "closed off" to the idea of joining the Snowden family.
"I was hoping Adrienne would be a little bit more open and warm, but I feel her and see her being very closed off and that's really awkward and uncomfortable," Vanessa tells the camera. "I don't think anyone really knows what to do and I don't think she knows what to do. I'm hoping, as the day progresses, they'll relax and open themselves up to Ashley and Dimitri."
As the sisters head to lunch, things seem to get a bit "defensive" when Adrienne asks some harsh questions.
"Adrienne's questioning, it feels especially judgmental and not coming from a caring place," Vanessa explains to the camera. "She has already made up her mind. She thinks this is a terrible idea and then just wants to ask questions to, I don't know, be mean."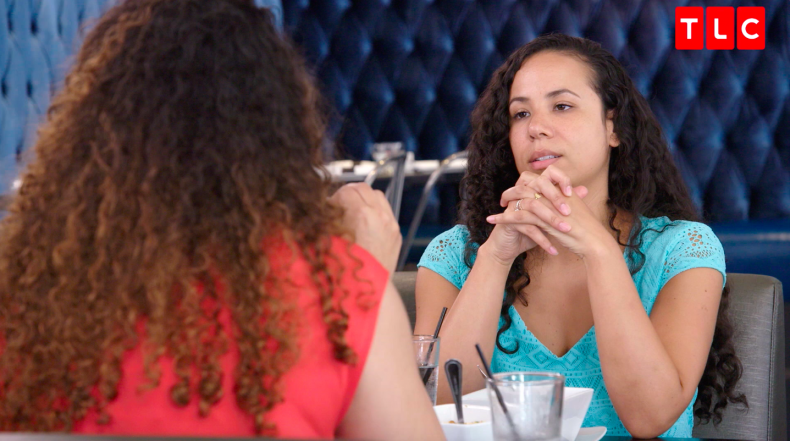 "I just don't think you're going to be happy," Adrienne tells Vanessa. "Yes, you're happy now, but I just don't see it working out long-term."
She adds: "It's not sustainable. You like to be the center of your man's world and you are never going to be the center of Dimitri's world."
Lunch continues to go down a tense path as Vanessa counters her sister's argument: "Guess what, Dimitri's world is big and Ashley and I are both at the center of it."
While Adrienne claims that her concerns are coming from a good place, Vanessa definitely doesn't seem to be convinced and keeps her defense up. Though this conversation may begin to drive a wedge between the twins, Adrienne will continue to point out "red flags" if she sees them.
"I plan on seeing for myself if you're happy because I know you better than anyone else," Adrienne tells her sister. "I would be more easily convinced that you were happy if you weren't so defensive about it... when there's smoke, there's fire."
"I have concerns and I want to see that you're going to be OK," she concludes.
Find out what happens next when Seeking Sister Wife airs Sunday at 10 p.m. ET on TLC.