'Seeking Sister Wife' Star Vanessa Cobbs Says Yes To Dimitri's Proposal, But Is A Third Wife Already In The Works?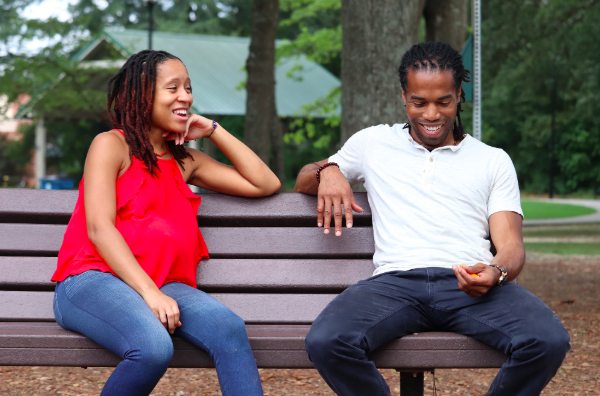 It may have come as no surprise to some Seeking Sister Wife fans when Dimitri Snowden got down on one knee to propose to potential second-wife Vanessa Cobbs last week. While it was a joyous day for the Snowden family in finally making "[their] dreams come true," Sunday night's episode looks to like they are already starting to introduce the idea of potentially adding a third wife to the mix.
Before Dimitri and Vanessa have even said "I do," the potential second-wife and Dimitri's first-wife Ashley tell family members that a third wife "sounds great."
"Wow, they laid on the possibility that there could be somebody else," Dimitri's mother Lestra says to the camera. "My mind is not ready for that one."
"All of them need to make sure that they are prepared for this marriage," she adds. "Life can be a b****."
"The reason that a third wife functions, even outside of child-rearing, is that we are trying to build an empire," Ashley says to the family. "If I am, for example, running our dance studio, Vanessa is then at home with the children. If we had a third wife, we could rotate so that everybody is doing something."
One unidentified person in attendance labels the addition of a third wife as a "pyramid scheme," saying that the "lowest person on the totem pole" would have to do the least desired task.
"A pyramid scheme? That's just ignorance," Vanessa tells the camera. "Ignorant to the polygamist lifestyle, it just really infuriates me."
"I feel like people are forgetting that they're here for our wedding that we have planned and it's a little insulting, honestly," she adds.
During last week's episode, Dimitri traveled to Seattle to ask Vanessa's mother for her daughter's hand. Things seemed to be a little awkward between the two, and as Vanessa's mother Jojo asked Dimitri to join her in the living room, she revealed that she wasn't too fond of her daughter dating him in the first place.
"Did Vanessa tell you that I called her after I watched [Season 1]," Jojo asked Dimitri. "I said, 'Vanessa, I don't want you to be with that man. Do you know what he did?'"
As previously reported, during an episode last season, Dimitri confessed he hooked up with another woman. For a polygamous couple like the Snowdens, there are rules to follow when finding another wife, and Dimitri mixed them up a little. That led to a social media backlash that, while perhaps unsurprising, erupted out of a misunderstanding.
"I thought it was interesting because cheating is when you're not aware that the person is going to have sex," Ashley told Newsweek. "I was completely aware that Dimitri would have sex with this woman, it just happened out of order."
Find out what happens next when Seeking Sister Wife airs Sunday night on TLC at 9 p.m. ET.