Video: Seinfeld Star Jason Alexander Becomes the Newest Face of KFC's Colonel Sanders
Former Seinfeld star Jason Alexander has become the new face of KFC by donning the white suit and appearing as Colonel Sanders in adverts.
Instead of bickering with Jerry Seinfeld at Monk's Cafe, George Costanza will now hold up a bucket of KFC and promote the chain's "$20 Fill Ups." Alexander said he was excited about taking on the role of the Colonel.
"As the son of two working parents, there were plenty of dinner times when a bucket of chicken and all the fixins saved the day," Alexander said in a KFC release. "It's been fun to combine my personal love for KFC with my sitcom experience into a new take on the role of Colonel Sanders."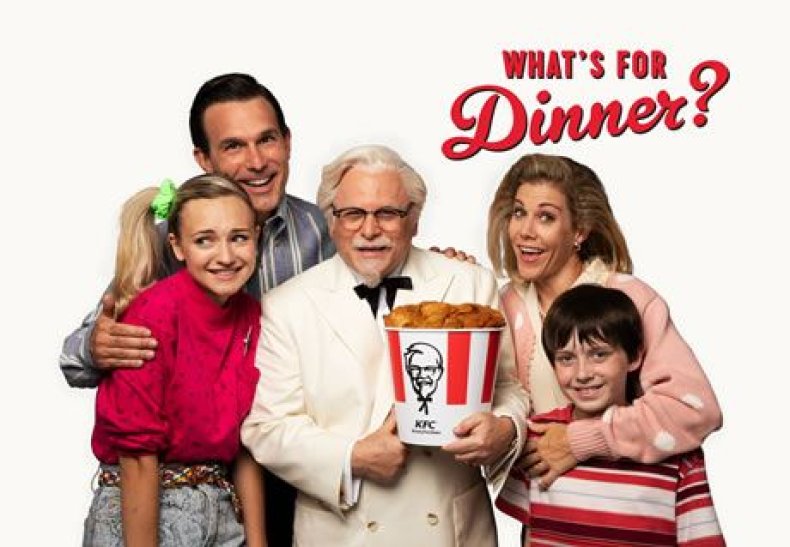 Alexander joins the ranks of Rob Lowe, George Hamilton and the first female Colonel Sanders, Reba McEntire. All actors have offered slightly different takes on Sanders and Alexander can be seen calling on his Seinfeld experience to play the role.
The "What's for Dinner?" advert shows Alexander arriving at a family house to assist with dinner, along with other odd chores around the home. After gossiping on the phone with the daughter, playing catch (with a piece of KFC) with the son and handing the father a drumstick instead of a wrench in the garage, Alexander's Colonel eventually takes over the family.
By the final scene, Colonel Sanders has become the mother, father and couch (yes, couch) for the family—not to mention the mailman and nosey neighbor as well.
A second, shorter advert shows Alexander arrive at the family home with a giant tray of KFC, showcasing the four different options in the $20 Fill Ups deal. The Colonel holds the comically wide tray with fake extended arms.
Alexander is no stranger to working with KFC. In 2002, he appeared in a series of adverts for the fried chicken chain—albeit not as Colonel Sanders himself. Alexander promoted KFC's popcorn chicken and it's crispy strips meal. He closes the ad with the chain's slogan from the time "there's fast food, and then there's KFC."
Chief marketing officer of KFC, Andrea Zahumensky, said Alexander was the perfect person for the part of Colonel Sanders. "I am all-too familiar with the challenge of family dinner," Zahumensky said. "There's no better person to spread the word about our new 'family of four' in a sitcom setting than comedy extraordinare Jason Alexander."
The adverts have begun rolling out across the United States on television and the Internet.