Who Is Francia Raisa? How Selena Gomez's Best Friend Helped Her Skip the Kidney Transplant List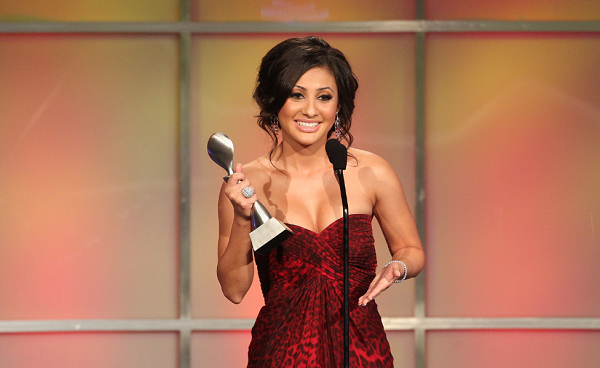 For months, fans have been wondering where Selena Gomez has been. The singer released a new single in early June and seemingly disappeared from the spotlight shortly afterward, leaving her league of followers puzzled and concerned when she didn't launch a promotion campaign for her new music.
On Thursday, however, Gomez finally explained her absence, revealing in an Instagram post that she had undergone a kidney transplant and had spent the summer recovering. Gomez's friend Francia Raisa donated her kidney to the 25-year-old singer.
Raisa, a 29-year-old model and actress, has been friends with Gomez since they first met nearly 10 years ago at a charity event hosted by Disney and ABC Family at the Children's Hospital. Back in 2013, Raisa, a California native, told Latina magazine that she and Gomez were working in the same group at the charity event, and they "just clicked."
Gomez, who announced her battle with lupus back in 2015, said she received a kidney transplant for her overall health.
"I'm very aware some of my fans had noticed I was laying low for part of the summer and questioning why I wasn't promoting my new music, which I was extremely proud of. So I found out I needed to get a kidney transplant due to my Lupus and was recovering. It was what I needed to do for my overall health. I honestly look forward to sharing with you, soon my journey through these past several months as I have always wanted to do with you," she wrote. "Until then I want to publicly thank my family and incredible team of doctors for everything they have done for me prior to and post-surgery. And finally, there aren't words to describe how I can possibly thank my beautiful friend Francia Raisa. She gave me the ultimate gift and sacrifice by donating her kidney to me. I am incredibly blessed. I love you so much sis."
Lupus is an autoimmune disease that can affect a number of bodily organs, including the kidney. While it's unknown what actually causes lupus, environmental factors like toxic chemicals and pollutants, as well as family history with the disease, may play a role, according to the National Kidney Foundation. About 90 percent of people most affected by the condition are middle-aged.
About 60 percent of people suffering from lupus develop kidney disease. For many of them, a kidney transplant is their only chance of survival. However, getting added to the transplant list—no matter the organ—is often an extensive and strenuous process. On average, patients wait between three and five years after being added to the national organ transplant waiting list to undergo the surgery, which is incredibly costly.
Although Medicare covers the majority of the cost—Medicare Part B covers 80 percent of the price of immunosuppressant medication—kidney transplants can cost over $260,000.
According to the National Kidney Foundation, as of January 2016, there were nearly 100,800 people in the United States awaiting a kidney transplant.