What Happened to Selena Quintanilla's Husband Chris Perez?
Netflix will debut its highly anticipated new show, Selena: The Series, on Friday, giving audiences an intimate look at the rise of late Tejano singer Selena Quintanilla. Among the many details uncovered about the Mexican-American singer's life in the series is her romance with her Selena y Los Dinos bandmate Chris Perez, who eventually became her husband.
Perez, played by Jesse Posey, won't show up until later on in the series, after Quintanilla is already a somewhat established artist. Granted, Quintanilla's father and band manager Abraham Quintanilla wasn't initially a fan of the Texas-born rocker, but Perez's skills as a guitarist and songwriter proved to be key to the band's progression, as he collaborated with Quintanilla's brother, AB Quintanilla, to write songs for the group. Perez even picked up a credit with AB Quintanilla for the jingle Selena Quintanilla sang in her 1989 Coca-Cola commercial.
The first season of the series only covers Selena Quintanilla's early days in the music industry; much of what occurs on the show happens before AB Quintanilla wrote the band's 1992 hit "Como la Flor." In real life, Perez and Quintanilla married in 1992, and Perez remained by the singer's side up until her tragic death in 1995.
Perez is not closely involved in the Netflix series, but he did speak recently about his late wife's legacy in an interview with Good Morning America, centered on the 25th anniversary of Quintanilla's death.
"What she's become, especially for... Latin culture and women, and just the positivity that she spoke about and displayed not only onstage but offstage... I believe it's her fans that have put her in the position that she's in these days," Perez said during the October interview. "Out of everybody that I've known in my life, I don't know anybody more deserving than her."
Quintanilla was shot and killed by her former fan club and boutique manager Yolanda Saldívar, who is currently serving a life sentence on first-degree murder charges.
Reflecting on the day of Quintanilla's death, Perez told GMA: "I wish I had amnesia for that day."
"I wish I could go from the night before, which was amazing, to... I don't even know," he said.
Despite his grief, Perez and the rest of the Quintanilla family were able to finish the singer's long-awaited English album Dreaming of You, which Selena Quintanilla had been working on before her death. It was released posthumously in July 1995 and soared to the No. 1 spot on Billboard's Pop chart.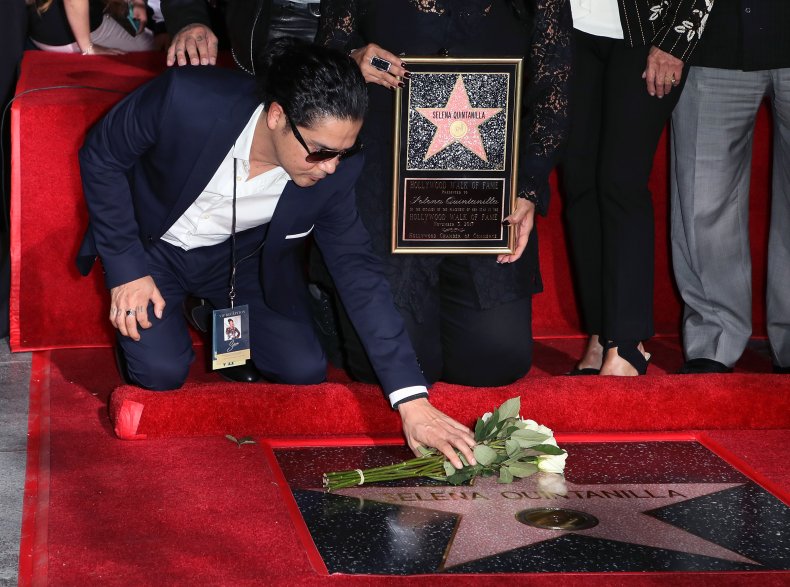 "For me, one of the hardest things to do was to show up and continue recording on that after she was gone," Perez told GMA. "But seeing it kind of take off the ground, the work was worth it."
He added: "I feel like the way the fans have treated all things Selena, the album as well, it's been for me, it's helped me a lot. She's still out there, inspiring people."
In the years since Quintanilla's death, Perez has gone on to achieve his own success with the Chris Perez Band, a rock group he formed with friend John Garza, Rudy Martinez, Jesse Esquivel and former Selena y Los Dinos keyboardist Joe Ojeda. The band's debut album, Resurrection, was released in May 1999 and went on to win a Grammy award for Best Latin Rock, Urban or Alternative album in 2000. He also published a memoir, To Selena, With Love, documenting his relationship with Quintanilla, in 2012.
Perez remarried in 2001. He and Venessa Villanueva also welcomed two children, Noah and Cassie Perez, before divorcing in 2008.
The 51-year-old musician has also kept in touch with Quintanilla's family over the years, although his relationship with the late singer's family hasn't been completely smooth as of late.
Earlier in 2020, Perez accused the Quintanilla family of attempting to erase his contributions and relationship with Selena Quintanilla, claiming that photos of him had been removed from the Selena Museum in Corpus Christi. Quintanilla's sister, Suzette Quintanilla, who manages the museum, refuted the claims, after which Perez issued a public apology on social media.