'Selena: The Series': Where Is Selena Quintanilla's Family Now?
It's been 25 years since the queen of Tejano music, Selena Quintanilla, was tragically killed at just 23 years old. However, her legacy not only lives on through her music and fans, but her family, too. It's because of them that a new show tracking the rise of Quintanilla's career and influence is set to debut on Netflix.
Created by Moisés Zamora, Selena: The Series will make its way onto the streaming platform on Friday. Christian Serratos stars as the singer in the nine-episode series, which offers a glimpse of the earlier years of Quintanilla's life, from the day she was born up to the moments just before she became the pop star that she's remembered as today.
Quintanilla's family members—her father and manager, Abraham Quintanilla Jr., brother AB Quintanilla III, sister Suzette Quintanilla and mother Marcella Samora—also play a pivotal role in the series. The show tracks the influence and impact that each member of Quintanilla's family had on her musical career, but their involvement didn't stop there. They also had a first-hand role in the creation of the series, providing Zamora with journal entries written by the late singer, as well as family video footage to help the show's executive producer and the series' lead capture the essence of Selena Quintanilla.
Suzette Quintanilla, who also runs the Selena Museum in Texas, even serves as an executive producer on the show. "It was a very emotional journey because she lived through it," Zamora told Forbes in an interview published on Tuesday.
"When we were reading the script and she's tearing up because it is bringing her back to those specific moments, it's an incredible experience for the writers, for everyone. That's when we knew this show was special," he continued. "This is the story they wanted to tell and this is the story I wanted to tell. The inspiring Mexican-American dream that by definition is also an American dream and it should be treated as such."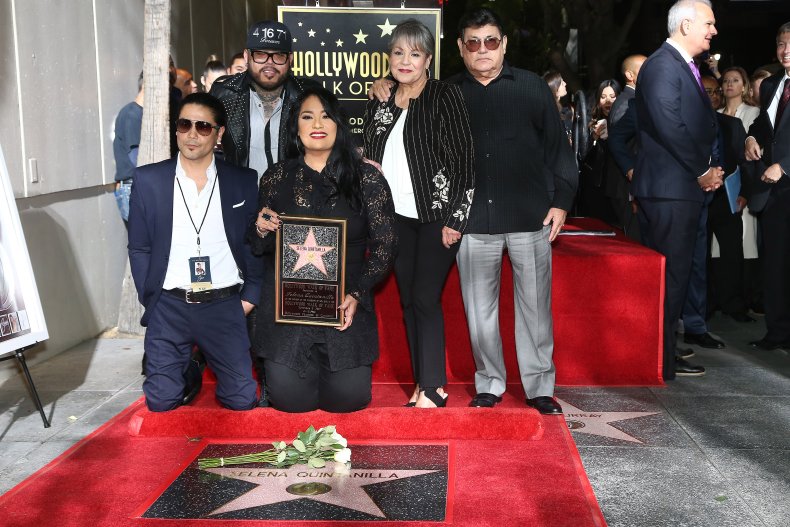 The Netflix series is just the latest tribute to the award-winning singer's legacy. The story of Selena Quintanilla was, of course, brought to the big screen back in the 1997 film Selena, in which Jennifer Lopez starred as the Mexican-American superstar. There have also been countless books written about Quintanilla's influence on popular culture, and soon her father will release his own memoir, which will include his account of his late daughter's life.
"Today I finally finished the last chapter of my book that I have been writing for the last few months. Nancy De Los Santos was the ghostwriter that helped me write the book. Nancy was a co-producer on the SELENA movie and is from Los Angeles, Calif. Since my daughter Selena died, I was wanting to write a book," Abraham Quintanilla Jr. wrote in a Facebook post in February.
He added: "The public might not be aware that there are about 21 unauthorized books written about Selena and none of the writers ever interviewed Selena....My family and I and Chris Perez know exactly what happened... I will release the book later this year."
Shortly after Quintanilla's death, her parents also launched The Selena Foundation, which provides food and resources to people in need. Back in April, the charity organization presented Corpus Christi's Coastal Bend Food Bank with a donation of $25,000 to help empower lower-income families in South Texas.
Although the musical group Selena y Los Dinos was dissolved after Quintanilla was shot and killed in 1995, music remains a big part of the family's lives. Quintanilla's big brother, who was largely responsible for the production and songwriting of the group's biggest songs—like "Como la Flor," "Amor Prohibido" and "No Me Queda Mas"—continues to make music. Following his sister's death, AB Quintanilla III formed the band Kumbia Kings. He left that group in 2006 and went on to start Elektro Kumbia in 2016.