Selena Quintanilla, the Queen of Tejano music, may have only lived for 23 years, but her legacy will surely continue until the end of time.
Since her tragic and untimely death in 1995, the Mexican-American singer's artistry and impact have transcended pop culture, inspiring the music and fashion of those who have come after her including Jennifer Lopez, who starred as Quintanilla in the 1997 Selena biopic, to younger artists of today like Camila Cabello and Kacey Musgraves, who have covered Quintanilla's songs.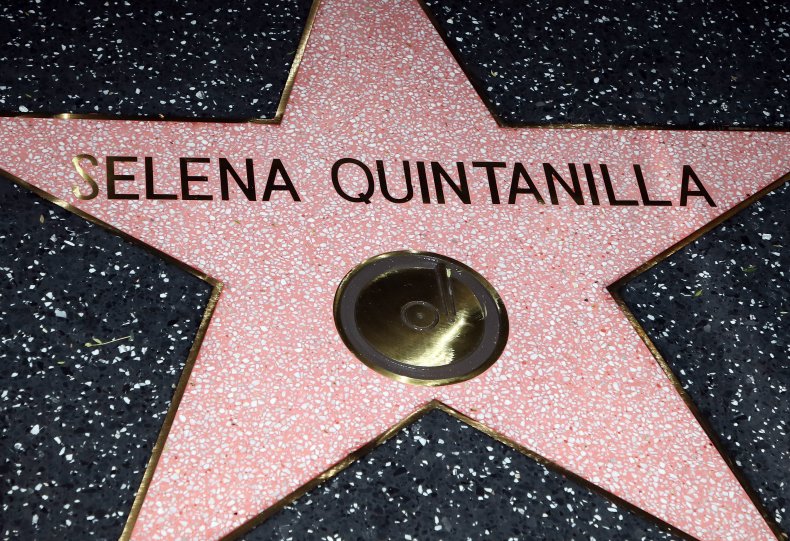 With a Hollywood Star in her name and a Madame Tussaud's wax-figure in her image, the masses remain captivated by Quintanilla's revolutionary sound and influence. And now Netflix is continuing to stretch Quintanilla's reach with the streaming network's newest original title, Selena: The Series. The show, released on Friday, follows the earlier years of Quintanilla's life and recounts how she the girl became the legend.
However, it didn't start out all glitz and glam for Quintanilla. Before her talent and determination skyrocketed her to fame, she was merely the youngest daughter to Abraham Quintanilla and Marcella Samora and the baby sister to AB and Suzette Quintanilla. Living in Lake Jackson, Texas, it wasn't until she was about six years old when her father, a former musician himself, discovered Selena Quintanilla could sing
"Her timing, her pitch were perfect, I could see it from day one," her father told People magazine in a 1995 interview.
After realizing his daughter had a powerful set of pipes and the natural charm of a star, Abraham Quintanilla designated Selena Quintanilla as the lead singer of the family band when she was 10 years old with her older brother serving as the bass guitarist while her sister played the drums. The group initially performed at the family's Tex-Mex restaurant, Papa Gayo's.
However, after the restaurant shuttered and the Quintanilla family filed for bankruptcy and lost their home—as a result of the 1980s oil glut—Abraham Quintanilla stepped up his efforts to establish a more solidified band and rebranded the group as Selena y Los Dinos, specifically performing Tejano music at weddings, quinceañeras and events around their new town, Corpus Christi.
Although English was her primary language, Selena Quintanilla's father taught her Spanish. Watching telenovelas (Latin soap operas) also helped her pick up the language.
In 1984, the band recorded its first LP, Selena y Los Dinos, for Freddie Records. By 1987, Selena Quintanilla was named winner of Female Vocalist of the Year at the Tejano Music Awards—a feat she'd go on to accomplish for the next consecutive nine years. Selena y Los Dinos went on to release five more EP's— Alpha (1986), Munequito de Trapo (1987), And the Winner Is... (1987), Preciosa (1988), and Dulce Amor (1988)—before the group had the opportunity to record their debut album, Selena, under EMI Latin Records in 1989. When the group's second studio project Ven Conmigo released the following year, it became the first Tejano album to achieve gold status, therefore thrusting Selena Quintanilla into the superstar lexicon.
As Selena Quintanilla's musical career was taking off, so was her love life. The singer was smitten with the band's guitarist Chris Perez, who joined Selena y Los Dinos a year before Ven Conmigo's release, and despite the disapproval of her father—who actually kicked Perez out of the group when he discovered the couple's relationship—the pair tied the knot in 1992 in a secret ceremony. While it took some time, after learning of Selena Quintanilla and Perez's marriage, Abraham Quintanilla did eventually accept the couple and invited Perez back into the band.
Selena Quintanilla's career continued to flourish with the release of the band's 1993 album, Live!, which landed at No. 2 on Billboard's Top Latin Albums chart and earned Selena Quintanilla a Grammy for Best Mexican-American Album—making her the first Tejano woman to ever win the award.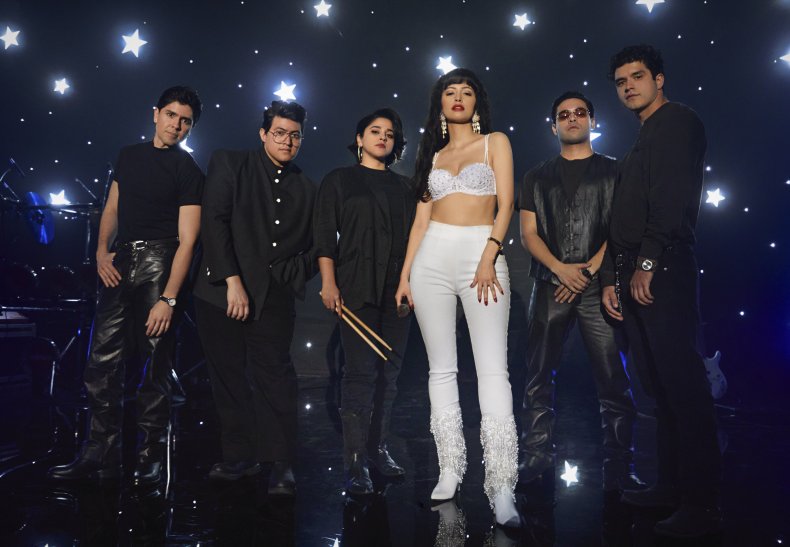 The notoriety of that album sparked the interest in a crossover album, giving Selena Quintanilla the opportunity to start work on her first English language album, all while working on her fourth studio album, 1994's Amor Prohibido, and launching the first of her two clothing boutiques Selena Etc., managed by her former fan club president Yolanda Saldívar.
Amor Prohibido was a massive success, catapulting Tejano music into the mainstream and Selena Quintanilla was hailed as the Queen of Tejano. Not only did the album birth two of the highest-charting Latin singles of 1993 and 1994—"Amor Prohibido" and "No Me Queda Más," respectively—it won Selena y Los Dinos a Grammy nomination for Best Mexican/American Album in 1995, won Record of the Year at the Tejano Music Awards and the Regional/Mexican Album of the Year at the Lo Nuestro Awards that same year.
Unfortunately, Selena Quintanilla wasn't able to enjoy the fruits of her labor for long. After Abraham Quintanilla discovered Saldívar embezzled thousands of dollars with forged checks from Selena Quintanilla's fan club and boutiques, Selena Quintanilla met with Saldívar at a motel in 1995 where she shot and killed the singer.
Saldívar is currently serving a life sentence on first-degree murder charges. She is eligible for parole in 2025.
Although she was not alive to see it, Selena Quintanilla's lifelong dream of making an English-language album came true with the posthumous release of Dreaming of You four months after her death. The record was an instant hit with fans and even reached the No. 1 spot on Billboard's Hot 200.