Self-Determination: A Valuable Lesson for Minority Students | Opinion
I never had the good fortune of meeting renowned New Jersey principal Joe Clark in person. But he taught me, and America, a great deal about how we can transform distressed urban schools and neighborhoods across the country.
Mr. Clark passed away on December 29 at the age of 82. Morgan Freeman portrayed him in the 1989 movie Lean on Me, which chronicled the remarkable changes that took place in the inner-city Paterson, N.J., high school under his leadership. He died without much fanfare, but America could use his lessons now more than ever.
School districts across the nation have made the decision to eliminate basic academic standards for minority students. The San Diego school district announced it was changing its grading system in an effort to combat racism. New York mayor Bill de Blasio has proposed changes to admission criteria for specialized schools, including the elimination of tests altogether, in the interest of "fairness."
These ill-conceived ideas are ultimately harmful, because they send a message that certain students are incapable of success. By lowering standards for minority students, we're giving up on these children—who can achieve excellence. Minority students are capable of great things and can be resilient. It's important that our educational system believe and practice that.
Mr. Clark was an agent of his own uplift. He went from being—as he called himself—a "poor black welfare boy from Newark" to the cover of Time Magazine. But that wasn't his greatest accomplishment. His greatest accomplishment was the lifetime he spent teaching self-empowerment to thousands of young Black men and women. If we apply his lessons to Black America in this critical year, we can do the same.
The secret behind Joe's success in that high school was that he respected those children.
He had the highest expectations of them. He didn't pity them or look at them as victims because they were Black or poor or slept in one-bedroom apartments. He told them to believe in themselves and to be resilient. The supposed "anti-racist" efforts in school boards across America, which lower standards for minorities, send the opposite message. This soft bigotry of low expectations hurts, rather than helps, students in distressed neighborhoods.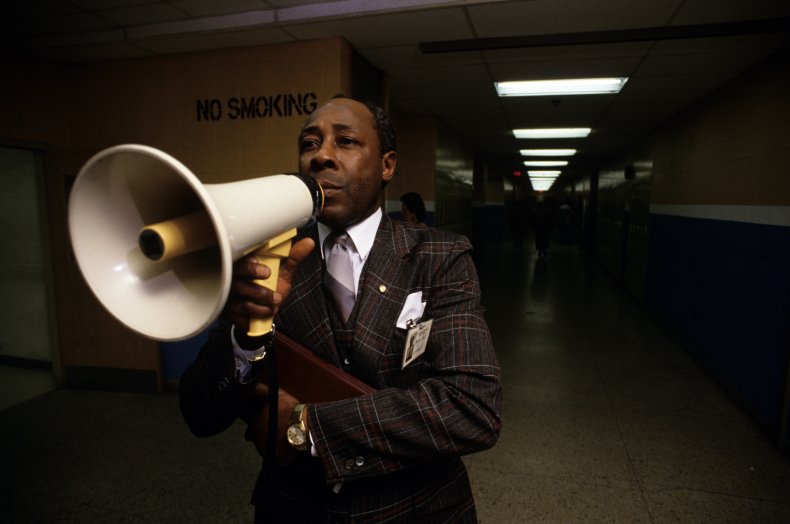 Joe Clark expelled hundreds of students who disrupted others from learning. He did this because it would be the wake-up call those students needed to redirect their lives.
Similarly, many of the young people I've worked with have still ended up in jail. In the organization I run, we have an understanding with the young people we work with. If they slip up, we go to court with them and make an appeal to the judge for them to stay out of prison. We do this one time. If they slip up again, we are still at their side in court, but we don't appeal to the judge. Sometimes, jail is what these young people need. When they get out, they know that we have not abandoned them. But they are also able to testify to others about the lessons they learned. Everyone learns through a different path, and different people need different stimuli to incite them to change.
All the best change leaders I know have four important qualities: they are selfless, they are fearless, they are persistent and they listen. If someone disappoints them, they don't abandon that person. They are fearless, but they command respect through confidence and good works, not through fear.
External circumstances don't always define success. That's why I oppose reparations for Black Americans. I believe in self-empowerment, and know that having money doesn't make you rich. That's why 80 percent of NFL players go broke within three years of leaving the league. When you worship a false god, you take yourself down the wrong path.
Sometimes we spend so much time trying to give our kids the thing we didn't have growing up that we forget to give them the things we did have. When I was growing up, I had to put cardboard in my shoes when they wore out because there was no money for new shoes. But we had love, we had family and we had safety. These three things should not be undervalued, and these are the three things I wish for Black America this year.
Joe Clark knew how to convert disruptors into champions of peace, and encouraged them to be stewards of their own destiny. Others have followed similar paths, like Leon Moore of the Chad School in Newark, New Jersey; Liller Green of the Ivy Leaf School in Philadelphia; and Marva Collins of the Westside Preparatory School in Chicago.
This is the message we need young people in distressed neighborhoods to know today: success through self-determination is possible. You are the greatest force for changing your circumstances.
Bob Woodson is the founder and president of The Woodson Center, which works to empower indigenous leaders in troubled neighborhoods to increase public safety, spur upward mobility, and inspire racial unity in America. His new book is Lessons From the Least of These: The Woodson Principles (Bombardier Books, December 15, 2020).
The views expressed in this article are the writer's own.