Self-Driving Truck Hits German Autobahn in World's First Test Drive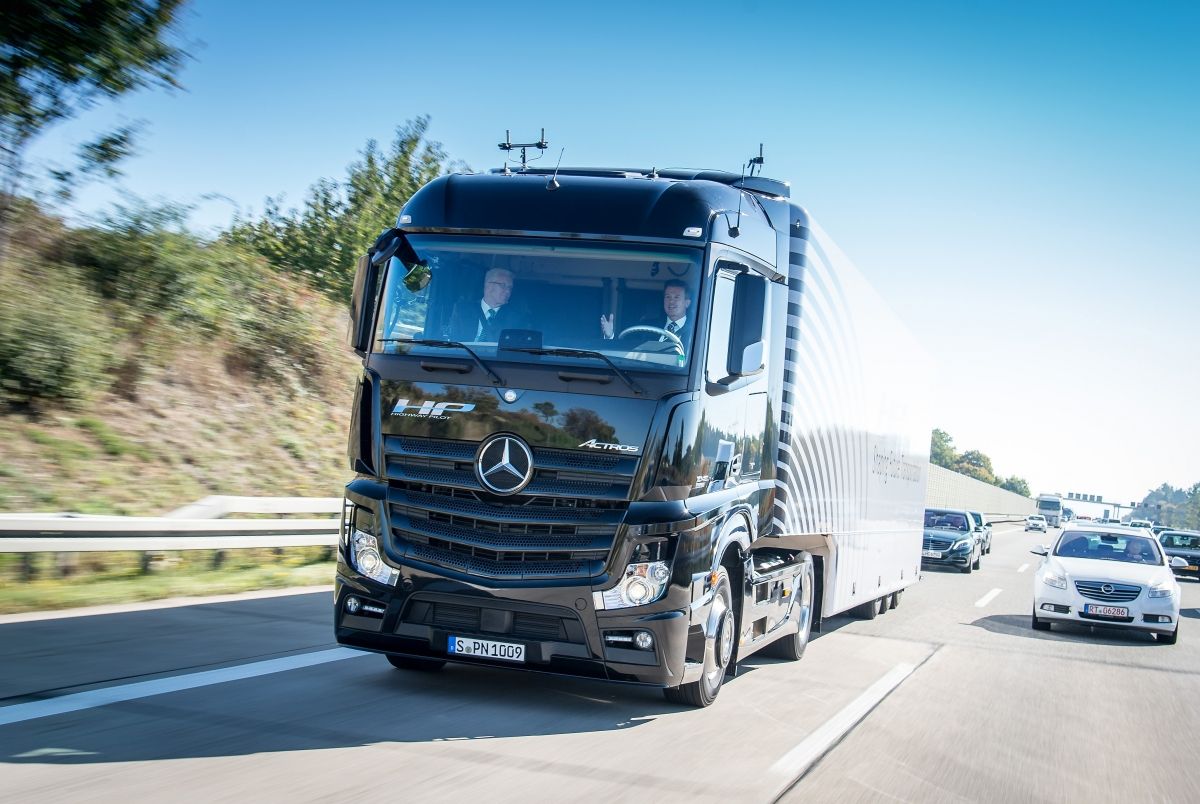 A self-driving Mercedes-Benz truck took to the German Autobahn on Friday, reaching 50 mph in the first test of a partially-automated vehicle in real motorway conditions.
Daimler, the automotive corporation which owns Mercedes-Benz, announced that the Mercedes-Benz Actros truck—fitted with an automated system called Highway Pilot—traveled 14 kilometers (8.7 miles) on the A8 motorway between Stuttgart and the town of Denkendorf in southwestern Germany.
The Highway Pilot system developed by Daimler is equipped with radars and cameras to ensure that the truck maintains the right distance from other vehicles, stays in the correct lane on motorways and automatically brakes when another vehicle cuts in front of it.
However, it still requires a driver to be present in the cabin and to take control of the vehicle in certain situations, such as when weather conditions deteriorate or when exiting the motorway. When confronted by an obstacle, the truck is unable to navigate—for example, a stretch of roadworks on the motorway—the vehicle sounds a warning to the driver and brings itself to a standstill "independently and safely" if there is no response from the driver.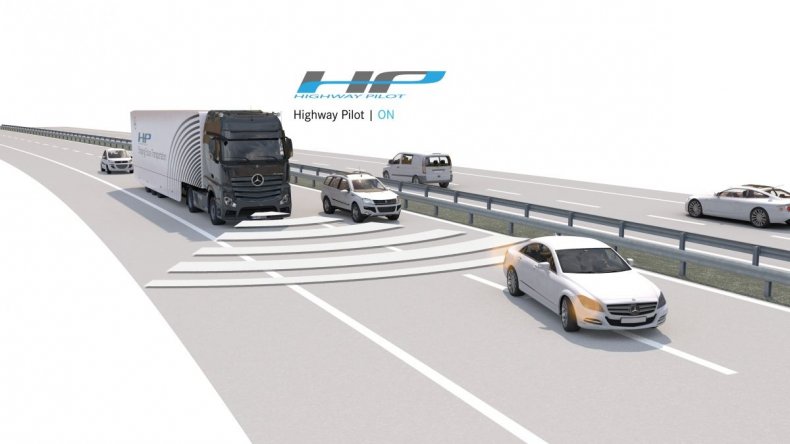 The Highway Pilot system has already been tested on some 20,000 kilometers (12,400 miles) on test routes in the U.S. and Germany, but Daimler said this was a world-first for a self-driving truck under real traffic conditions. Driverless vehicles have previously been tested on U.K. public footpaths, and technology giants Apple and Google are reportedly developing their own driverless car programs, with Google's cars regularly seen being tested on the city roads around its Californian headquarters.
Daimler claims that the system, which can also detect drowsiness in drivers, is "superior to any human being" in averting collisions caused by tiredness, distraction and driving errors. The company claims the system is ideal for monotonous stretches of motorway and "taking care of annoying stop-and-go driving in a traffic jam."
Daimler board member Wolfgang Bernhard sat in the driver's seat for the test, accompanied by Winfried Kretschmann, the prime minister of Baden-Wurttemberg state where the test took place. According to AFP, Kretschmann said that partially-autonomous and self-driving vehicles heralded "a new age of mobility" and had several benefits, including improving traffic flow and "relieving the strain on drivers.
A Daimler spokesperson told Newsweek that the company had now gained a permit for the Highway Pilot system to be tested in vehicles across Germany, making it the first self-driving technology to gain such permission. The spokesperson says that the first partially-automated Daimler vehicles would be available in around three years.