How to Self Quarantine—Travelers Should Follow These CDC Guidelines
Amid the ongoing coronavirus outbreak in the U.S., travelers entering the country from some countries that have been highly impacted by the COVID-19 pandemic may be subject to self-quarantine upon arrival.
Those arriving from travel-restricted nations, including Brazil, China, Iran and most European countries, will be directed to designated U.S. airports for enhanced medical screenings.
Travelers sent to these airports will undergo "random temperature checks and be asked about their medical history, current condition, and contact information for their local health authorities," the Department of Homeland Security confirmed in a statement in late May.
"Passengers will then be given written guidance about COVID-19 and directed to proceed to their final destination, and where they should immediately home-quarantine in accordance with CDC (U.S. Centers for Disease Control and Prevention) best practices," the department advised.
Here's a closer look at the CDC's quarantine guidelines.
Self-quarantine vs. self-isolation
A self-quarantine entails keeping yourself away from others following possible exposure to the virus. Self-isolation involves separating yourself from others after being infected with the virus.
Who should self-quarantine?
Anyone who has been in close contact with an individual infected with the novel coronavirus should self-quarantine. "This includes people who previously had COVID-19 and people who have taken a serologic (antibody) test and have antibodies to the virus."
Close contact includes the following situations:
You were within six feet of an infected person for at least 15 minutes.
You provided care at home to someone infected with the novel coronavirus.
You had direct physical contact with an infected person, such as touching, hugging or kissing them.
You shared eating or drinking utensils with an infected person.
An infected person sneezed, coughed or somehow got respiratory droplets on you.
"Even if you test negative for COVID-19 or feel healthy, you should stay home (quarantine) since symptoms may appear two to 14 days after exposure to the virus," the CDC noted.
How do I self-quarantine?
Those who need to self-quarantine should:
Remain at home for 14 days after your last contact with an infected individual.
Monitor your symptoms, checking whether you have a fever (100.4 degrees F), a cough, shortness of breath or other symptoms of the novel coronavirus.
Stay away from others as much as possible, especially those at higher risk of becoming very ill from infection.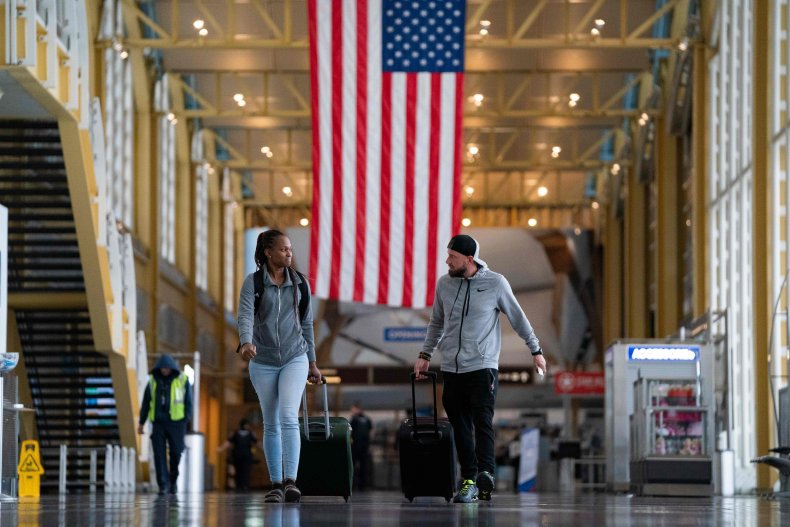 Who should self-isolate?
Confirmed COVID-19 patients who have symptoms of the virus and are able to recover at home as well as asymptomatic patients who have tested positive but are showing no symptoms should be self-isolating, the CDC confirmed in a notice updated last week.
"People who are in isolation should stay home until it's safe for them to be around others. In the home, anyone sick or infected should separate themselves from others by staying in a specific 'sick room' or area and using a separate bathroom (if available)," the CDC noted.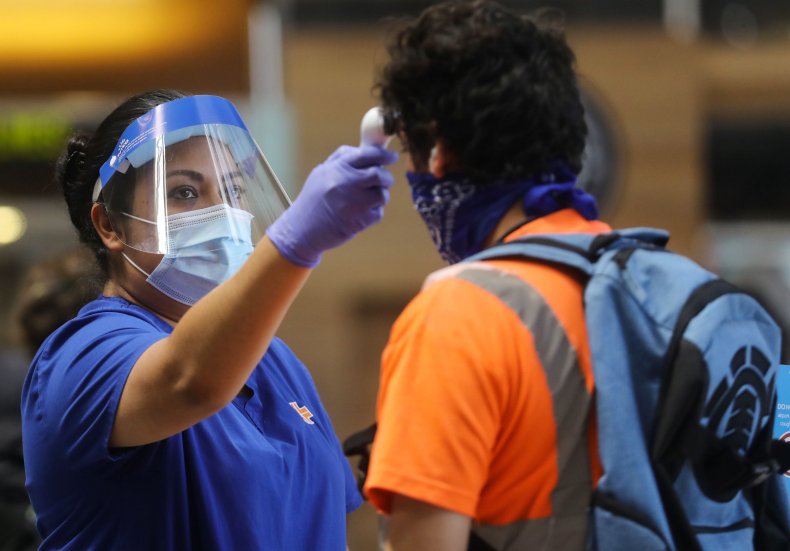 How do I self-isolate?
Those self-isolating should:
Monitor your symptoms and seek emergency medical care immediately if you experience any emergency warning signs including trouble breathing.
Remain in a separate room from other members of your household, where possible
Use a separate bathroom, if possible
Avoid contact with other household members and pets
Don't share personal items, such as cups, towels and utensils
Wear a face covering when you are around other people, if possible.
See the CDC website for more information on the best practices for those who need to self-quarantine or self-isolate.
The novel coronavirus, first reported in Wuhan, China, has spread to more than 11.8 million people across the globe, including over 2.9 million in the U.S. Over 6.4 million globally have reportedly recovered from infection, while over 544,900 have died, as of Wednesday, according to the latest figures from Johns Hopkins University.
The graphic below, provided by Statista, illustrates the spread of COVID-19 in the U.S.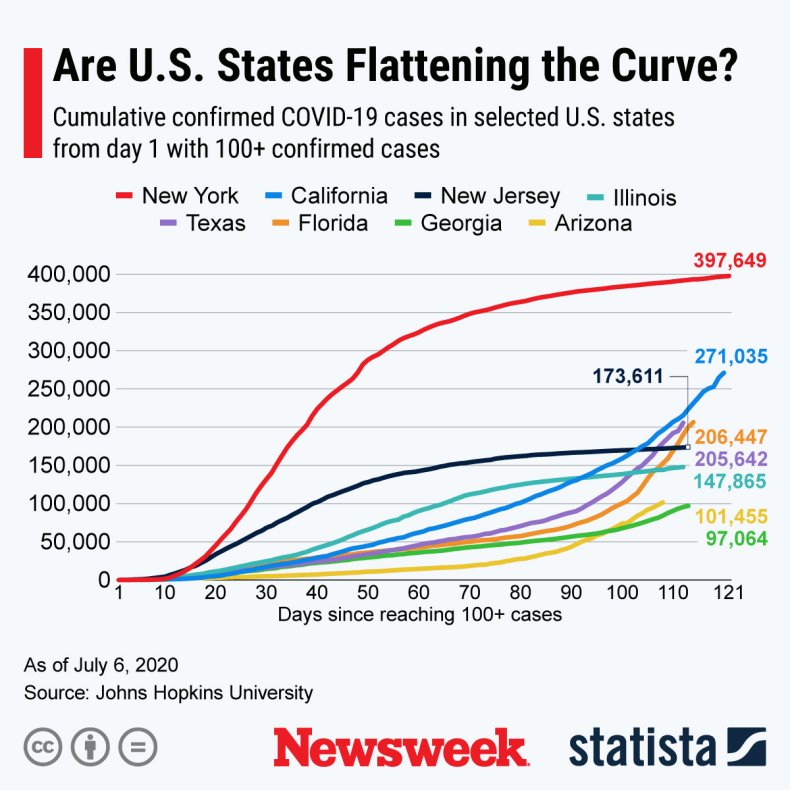 The graphic below, provided by Statista, illustrates countries with the most COVID-19 cases.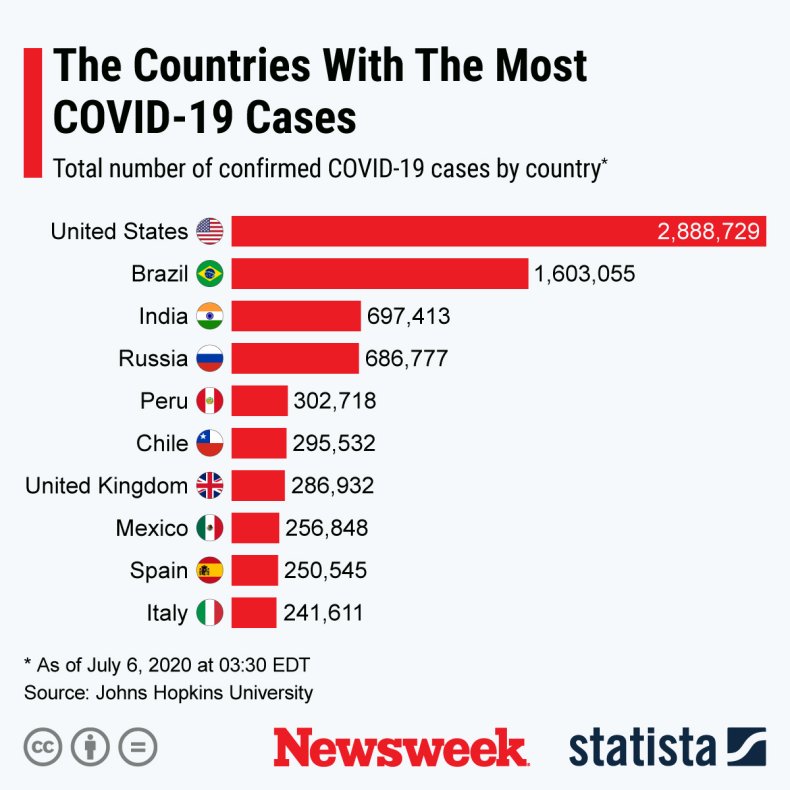 The graphic below, provided by Statista, illustrates the seven-day rolling average of new COVID-19 cases in the U.S. and European Union.