The Selfie As Art? One Gallery Thinks So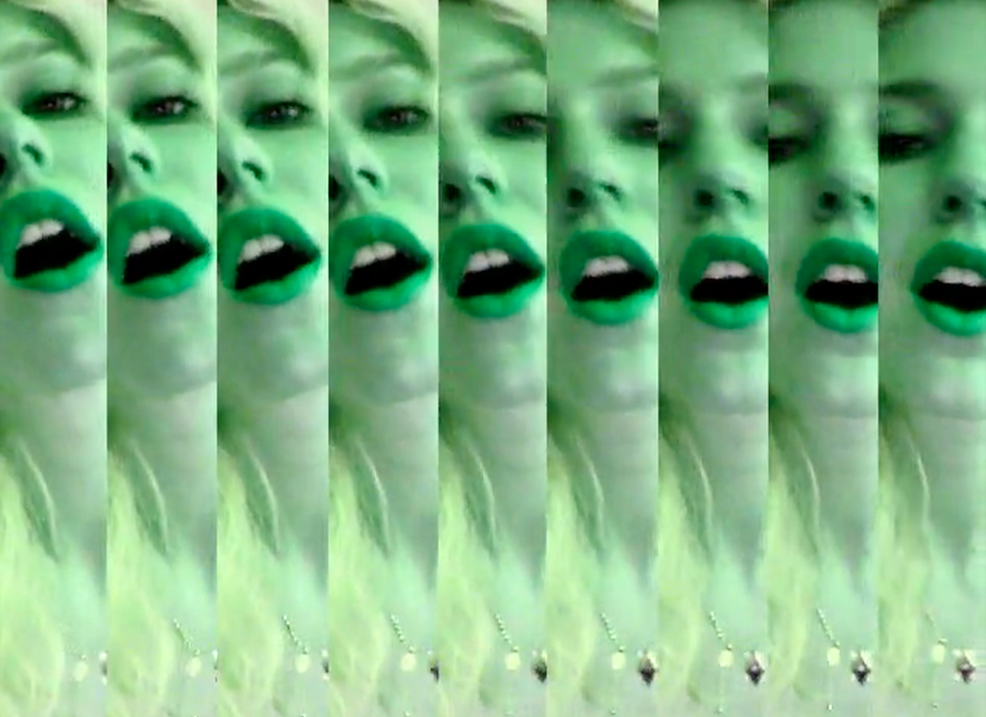 The self-portrait, once the intimate, creative and often trenchant expression of artists such as Vincent van Gogh, Gustave Courbet and Max Beckmann, has become an entirely new beast: the selfie. Carefully orchestrated — often featuring close-ups, side views, cleavage and backsides in a nearby mirror — it's a new form of, well, what? Bragging rights-meets-empowerment-meets-narcissistic-monomania? And now that smartphone cameras and 4G have democratized the selfie, everyone is doing it — from your child to Beyoncé to the Pope.
There may be an art to taking the selfie, but is the selfie itself art? This week, we have a reason to believe it might be.
Today, the National #Selfie Portrait Gallery opens at the Moving Image Art Fair in London. Its goal: to illuminate self-portraiture in the Internet age.
"The selfie is a language created by people taking selfie after selfie every single day," said co-curator Kyle Chayka. "We wanted to see what artists would make of that vernacular language."
Chayka, 24, and Marina Galperina, 26, commissioned 19 emerging artists from the United States and Europe to create short video selfies, each 30 seconds or less. Like deconstructed Vines and Instagram videos, the pieces are digital works of art that critique and challenge the selfie format. (View the trailer here.)
"If you take a selfie in Starbucks, you're not creating a work of art, but you are participating in a visual aesthetic and cultural phenomenon," Chayka told Newsweek. "We wanted to bring that mass phenomenon to an art context, to have artists create selfies because they are art — because they have the intention of being art from the beginning."
The National #Selfie Portrait Gallery comes three months after Instagram launched its video-sharing feature and eight months after Twitter announced its six-second video offering, Vine. (Chayka and Galperina's first collaboration, "Shortest Video Art Ever Sold" at Moving Image Art Fair New York 2013, featured 22 Vine videos created by various artists.) Over the past few years, Chayka and Galperina, both journalists covering technology and the arts, had noticed the growing popularity of selfies among pretty much everyone — the old, the young, the tech-savvy, and the dinosaurs.
"The selfie is seen as a widespread phenomenon, a populist phenomenon, so we wanted to present artists with the challenge of working in this restrictive format," Chayka told Newsweek.
Alexander Porter, one of the artists in the exhibit, turned images of his face into a 3D landscape, reflecting the inherent narcissism of the selfie. Jayson Musson (a.k.a. Hennessy Youngman) exposed the ridiculous process of taking a selfie in public by creating a video in which he struggles to shoot one while muttering about how he can't get it right. The gallery's videos, which stream on a continuous loop on two screens, are on sale for $500 during the duration of the art fair (it ends on October 20). Visitors are also encouraged to share their own selfies on Instagram and Vine using the hashtag #NationalSelfiePortraitGallery.
According to eBay Deals' "Sizing Up The Selfie Revolution," the concept of the #selfie first appeared in 2004 on Flickr but took almost 10 years to crack the mainstream consciousness. Today, Twitter and Instagram are the selfie's main petri dish. When it comes to celebrities, Miley Cyrus wins the crown for posting the most selfies out of the Top 100 celebs on Twitter; on Instagram, that honor goes to Kylie Jenner. A quick Instagram search this morning yielded 50,959,451 results for the hashtag #selfie and 173,221 results for #selfiesfordays (and that doesn't include the search results for #selfiemonday, #selfietuesday and so on).
As Kate Losse recently argued in the New Yorker, selfies in the pre-social media mid-2000s belonged to a "largely private genre." She writes: "From 2006 to 2009, the term 'MySpace pic' described an amateurish, flash-blinded self-portrait, often taken in front of a bathroom mirror. Self-portraits shot with cell phones, or 'selfies' — cheap-looking, evoking the MySpace era — became a sign of bad taste."
All that changed with the socialization of the web and advanced technologies of mobile devices.
"I think the selfie has to be considered art, accepting that not all art is great and some is very bad," Hugh Dornbush, founder of selfie.com, an anticipated start-up, told Newsweek. "But it's a deliberate act of self-expression. So far it's been easy to equate that self-expression with narcissism (which it often is), but the selfie is fundamentally a self-portrait using modern technology. And of course that is art."
The definition and purpose of art is constantly transforming. In Plato's world, art was an imitation of reality — a dangerous interpretation of nature that corrupted the public by provoking passion, inspiration, and action. In the 19th century, art emerged as an expression, a pure form, no longer duplicative. The 20th century marked a decline in objectivity and rise in subjective truth; art was whatever artists, the art world, and audiences said it was — rap music, comedy, dots on a canvas, even pornography. Today, the selfie is part of a world in which our public selves — the ones we showcase on the social web — are carefully articulated versions of who we choose to be on any given day, at any given moment. The selfie is the ultimate representation: the way we want the world to see us now. And that choreographed dance is itself an art form.
In November 1974, post-minimalist artist Lynda Benglis shocked the New York City art world by appearing nude in a now-infamous ad in Artforum. It was a pre-Internet, pre-social media selfie (albeit photographed by someone else). With her toned, tan body oiled up, her mouth parted and a pair of white sunglasses perched on her nose, she posed with her legs parted and back arched, a gigantic, double-headed dildo protruding from beneath her trimmed pubic hair. If the barometer for selfie as art is knowingly inspiring, surprising or disturbing the public with a stylized self-image, then Benglis was doing it long before new technology launched today's glut of Internet self-portraiture. Her photo may have been an advertisement, but in its publication, it became a work of art.
Whether or not the National #Selfie Portrait Gallery's 19 artists can accomplish that same feat has yet to be seen. In the meantime, we are left to make sense of the seemingly endless stream of average Jane and John selfies, not to mention an onslaught of celebrity offerings, most of which have become so familiar in their self-exposure that even Kim Kardashian's latest offering falls somewhat flat.