More People Die Taking Selfies Than by Shark Attacks
"Selfiecides" account for more than five times the number of fatalities, and the numbers are only rising.
Selfies gone wrong account for more fatalities than shark attacks, a new study reveals.
According to a report in the Journal of Family Medicine and Primary Care in India, 259 people died in 137 selfie-related accidents between 2011 and 2017, compared to just 50 people killed by sharks.
Though 259 deaths over seven years doesn't sound like a lot, selfie-related fatalities are on the rise: In 2011, there were only three, but by 2017, the number of selfie-related deaths approached 100.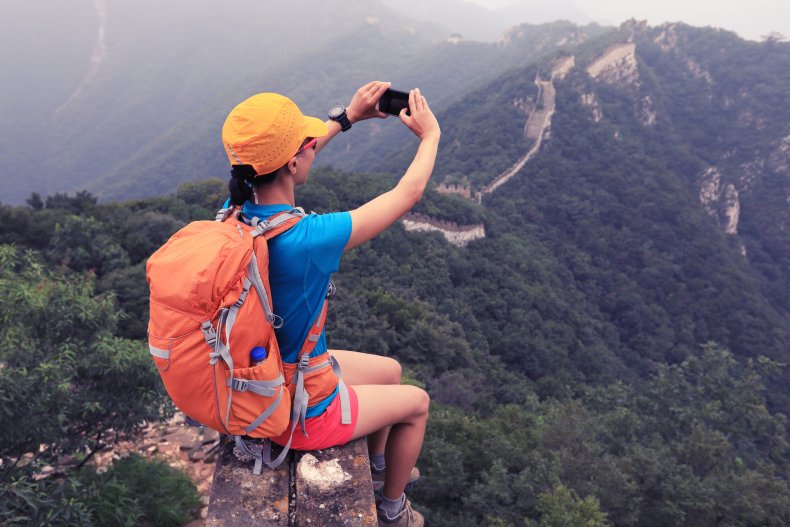 The situation has even generated its own label: Selfiecide.
Earlier this year, Gigi Wu, the Instagrammer known as "Bikini Hiker," died of hypothermia after falling into a ravine while hiking up Yushan Mountain in Taiwan. Wu was known for posing on mountain summits in a swimsuit.
Last October, Indian couple Vishnu and Minaxi Moorthy fell to their deaths trying to take a selfie at Taft Overlook at Yosemite National Park. The couple's Instagram account, "Holidays and Happily Ever Afters," which had more than 25,000 followers, often showed them in dangerous situations.
Just a month earlier, Israeli teen Tomer Frankfurter fell from another Yosemite peak, Nevada Fall.
According to the study, conducted by researchers at the Indian teaching hospitals group AIIMS, the typical victim of "selfiecide" is a male and in his early 20s. A majority are from India, with smaller percentages from Russia, the United States and Pakistan. Most deaths are caused by drowning, being hit by vehicles or—as in the case of Wu, Frankfurter and the Moorthys—falling. Other causes include posing with loaded weapons, with wild animals or while driving.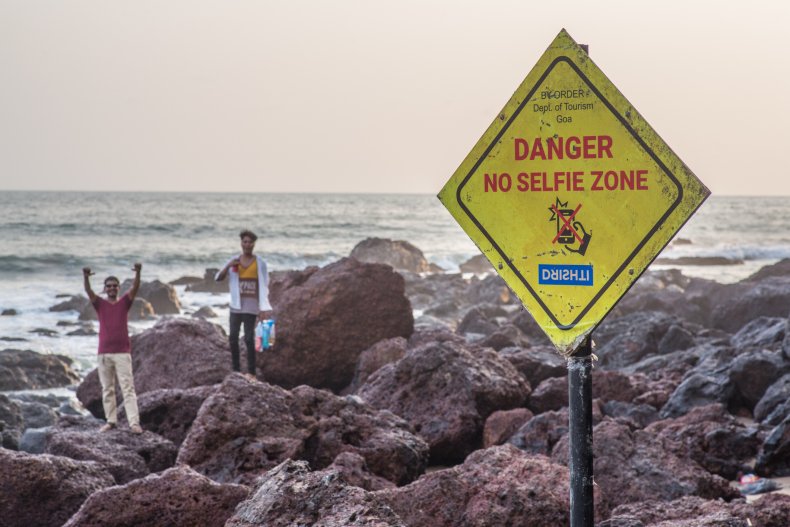 While the report shows most deaths were the result of "risky behavior," not every selfiecide was by a wannabe daredevil. Some were from fluke accidents, like drowning after being hit by a wave.
The authors of the study call for local governments to declare "no selfie zones" in dangerous areas, like mountain peaks and atop tall buildings. In Mumbai, there are already 16 such zones, but insiders say they're widely ignored. After the 2015 death of Eri Yuanto, who fell into the crater of Mt. Merapi in Indonesia, a place for "safe selfies" was established approximately one kilometer from the Merapi's peak.
Researchers say their findings are "just the tip of iceberg."
"Certain deaths due to selfies may be reported as traffic accidents or other [things], which leads to underreporting of a large number of cases."
Ponnurangam Kumaraguru, an IT professor at Carnegie Mellon, has developed an app to address what he sees as a growing problem: Called Saftie, it houses a database of some 7,000 spots around the world deemed dangerous to take selfies.
Saftie will also alert users when they are standing close to a precipice or water.