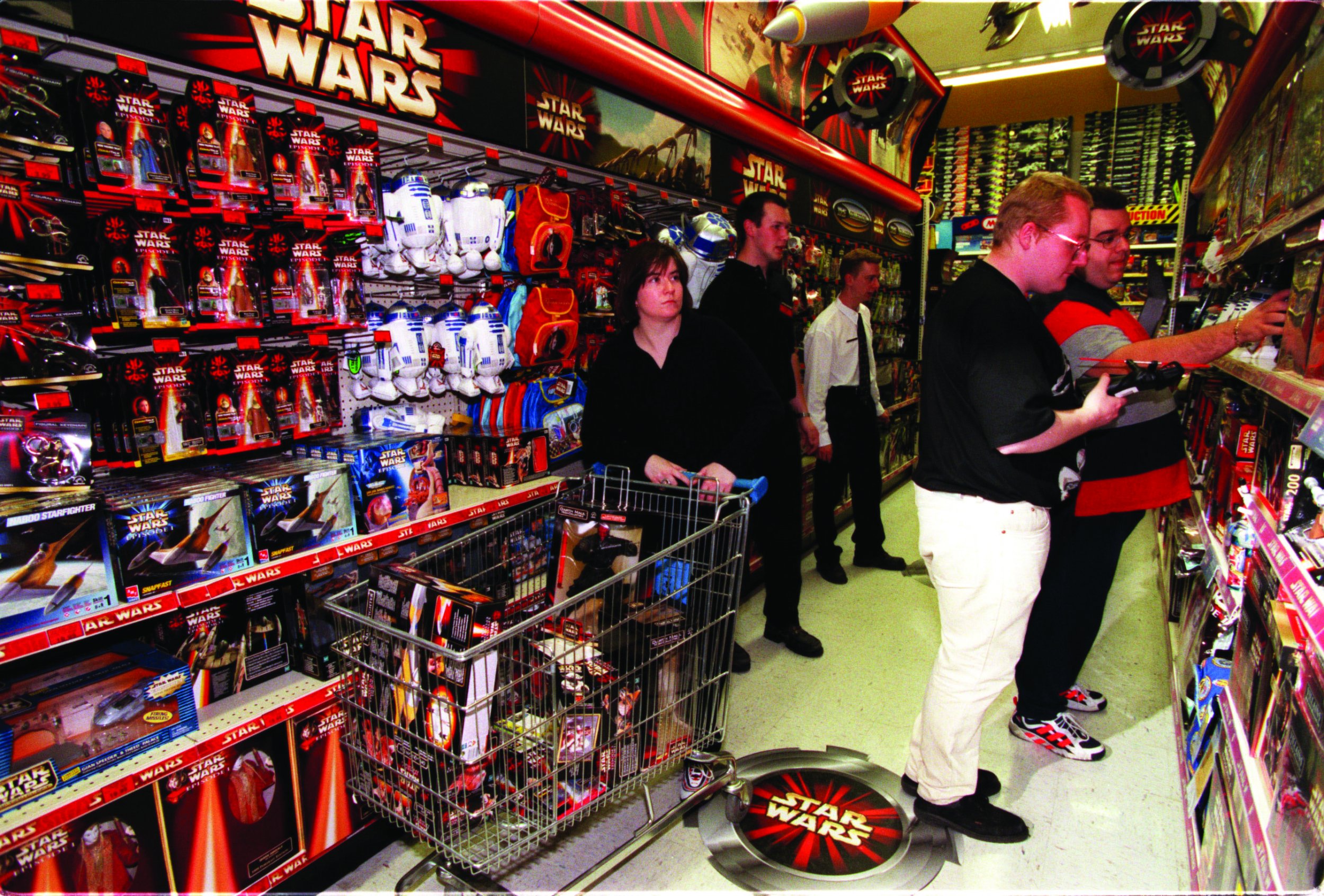 In 1999, Newsweek explored how George Lucas orchestrated the biggest movie-marketing campaign of all time to make Phantom a must-see. This article is from the May 7, 1999 issue of Newsweek, and is also excerpted from a Newsweek Special Edition, Star Wars—The Legacy that Lead to The Force Awakens.
By George! Score another triumph of hype for the empire known as Lucasfilm Ltd. and its billionaire emperor, George Lucas. It's one in a series of PR bonanzas that have made The Phantom Menace the most anticipated entertainment event since they introduced lions to the Roman Colosseum. Box-office lines forming, toy stores emptying, a dozen magazines running cover stories—what a deal! Lucas has achieved the trilogy of movie marketing—galaxies of free publicity, rivers of revenue from toys and other merchandise Lucasfilm didn't have to make itself and enough fast-food vendibles to make even Ronald McDonald lose his lunch. Best of all, the media, merchandisers and advertisers have been willing participants in the hype. Apart from maintaining a website, printing posters and producing trailers, Lucas hasn't had to spend a dime himself this spring. The audience for Episode I is selling the movie to itself, and the rest of us have wound up colluding. "George understands business," says his ex-wife Marcia Lucas, who was one of the editors for the first Star Wars.
"The marketing is all orchestrated by [Lucas], 100 percent," says Alan Ladd Jr., the former head of Fox who approved the original Star Wars. "All the materials, all the trailers were thought out years ago." The Lucasonians haven't had to manufacture interest—they've simply worked to control it. Last November, the two-minute trailer for Phantom Menace outdrew full-length movies. Vanity Fair's February issue, featuring some of the cast on the cover, became its fifth bestselling ever. When Ballantine's $25-hardcover novelization of the movie went on sale last week, the book was already at the top of some bestseller lists due to advance orders. One estimate has it that two million employees will skip work to see the movie on opening day, May 19, thereby costing U.S. employers $293 million—which is about what you'd have to spend to get every object Lucasfilm is licensing.
The buzz was not always thus. Cleopatra, Fantasia, Godzilla—no movie has ever been so able to make itself a cultural or media happening. And no piece of entertainment property has been so salivated after by lunchbox and toothbrush manufacturers the world over—can't miss out on another Titanic (the movie, not the cruise). Twenty-two years ago, when the first Star Wars was released, "licensed merchandise" wasn't part of the lexicon, unless you counted Dr. Cornelius action figures from Planet of the Apes. But in 1976, with Star Wars over budget and a studio jittery about a kids' space opera, Lucas made a legendary deal: He'd give up half his directing fees in return for all sequels, as well as merchandising rights. The three Star Wars films themselves have made a pretty $1.5 billion at the box office; by contrast, all the toys, video games and T-shirts have pulled in more than three times that. Merchandising analysts say Phantom booty, from the Queen Amidala bicycle helmet to Darth Maul's Sith Infiltrator made out of LEGO, could produce billions more. All the strategizing, all the internecine media wrangling, all the money about to change hands—you'd think it were a presidential campaign under way. Does it all suggest that Phantomania has gotten out of hand? Don't be silly. We wouldn't fall for that—and we put the movie on the cover, too.
This article is excerpted from a Newsweek Special Edition, Star Wars—The Legacy that Lead to The Force Awakens, by Issue Editor Tim Baker.