'Selling Sunset': Christine Says She Had Coronavirus on Her Wedding Day
Selling Sunset Season 3 is full of plenty of drama, but one of the show's biggest developments happened offscreen on the Netflix show during Christine Quinn's wedding. In the lead up to her nuptials, Christine says she had felt sick, leading her fellow employees at the Oppenheim Group to wonder whether she could be pregnant.
However, according to Christine, she had in fact contracted the coronavirus while traveling. Speaking on the Goss.ie Instagram channel, the realtor said: "I was really, really sick on my wedding day. I actually had what I now know is corona.
"I got really sick in late December and we were traveling, and I was sick for about a month when we were filming. I couldn't even have a bachelorette party. I was so bummed about that because I was so sick."
If Christine did contract COVID-19 in December 2019, she was one of the first people to have caught it in the United States. The first case was officially diagnosed on January 19, 2020, and was a 35-year-old man who had actually visited Wuhan, where the virus is believed to have originated.
However, it is thought that the coronavirus was in the United States in December 2019. Two people in Washington state tested positive for Covid-19 antibodies after falling ill over the holiday period, and nearly one million people flew between the U.S. and Wuhan between the first emergence of the virus in China in November and that end of January.
All it would take is for Christine to show one house to one international businessman who had visited China for her to contract the virus.
Whatever illness Christine had, her wedding planner has said she caught it off of her. Lisa Lafferty told Page Six: "I got sick literally right after the wedding was over. I went to the urgent care and I had influenza, but I didn't test for corona because it wasn't even a thing at the time."
Christine is not the only member of the Selling Sunset cast to have been affected by the coronavirus. The realtor told Grazia that filming on Season 4 of the show has been delayed due to the virus. She said: "I think we're definitely going to get picked up [for Season 4]. But everything has been set back due to COVID.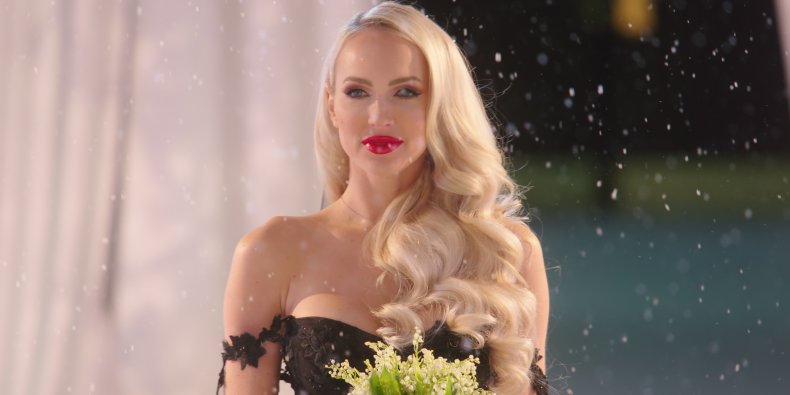 "We're going to shoot next year, now, I'm hearing. We have such a big production, there's so many people on our crew. I don't think we'd be filming this year."
Christine and her husband were also due to travel after finishing wrapped on the show in March, but COVID-19 put an end to those plans. She told Metro.co.uk: "We wrapped up in March with interviews and I thought we were going to be traveling the world, obviously that's not happening right now. Miss Rona had different plans, that's okay."
Selling Sunset Seasons 1 to 3 are streaming now on Netflix.