Here's Why 'Selling Sunset' Fans 'Hate' Davina Potratz
If Davina Potratz wasn't already the big bad wolf of Netflix's Selling Sunset, then she certainly proved herself to be during the third season of the reality series. And her behavior hasn't won her any favor with fans, especially in regards to her treatment of castmate Chrishell Stause.
Already having engaged in spats with Stause throughout seasons 1 and 2 of the show, Potratz marked herself as Stause's number-one enemy when she questioned the reasons behind her colleague's sudden divorce from This Is Us star Justin Hartley.
Everyone at the Oppenheim Group was shocked when they stumbled upon the news of Stause's divorce on the internet during season 3, which was released on July 31. A heartbroken Stause appeared to be totally blindsided by the demise of her marriage, and she was completely devastated when her ex-husband told her of his decision to leave their marriage via text.
While many of her castmates, including close friends and co-workers Mary Fitzgerald and Amanza Smith, showered Stause with support, Potratz and fellow real estate mean girl Christine Quinn went on to suggest that there was no way Stause could not have known that Hartley wanted out, noting that there are "two sides" to every story and Hartley's deserved to be considered.
Dozens of Selling Sunset fans found Potratz and Quinn's lack of support alone infuriating, but nothing ticked them off more than Potratz's constant berating of Stause about her divorce during Quinn's wedding during the third season's finale episode.
Titled, "A Not So White Wedding," the episode finds the ladies of the Oppenheim group sitting together at Quinn's reception when the topic of Us Weekly's interview with Heather Rae Young and her fiancé, Tarek El Moussa, comes up. Although most of the interview was based on the couple's life together, the story that ran was about the way Young was supporting Stause during her divorce. In the episode, an understanding Stause explained that the press was vying for information about her divorce from any and everyone, and noted that she was not upset with Young over the interview.
The women double down on their support of Stause, while Potratz ruffles feathers with her apprehensions. "I'm not backing anybody up here, but I'm just saying everyone has their own side in every situation, right," Potratz said, adding that they didn't "know any details" to validate Stause's version of what went down between her and Hartley.
"Literally, I know zero. I know nothing," Potratz said. "Chrishell, to be fair, obviously Justin has his own side, right?"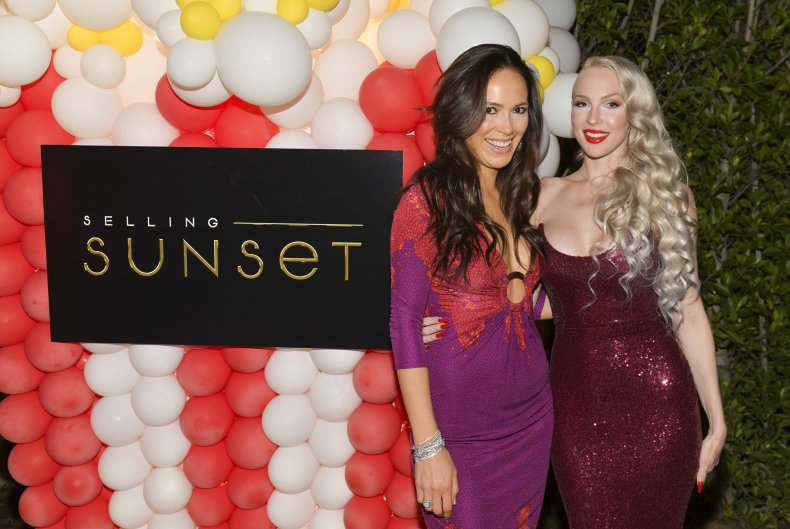 The interrogation leads Stause to leave the wedding abruptly, while on social media, the scene triggered fans' wrath against Potratz. Droves of people who felt that her behavior at Quinn's wedding was inappropriate and insensitive shared their hatred of Potratz online, and many of them deemed Potratz the least likable cast member on the show.
"Who is the least favorite character on #SellingSunset and why is it Davina," one fan wrote on Twitter on Saturday.
Another wrote: "I have never HATED anyone more than Davina from Selling Sunset."
Some fans disliked Potratz so much that they suggested that she deserved to be booted off the reality series.
"If you could get rid of any of the agents from Selling Sunset, why would you choose Davina?" asked one Twitter user.
Another fan argued that Potratz's behavior in the season 3 finale was more than enough to warrant her exit.
"Ok Selling Sunset, time to get rid of Davina. Her personality is terrible, her attitude is trash and her storyline is boring as f**k. For her to sit there and be that disrespectful to Chrishell [in front] of everyone, at Christine's wedding of all places was absolutely disgusting," a fan tweeted.
Perhaps no one ssummed up the reason for all the ire against Potratz better than Fitzgerald's husband, Romain Bonnett, who—following the season 3 finale blow up—candidly proclaimed: "That girl. She's like a f**king snake."
Newsweek reached out to a rep for Potratz for comment, but did not hear back in time for publication.