'Selling Sunset' on Netflix: The $75 Million House is Still For Sale
The Selling Sunset ladies are always doing deals on multi-million properties, but one sale has so far proved elusive. Towards the start of Season 3 of the Netflix show, Davina Potratz asks Christine Quinn for help in selling a $75 million house in Beverly Hills which has been on the market for a number of months. Many clients and much of the Oppenheim Group think the house, owned by Turkish property mogul Amarta Sen, is overpriced, and want to sell it for $60 million.
Selling Sunset Season 3 was filmed in fall 2019, and now nearly a year later, the house is still for sale—and still on offer for $75 million.
The house, at 1021 N. Beverly Drive, is currently still for sale on The Oppenheim Group website. The listing for the property reveals that the house, built over an acre of land, has a seven-bed, 10-bath main residence as well as a two-bed, two-bathroom guesthouse. The property also has both indoor and outdoor kitchens, his and hers walk-in closets, movie theatre, gym, wine cellar, and what the listing calls "one of Beverly Hill's biggest and most stunning pools."
The Los Angeles Times article about the property (which is mentioned in Selling Sunset Season 3) also mentions that the property has a glass elevator as well as "ribboned marble [and] glittering chandeliers."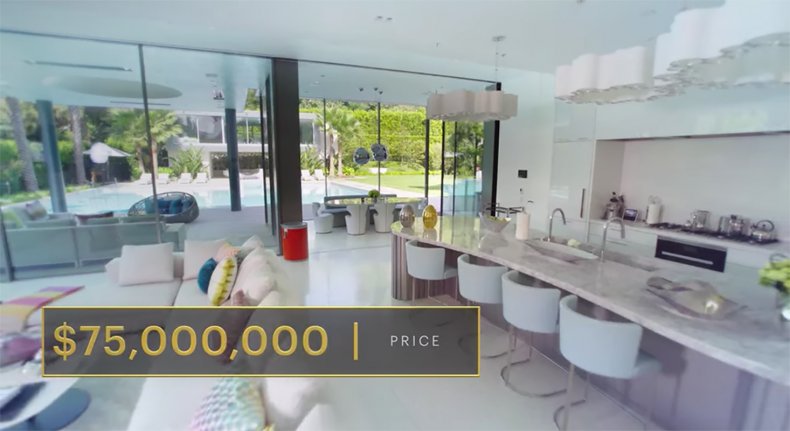 Speaking to Screen Rant, Davina says of the listing: "Do I know [the listing] is over priced? Absolutely. Is Adnan a really nice guy and not as scary as he seems on the show? A hundred percent."
In this interview, she also criticizes boss Jason Oppenheim, who we see try to make Davina give up the listing in Selling Sunset Season 3. She said: "Jason talks so much smack about how it's embarrassing, but the listing is number two on his website. He seems very proud of it, so why would you promote it if it was embarrassing?"
She also said that she thinks Sen will accept a lower offer: "If he gets an offer at 50 million I think he would consider it. He doesn't want to admit it to me that 'yeah I know maybe 75 is too much."
The property is currently the most expensive property listed on the real estate company's site, and if sold would be the highest sale ever made on the Netflix show. If Davina is able to sell it, it would beat the record set on the show by Jason Oppenheim, who at the start of Season 3 revealed he had sold the $40 million Hollywood Hills property from Season 2.
Per Variety, the property was bought for $35.5 million by Tom Bilyeu, the co-founders of food company Quest nutrition.