'Selling Sunset' Power Ranking: Who Comes Out on Top on Season 4?
Selling Sunset Season 4 is streaming now on Netflix, and it gives reality TV fans a lot of what they love about the show. Someone storming out of their own dog's birthday party? Check. Endless fights about certain people not getting invites to certain parties? Check. Work colleagues being way too invested in each other's personal lives? Big check.
As this season introduces two new realtors to the cast, it is harder than ever for any particular Oppenheim Group employee to get screen time. Cast members react to this in different ways: Some make every outfit a visual event, while other seem intent on milking every last drop of drama out of even the most minor events – all while wearing five-inch heels on some of the most dangerously shiny floors ever captured on television.
With this in mind, here's our very subjective guide to who makes the most out of Selling Sunset 4 – and whose time on the show has fallen out of escrow.
11. Brett Oppenheim
This might be twin blindness, but it seems like Brett is barely in Season 4. Obviously, someone had to focus on the actual work of running the realtors rather than just having conversations about drama in a selection of shiny houses.
10. Emma Hernan
One of the two new cast members for Season 4, Emma Hernan has the bad luck to look like if you put all the Selling Sunset cast members in an algorithm and asked it to spit out a new realtor. She also is unable to define herself on her own terms in her first season, seeming to exist solely as a foil to Christine.
9. Heather Rae El Moussa
Heather's wedding provides this season its finale, and hopefully for her that means she got a big Netflix check for her dream day. However, she may have also been too busy planning that wedding to provide the drama you need to have a big presence on the show.
8. Davina Potratz
In a few interviews, Christine Quinn has spoken about how she gave Davina Potratz advice after the first season about how to pop on the show. This advice seems to have been to wear as much Chanel as possible in every single scene. And though we need to applaud someone who wears an actual gown to a simple coffee meeting, it has made her somewhat into a mini-Christine, but without the demon Barbie quality that makes her so compelling on screen.
7. Jason Oppenheim
If Selling Sunset was a sitcom, Jason would be the put-upon dad, just trying to watch the big game in his favorite chair while keeping any sort of authority over his house of daughters. Watching this man forced into endless conversations about petty squabbles he clearly does not care out will never not be entertaining. He loses points, however, for his tight t-shirts – we get it, Jason, you have arm muscles.
6. Mary Fitzgerald
It is hard not to feel for Mary in Selling Sunset Season 4, as she is clearly sad that this whole reality TV experiment has robbed her of her friendship with Christine. However, existential despair over the passage of time and the loss of friends just does not make that compelling TV. She gets bonus points for storming out of the dog birthday party (what a sentence), but also loses them for putting up with Romain's alpha-male posturing so much.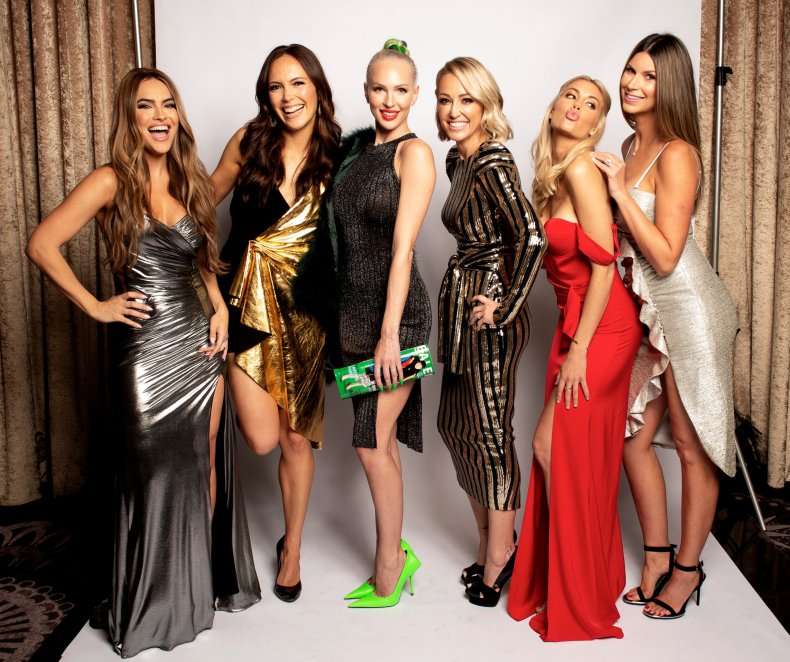 5. Chrishell Stause
In fairytale terms, Chrishell is the princess to Christine's evil queen. One cannot exist without the other. However, Chrishell seems to be missing one vital element that makes someone a great reality TV cast member – the ability to let things go. With so much drama happening every episode on the show, there's only so many times we can see her getting hung up on things said seasons ago.
4. Vanessa Villela
The second new cast members for Season 4, Vanessa Villela has been a welcome addition to the show. With every bridge seemingly burned between team Chrishell and team Christine, some brave soul had to be the go-between, and who better than a woman whose years on Mexican soap opera's have given her great reaction GIF potential.
3. Maya Vander
Every reality TV show needs one cast member who seems totally above the whole thing, and in Selling Sunset its Maya Vander. When she is not flying off to Miami to do some actual business or having a baby, she is looking with total bemusement at whoever is sharing their latest drama.
2. Amanza Smith
The biggest problem of Selling Sunset Season 4 is that Amanza's actual issues with the father of her children make all the petty drama the other women are obsessing over seem even more inconsequential than they already are. None of that, however, is Amanza's fault, and she often brings a goofy humour to the show that makes any scene she is in better. In a world of impossibly glamorous woman, Amanza is all of us, and we have to stan.
1. Christine Quinn
Who else could be number one but Christine, the woman who manages to get a mention in nearly every scene of Season 4 – even if she was not even working at the Oppenheim Group for most of that time. Pitching herself on the show somewhere between Elle Woods and Hannibal Lector, every look in an event, and every action seems weapon-tooled to make drama. Sure, this might make her a nightmare for every other cast member on the show, but there could not be a show without her.
Selling Sunset Seasons 1 to 4 are streaming now on Netflix.