Fans of Selling Sunset have been hoping for new episodes for more than a year. Now, at last, the wait is almost over. Season 4 of the reality TV show will delve deeper into the private and professional lives of realtors working at the Oppenheim Group in Los Angeles. Newsweek has everything you need to know about Selling Sunset Season 4, including release date, cast, episode count, trailer and more.
When Is 'Selling Sunset' Season 4 Out?
Selling Sunset Season 4 will land on screens on Wednesday, November 24.
There is more good news for fans of the realtor reality show: it will return for a fifth season in the near future.
To watch Selling Sunset Season 4, you can subscribe to Netflix for $8.99 per month.
How Many Episodes Are in 'Selling Sunset' Season 4?
The new season is expected to have eight episodes, just like the previous three.
Along the way, fans will see more of the professional lives of the agents working at the Oppenheim Group and the incredible properties they do (or don't) sell.
There will also be plenty more personal drama, as the show explores the private lives of LA's most famous real estate agents.
Who Will Star in 'Selling Sunset' Season 4?
Chrishell Stause, Christine Quinn and co are back for the fourth season of Selling Sunset.
Alongside fan favorites Stause and Quinn, twin brothers Jason and Brett Oppenheim, Mary Fitzgerald, Romain Bonnet, Heather Rae Young, Amanza Smith, Maya Vander and Davina Potratz will all return.
A lot has happened since Season 3 aired in August 2020. In May this year, Quinn and her husband Christian Richard welcomed a baby son.
Two months later, Stause and Jason Oppenheim—yes, as in her boss Jason Oppenheim—went public with their relationship.
Season 4 will also show the wedding of Young and her fiancé Tarek El Moussa, which provides plenty of drama.
On October 21, in an Instagram post about Season 4, Vander also revealed that she is pregnant.
She captioned her post: "Yes!!! Excited to announce that Selling Sunset season 4 is coming out on Thanksgiving weekend!! "Get ready for more Drama, sexy homes. And yes, I'm pregnant again."
Some new faces will join the cast of Selling Sunset for Season 4—notably Vanessa Villela and Emma Hernan.
Villela is a Mexican-American actress, best known for roles in El Señor de Los Cielos and Una Maid en Manhattan. She is also a swimwear designer.
Hernan is a former model who is a "self-made multi-millionaire." She is also the CEO of food company Emma-Leigh & co.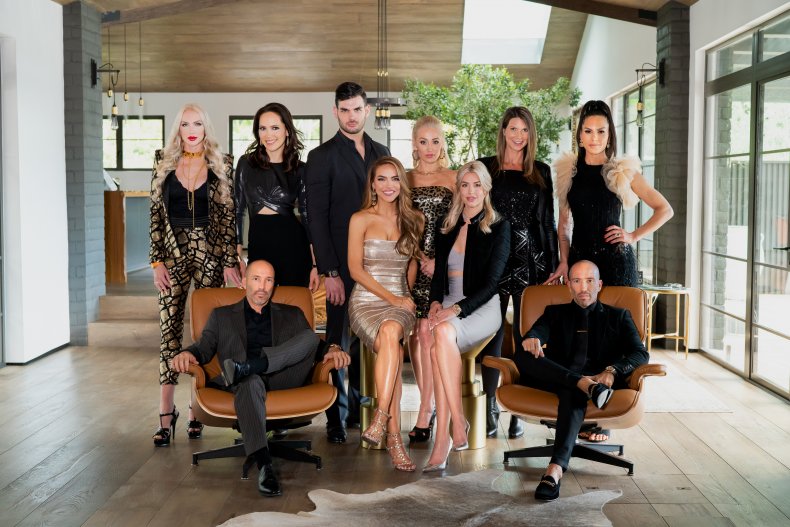 There is also good news for fans of Davina Potratz. She quit the Oppenheim Group after Season 3, confirming in an interview with People magazine that she was joining a rival real estate company in Beverly Hills.
She said: "I'm really excited to be a part of Douglas Elliman and their very sophisticated and global new development division.
"My background is in new development sales and marketing, so this is just a wonderful opportunity for me. It's just very in tune with my skills."
Even though she now works for the competition, Potratz is listed as returning for Season 4 of Selling Sunset, which is sure to stir up a whole load of drama.
Fans will have to wait just a little longer to see it unfold.
Is There a Trailer for 'Selling Sunset' Season 4?
There is no trailer for Selling Sunset Season 4—yet. A trailer is likely to drop ahead of the launch on November 24.
In the meantime, you can relive the drama and gasp at the incredible properties by re-watching the first three seasons of Selling Sunset on Netflix.
Selling Sunset Season 4 premieres Wednesday, November 24, on Netflix.