'Selling Sunset' Star Maya Vander Hopes Season 4 Includes Her Selling Miami
After binge-watching the third season of Netflix's hit reality show Selling Sunset, there's only one thing on fans' minds: How on Earth does Maya Vander manage to avoid her castmates' catty shenanigans?
The series follows the real estate agents at Los Angeles' glitzy brokerage, The Oppenheim Group, but the show's biggest selling point is all the drama and petty bickering displayed episode after episode by the women of the cast, particularly between Christine Quinn, Chrishell Stause, Mary Fitzgerald and Davina Potratz.
It's honestly anyone's guess how (or when) they actually sell luxury houses when they're so busy fighting with one another over what nosey questions newbie Chrishell may have asked about someone else's relationship or Christine's constant bullying.
And yet, Vander somehow always escapes the drama unscathed, never having to choose sides, never as deeply entangled in the pettiness as her counterparts.
Credit it to her personality, which she told Newsweek has always led her to "stay as neutral as possible."
"I'm very direct and I'm very honest. I don't want to insult anyone and say something that might be taken out of context and make me sound like the bad guy, so I try to be careful and get along with all of the women," she said during a recent phone interview.
There's also the fact that Vander is servicing buyers in Los Angeles and Miami, where her family lives. Traveling back-and-forth between states and raising two children keeps her entirely too busy to keep up with the daily chaos unraveling back at the West Hollywood office that serves as the home-base of the show.
If it were up to Selling Sunset fans, that's something they'd get to see much more of come Season 4.
Netflix hasn't officially confirmed the fourth season just yet—although recently Quinn hinted at an upcoming "juiciest season ever" and Vander isn't quite sure exactly what her role on the show, if at all, will be should Selling Sunset get the green light to begin filming again.
But if there are new episodes on the horizon, giving fans a glimpse into Vander selling Miami is something she thinks is worth considering.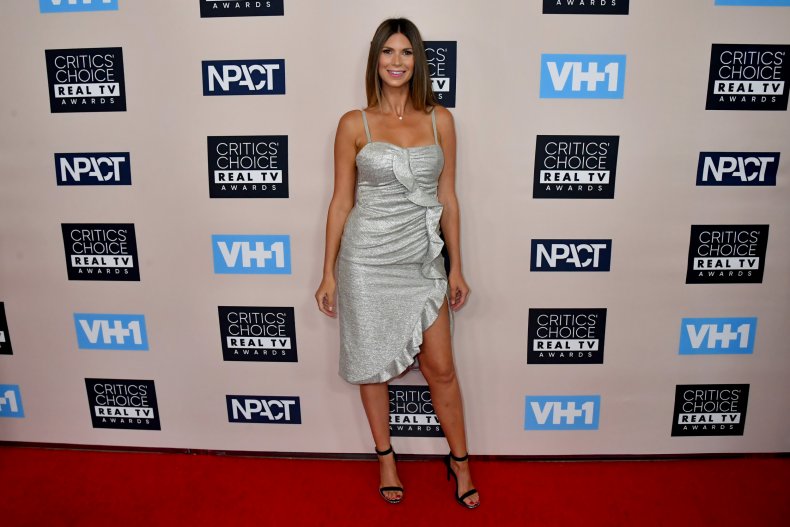 How have you been doing considering everything that's been going on with the pandemic?
[My family is] good. We stayed in Miami. We're practicing social distancing. We see people here and there, but we're trying to social distance and just be safe because we have two babies. I've been home, working from home and trying to balance these two babies with work. Thankfully I closed a few during the pandemic so I'm very fortunate.
You had your daughter early on when everyone was quarantining?
Yes, three months ago with the mask and everything. It was fun. Insane.
How has your son adjusted to life as a big brother?
He tries to smack her in the head actually [laughs]. He's not very gentle. Boys will be boys. But I don't think he understands what's happening. He's 16 months. He's adorable and he's very active. School was supposed to start in four days. They decided they are going to open up in October, so we decided to enroll him for then. It's a very small school and the teachers are being very cautious. We're really hoping for the best because he needs stimulation. It's hard to keep him entertained. Hopefully, [coronavirus] cases will be trending down by October.
Have you been to the office in LA at all?
No, the last time I was in L.A. was in February. I'm working with a few potential clients that actually want to buy in L.A., so I might have to hop on a plane just for a day or two to do a showing and meet them. We're all still being careful about traveling and all of that, but I might have to go.
Have you kept in touch with your castmates?
Yea, we talk all the time. We talk on the phone, we're always exchanging messages. We're all really excited because Season 3 has really been killing it. A lot of people started watching Season 1 and 2 again. So it's been insane. We knew it was going to be a lot of fun and an entertaining show, but I think the scale of the success right now is more than we expected.
People on social media have dubbed you as the drama-free queen of the show. How do you manage to avoid all the drama your castmates constantly find themselves in?
Thank God I do, because I don't want to be Team Christine or Team Chrishell. I like them both and I get along with both so I don't want to be in the middle of them. I try to stay as neutral as possible. I've known these girls for a long time. Besides Chrishell and Davina, who came right before we started filming, I've known Mary and Christine for five or six years now. So I try to stay neutral.
In Season 3 you mentioned that you were studying for your broker's license. Are you still pursuing that?
You have to take an online test and if you pass with 70 percent you can move forward with the broker's license exam, and I failed by one point. So I have to do it again, but I am studying for it. It's been very tough, very hectic because I have the newborn and my son, and we don't have any help. I'm a full-time mom and I'm trying to get business going. So I haven't been paying as much attention to getting my broker's license right now. I don't know if I'm going to open my own brokerage. It's a goal, it's definitely on my mind. Maybe I can find a way to collaborate with Jason [Oppenheim] somehow because he's amazing at marketing, but it's still all very early.
Is obtaining a broker's license more challenging than when you were studying to become a realtor?
It is hard. I will say getting the realtor's license was actually the easy part, but getting the clients and closing deals—that's the hard part. It took me like 19 months to close my first deal, and it was a very small condo and I had to split it with another agent because we were working together. It takes time. There are months when I'm not closing anything because the buyers are not ready or the sellers are getting cold feet, whatever the reason. It's a great business when you can gain consistency. It's not an easy business like you would think from the show. We're not closing deals over a phone call in a cute dress. It takes more than that.
You asked Jason about possibly opening a branch of the Oppenheim Group in Miami back on Season 3 and he seemed way more interested in real estate in New York. Do you think Miami is more of an option now considering the pandemic and the influx of people leaving New York and looking for more space?
Jason is actually already a licensed broker in New York but he hasn't set up an office and all that stuff. He loves New York. I think New York is still great. People are leaving the city, but then there's a possibility that will mean more people will want to buy because what about five, six years from now? New York will always be New York, even when the market crashes. But there are plenty of sexy houses here in Miami, and I think they fit very well with the Oppenheim Group branding. I would love to discuss it with him. We don't need a fancy office. We could just do the marketing, but Jason likes to go all in. Starting a branch here would be a big investment on his part. So I don't know if that's going to happen soon. If we pick up a Season 4 it would be cool to shoot a little bit of [what I'm doing here] in Miami. I know some fans will love to see it, but we'll see what happens.
Chrishell posted an Instagram photo with some of the girls celebrating something. Is there a chance that was related to a possible Season 4?
Yea, I saw that too. I was looking like, 'Wait a minute! Do they know something I don't know?' But I asked Jason, and he said that it had nothing to do with the show. It was something that had to do with one of the girls' personal life. I don't know what's next for the show. I don't know if they'll still want me in the show. They know I'm in Miami obviously, if I need to make a trip to film a scene or two I'll do it but it has to make sense for me as well.
What's your response to the people who have watched the show and made comments suggesting you guys aren't real realtors?
I saw Chrissy Teigen tweet something about that. I was very excited that she actually watched the show. I thought it was cool. Not everyone on the show was fortunate enough to close a house, so maybe that's why she [doesn't know] us. My personal thing is that I'm going back and forth from Miami to L.A., so you're not going to see me at many open houses [in L.A.]. Oddly enough, I actually just sold a house on the same street she and John Legend bought a house on. I'm proud of my real estate career. True sometimes it's tough for me, it's tough for all of us. That's the nature of the business. But I think every criticism is a blessing because it means people are watching the show. I hope we can inspire people and enjoy the success. It's amazing to even be a part of it.
How do you balance everything that you have going on with being a real estate agent, a wife, mom and make time for the show?
I try to do it all. I try to cook. I try to clean. Every day I'm checking to see what needs to be done. And when the kids are napping, I'm checking in with my clients and doing follow-ups. Do I need to clear out my inboxes or post something on social media for the show? I'm very good at scheduling my priorities. When the kids go to sleep, which is usually around 8 p.m., then I can really focus on my emails, and if I need to, send a contract or photo op.
What advice do you have for people who may be interested in breaking into real estate?
I would say first have some money saved up because you don't know how long it may take to close your first deal. Also find ways to potentially work with another agent, even if it is as an assistant. Shadow an agent and learn the business, because nobody's going to give you any training. But always make sure that you're backed up financially for at least one year because it takes time.
'Selling Sunset' Star Maya Vander Hopes Season 4 Includes Her Selling Miami | Culture