Selma Blair Shares Unseen Photos From 'Legally Blonde' Set
Legally Blonde is 20 years old. The cult classic film first premiered two decades ago, spawning sequels and musicals with quotes that have been firmly embedded in the hearts of fans ever since.
The 2001 hit propelled Reese Witherspoon into superstardom for her iconic role as Elle Woods, the ditsy sorority airhead turned Harvard law graduate.
The film has earned cult success as an unlikely feminist classic that subverted stereotypes and celebrated femininity in its many different forms.
Joining Witherspoon in the movie as rival turned friend was Selma Blair as Vivian Kensington.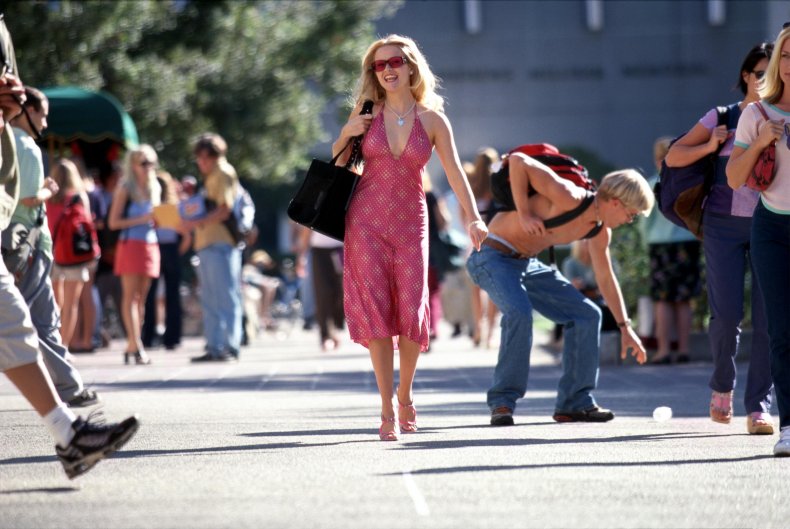 To celebrate Legally Blonde's anniversary, Blair has shared a number of photos she took from her time on set.
Taking to Instagram, the actress told fans that she carried a "tiny vintage camera" to capture memories from filming.
"This was a time before cameras on phones. I walked around with a tiny vintage camera but never remembered to take many. I was too busy hanging out with Matt Davis talking in my trailer, or watching Reese work," she wrote.
In the moving caption, Blair spoke about making "lifetime friends" with the other cast members.
"I made lifetime friends," she said. "Fell on my face impersonating Billy Elliot. Right after the group shot. Where I am standing on my toes. Trying to be taller. While Reese was inside... on set working. Making Elle Woods. I love you all."
The photos show Blair, Witherspoon and some other cast members including Victor Garber, Matthew Davis and Meredith Scott Lynn.
Meanwhile, Elle Woods herself, Witherspoon also shared a tribute to the film on its 20th anniversary, celebrating the "joy" the movie has brought her over the years.
"Omigod you guys ....#LegallyBlonde premiered 20 years ago TODAY! Time flies when you're busy using legal jargon in your every day life," she wrote. "But truly... playing Elle Woods was the role of a life time and I'm so honored to have been a part of sharing her story with you all."
The Big Little Lies star added: "Every meme, graduation cap, musical number, halloween costume and bend & snap has brought me so much JOY over these past two decades! 💕 I wonder... what will Elle do next?"
She also shared some behind the scenes snaps courtesy of MGM Studios that feature more cast members including Luke Wilson, Holland Taylor and Jennifer Coolidge,
Legally Blonde fans are now gearing up for a third film set for release in May 2022.
Comedian Mindy Kaling helmed the script and has spoken about bringing Elle Woods into the 2020s.
"Elle Woods is such an iconic character and so loved," Kaling told Elle Magazine. "Ordinarily, I think I would actually not find that really fun to do because the expectations are set. But because we haven't seen the character in 18 years, I was excited. We know what Elle was like when she was 21, 22 years old.
"But what about when she's 42? That character, so innocent and girly, what is she like when she's dealing with adult problems and is an adult woman? She's not a little girl anymore."