Semiprivate Flying on JSX is Your Best Travel Hack
When COVID grounded most of us last year, travel halted and soon lingered as a faint aftertaste. Getting away for business or leisure was soon an idea that needed to be put on hold. But now, a burst of vaccinations in spring 2021 has made that idea of visiting vibrant locations more practical again. This new world still brings new considerations, however. What was secondary before has now become top of mind: How can we safely get to where we want to go?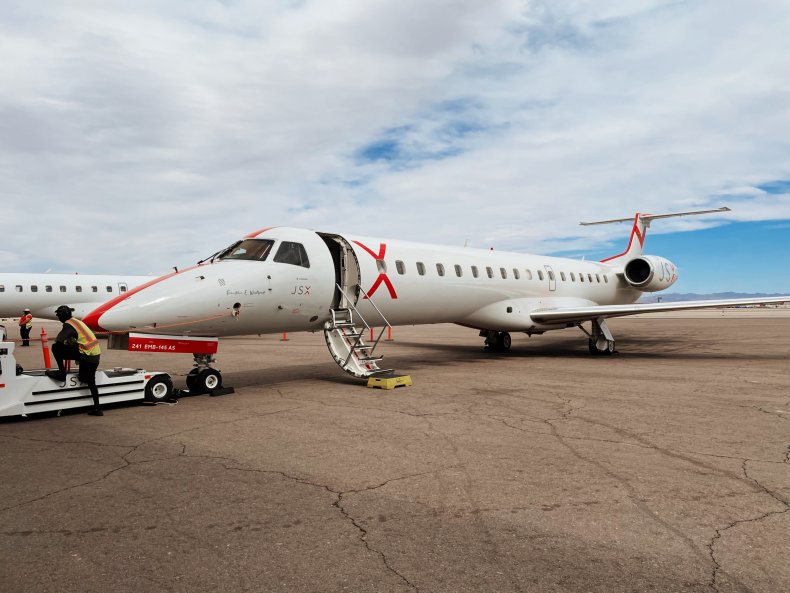 JSX has been operating its semiprivate jet service for five years but has never been more relevant than it is right now. In having played the long game, it could be poised to explode in popularity as people and families look for alternative methods of travel to flying commercial or long drives.
In a phone call, JSX CEO Alex Wilcox told me that their business model of focusing on smaller crowds has turned out to be convenient for operating during a pandemic.
"We hit the high notes of what's important to customers, and we really want to be more convenient than driving," said Wilcox. "In the last 20 years, it's become much harder to fly in markets under 500 miles, and people want to fly short-haul but don't want to spend 90 minutes or more at the airport. That's the opportunity we're focusing on."
JSX features smaller planes with 30 seats, which naturally limits crowds and affords space for a first-class experience throughout the cabin. It also operates out of private terminals that only require arriving about 20 minutes prior to a flight. The kicker is that flying JSX could be described as affordable without any hint of sarcasm. A one-way ticket from Burbank, California, to Phoenix, Arizona, averages around $200 but can ranges between $99 and $500 depending on the day you want to leave.
There are a few caveats around the low price. Tickets with more restrictions get a lower price than nonrestrictive ones. The conditions aren't unreasonable with the largest being whether a refund would be given as a future credit versus back to the original payment source. Less expensive tickets also have a $50 fee for changing or canceling a flight and only get two checked bags instead of three. Even at the more flexible full ticket price, JSX vastly undercuts some other semiprivate jet options.
JSX's proposition and prices all seem a little too good to be true. I had to see if flying on the jet service was as affordably luxurious as it was made out to be. The airline has a new route from San Diego to Las Vegas, so I gave it a spin.
From the Coast to the Strip
Driving from San Diego to Las Vegas on the I-15 Highway will take you about five hours with no traffic. It's a fine way to spend a day if you have the time. JSX's new nonstop San Diego to Las Vegas route clocks in around 45 minutes. As I was being dropped off at the far side of the San Diego International Airport, I had my eye on the clock. While traveling by air to Las Vegas is a much faster way to cross the desert, the act of flying is not always fast.
It can be hard to guess whether security lines will take 10 minutes or an hour. Just in case, it's always a good idea to arrive with plenty of time. That just means normal flying consumes more time. JSX avoids TSA lines and really leans into its hop-on jet service messaging. It advises arriving only 20 minutes before a flight. My experience mostly mirrored this.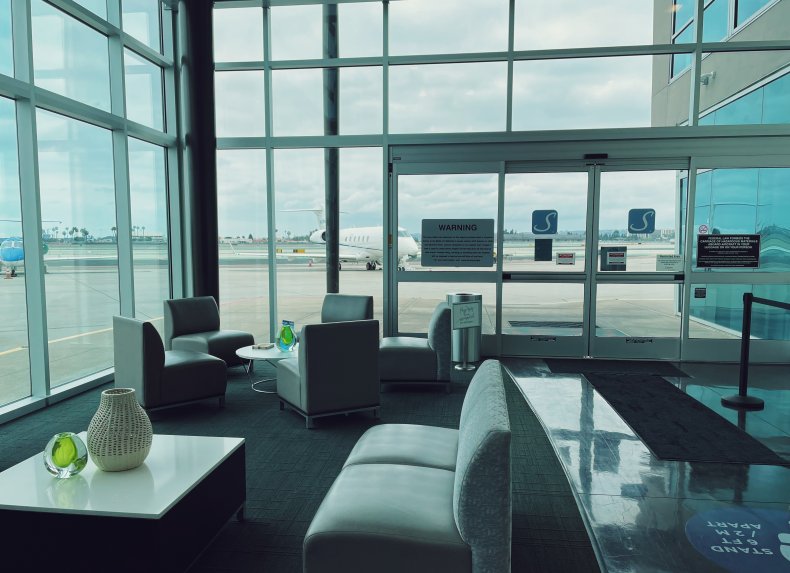 After arriving at the terminal's front door, I checked my bag and was waiting in the lounge within minutes. Boarding even happened a few minutes later than scheduled, but it still didn't impact the on-time arrival time in Las Vegas. Having smaller crowds definitely allows for more nimble operations when weather or unavoidable conditions come into play.
Like other semiprivate jet services, you still get the unique opportunity to stride a few yards across the tarmac and board the plane walking up a few easy steps—the same experience as those paying tens of thousands of dollars in private hangars around you.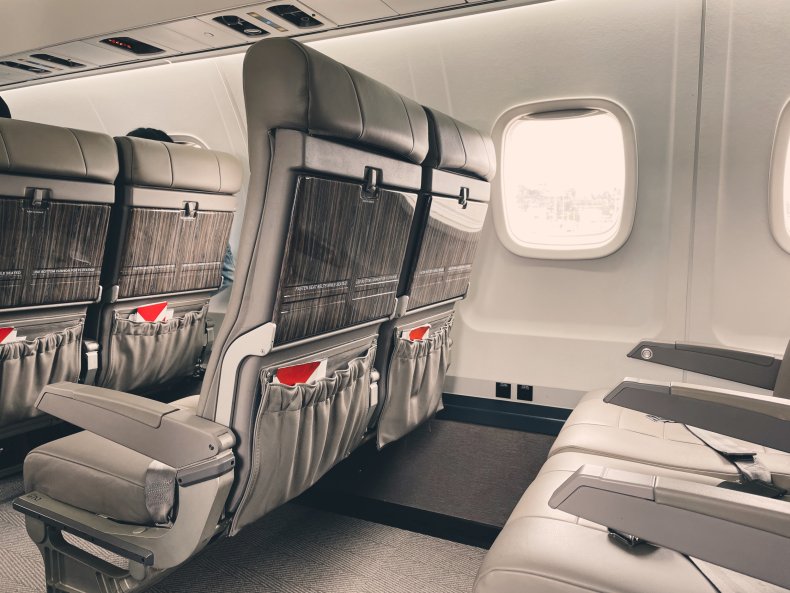 JSX planes feature a two-by-one seating configuration in which there are two seats on one side of the aisle and one on the other. Personally, I love this layout. It's easy to stack couples and families by twos, but it's also great for the solo traveler. I sat on the single chair side, getting an aisle and window seat in one, with legroom that was spacious and premium.
If you live in California and need to get around the state, JSX has a wide variety of options. It flies to several airports near Los Angeles, such as Hollywood Burbank, Los Angeles International and Orange Country. The same is true for the Bay Area, with Oakland and Napa. Plus, you'll be able to get to Reno-Tahoe, Las Vegas, Phoenix and even Dallas and Houston. The East Coast and transcontinental flights are left out for now, in keeping with JSX's focus on making short-haul trips much more convenient.
San Diego to Las Vegas is one of the newest nonstop flights. Future destinations will become available over time, as well. I'm told the airline plans to reach 2,200 flights across 24 markets by August 2021.
Drinks and snacks were complimentary on the plane. There was a single electrical outlet for my seat and two available across the aisle where there were two seats. Best of all, there was free Wi-Fi. Unfortunately, the Wi-Fi was an anomaly. The return flight didn't have Wi-Fi, and so when I inquired about it, I found out only one of the 23 airplanes is currently testing it at the moment. The good news is that Wi-Fi of some sort will be coming to more planes.
Overall, the plane wasn't glitzy or glamorous, but it was clean and very well kept—something that's not always a guaranteed flying commercial. Anything more might feel superfluous, especially when the flight is barely long enough for the flight attendant to offer everyone a drink and snack.
What Happens in Las Vegas...
As the flight touched down in Las Vegas, I could overhear people a few rows behind me talking about how they would never fly commercial to Las Vegas again. They were mentioning all the benefits of the private terminal and commenting on having our checked luggage set out next to the jet, to be picked up as we deplaned. I couldn't disagree with any of the points they were making.
Like other airlines, JSX has hotel partnerships. In Las Vegas, those include Aria, Vdara and Bellagio—MGM properties. Unlike other partnerships, though, there are some specific incentives to booking the flight and hotel through JSX. There's a daily $25 food and beverage credit, along with a potential complimentary room upgrade (subject to availability).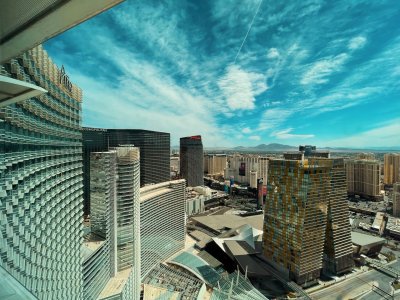 I stayed at the Aria Sky Suites. It's an impressive place to find yourself, and it lets its magnificence be known throughout the property. As such, when I entered the room, the curtains were triggered to open automatically and display the view of the Las Vegas Strip below.
My particular room was not huge, but it was well put together and offered a panoramic view of all the lights at night and desert mountains during the day. In terms of safety precautions, the hotel, like all of Las Vegas, was enforcing the need to wear masks on premises. From what I saw, this guideline was being followed.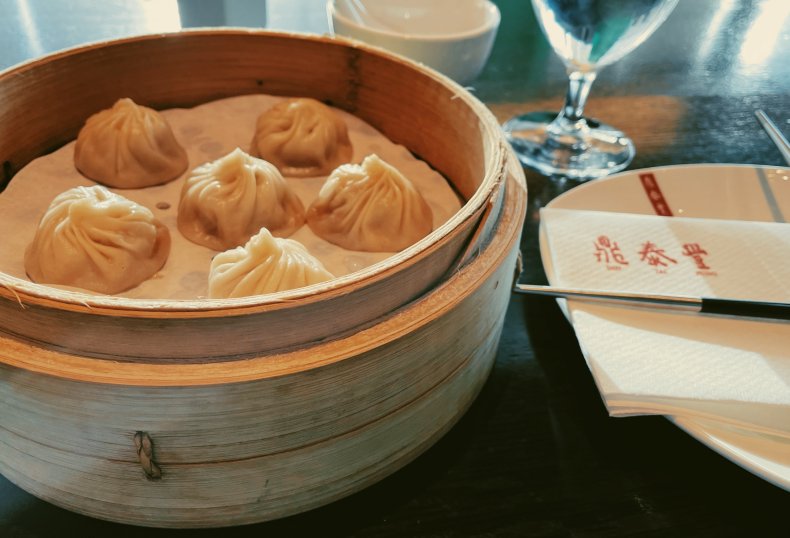 The dining options on-site at the Aria were extensive and ranged from Burger Lounge, for premium fast food, to Jean Georges Steakhouse. There were places for all types of cuisines. One night I had dinner at the newly opened Din Tai Fung, a popular Taiwanese dumpling and noodle house. The food was sublime. So much in fact, that I'm still thinking about their spicy wontons.
Should You Fly JSX?
Flying to and from the cities that JSX services is a very easy decision. Not only does it provide faster and more private travel, but it could also even be cheaper than a Southwest flight, depending on where and when you want to fly.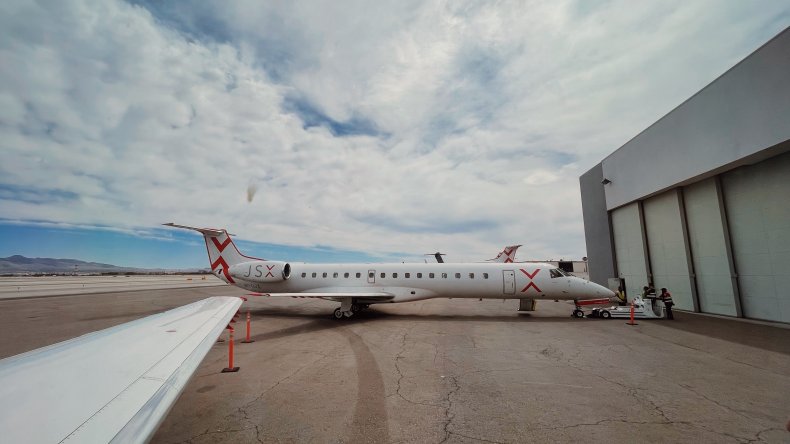 Chances are, flying JSX will even be more enjoyable than any commercial flight could be, too. CEO Alex Wilcox told me the company has really focused on improving its Net Promoter Score (NPS) over the past five years. It employs the industry-standard survey to work on meeting customers' needs and in doing so has a NPS of around 90 compared to the airline industry's 38, on average.
In short, JSX is absolutely worth flying. The price for convenience is almost too good of a value proposition. Discovering JSX feels a bit like finding a video game cheat code or a shopping discount code that's never advertised, but never stays a secret forever. I think the secret of flying semiprivate is about to be out of the bag.
Newsweek may earn a commission from links on this page, but we only recommend products we back. We participate in various affiliate marketing programs, which means we may get paid commissions on editorially chosen products purchased through our links to retailer sites.