Sen. Amy Klobuchar Outlines Plan That Sidesteps 'Medicare for All,' During CNN Town Hall
Senator Amy Klobuchar kick-started a series of CNN Town Halls Monday night, responding to a range of questions from New England college students. She took verbal jabs at President Donald Trump, said Secretary of Education Betsy DeVos "shouldn't be in her job" and weighed in on whether frozen pizza should be served in schools.
The Minnesota Democrat also explained why she doesn't support a Medicare for all health care plan, which several of her presidential primary opponents have pushed on the campaign trail.
When a student asked her which country the United States should emulate when it comes to health care, she said she wouldn't narrow it to any one particular country, because she believed the U.S. could become a leader.
"I think our country can be the best if we make some changes," Klobuchar said. "But there are some models we can look at that combine what we've got with making things better."
Klobuchar said she would keep the Affordable Care Act—also called Obamacare—and bring down premiums. She said she would continue to work to "bring down the cost of prescription drugs" and "bring in less-expensive drugs from Canada.
"The first thing I would do is bring back that public option idea that's been floating around...that gives you a choice," she said. "You can do it with Medicaid, you can do it with Medicare. So that you have a less-expensive option to pick from. The other thing I would do is to bring down the cost of pharmaceuticals."
She said there needed to be competition to bring down Medicare prices as well.
"That'll bring down the prices for everyone," the senator noted.
When asked specifically why she doesn't sponsor Medicare for all, she told the audience, "I have been out front taking on the pharmaceutical companies to bring down costs. I want to get to universal health care, and I want to get there fast."
Without diving too deep into specifics, Klobuchar said cost-sharing and providing more public options were the way to bring down health care costs without foraying into Medicare for all.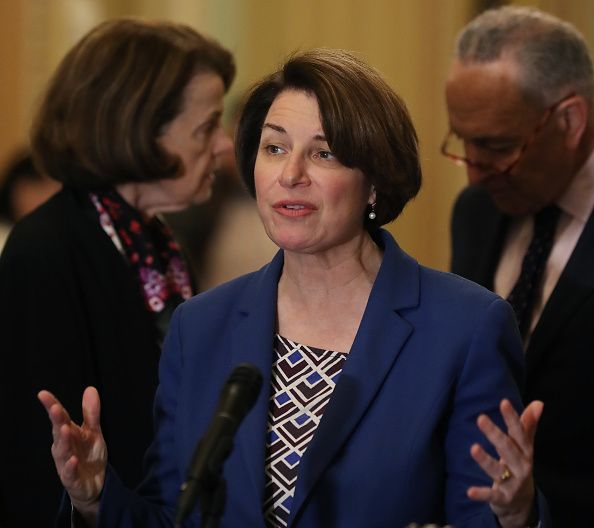 Sen. Amy Klobuchar Outlines Plan That Sidesteps 'Medicare for All,' During CNN Town Hall | U.S.