Sen. Bill Cassidy Says Trump Will Not Be 2024 Nominee as Liz Cheney Dumped as No. 3 Republican
Senator Bill Cassidy (R-La.) insisted that former President Donald Trump would not be the 2024 Republican nominee for president after Rep. Liz Cheney (R-Wyo.) was ousted from her role in GOP leadership on Wednesday.
Cassidy, one of seven Republican senators who voted to convict Trump for inciting the January 6 Capitol riot, made the remarks during an interview with Fox News host Brian Kilmeade. Cassidy bluntly said that Trump was "not going to be our nominee" after Kilmeade asked whether he would vote for the former president if he became the party nominee for 2024.
Kilmeade also asked if Cassidy agreed with Cheney's remarks after she was removed as House Republican Conference chair, when she promised to do everything in her power "to ensure that the former president never again gets anywhere near the Oval Office." Cassidy did not directly answer but said that Trump's time in the White House had been marked the GOP's "track record of losing."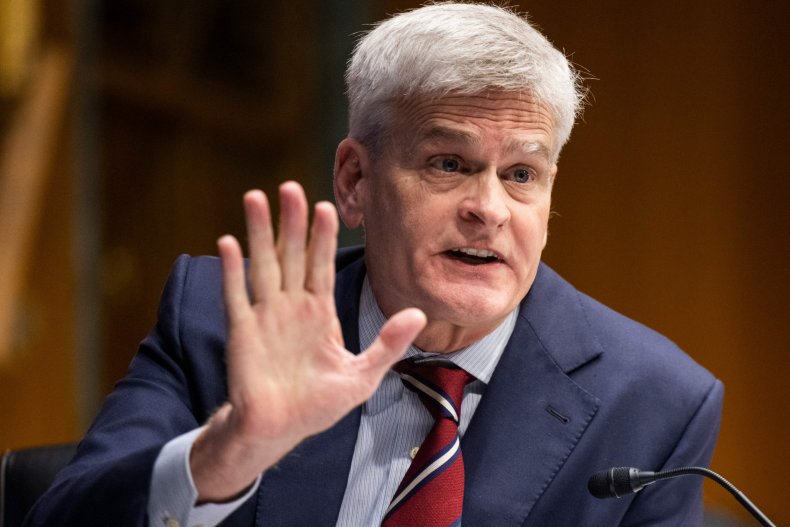 "As regards to the president returning to power, he lost," Cassidy said. "We lost the House, we lost the Senate, we lost the presidency in four years. Hasn't happened since Herbert Hoover. Parties and elections are about winning. And so, if you just want to brass tacks it, we need to win. We can see that voters in swing districts did not swing for the Republican Party, they swang away."
"I supported the president's policies," he added. "I was all on board, one of the senators that voted with him most often. But parties are about winning and, unfortunately, over the last four years we had a track record of losing. We need to win going forward."
Kilmeade then noted that Trump had received "more votes than anyone else in the history of the Republican party" during the 2020 election. President Joe Biden won 81.2 million votes, while Trump won 74.2 million. Kilmeade argued that Republicans had done better than expected and would have kept control of the Senate "if it wasn't for the ridiculous actions of the president and others in Georgia."
"Close only counts in horseshoes and hand grenades, you've got to win," Cassidy replied. "And a lot of the folks we lost in Georgia are really Republican voters. And it's kind of widely conceded, as you just did, that the president's actions were responsible for us to lose Georgia. Republicans are about winning."
"If we're going to win, we can't say, 'Oh my gosh, we got more votes than anybody else in Republican history, but 7 million less than the Democrats,'" continued Cassidy. "That 7 million is the difference between Biden's policies and our policies. We've got to be 7 million ahead, not 7 million behind."
Newsweek reached out to Trump's office for comment.