Sen. Chuck Grassley Calls on Joe Biden to Condemn 'Violence/Looting/Arson' in Oregon
Sen. Chuck Grassley (R-Iowa) on Thursday urged President Joe Biden to condemn violence and property damage at recent demonstrations taking place in Portland and Seattle.
"I'm waiting for Pres Biden to condemn violence/looting/arson last two days in Oregon & Washington state," Grassley tweeted.
Far-left protesters, some associated with the anti-fascist "Antifa" movement, took to the streets in the largest cities of both states during the first day of Biden's presidency on Wednesday.
However, there is little reason to believe that Biden would support the protests even if they were entirely peaceful; the groups were marching in opposition to the new president, carrying banners and spreading messages denouncing both him and Vice President Kamala Harris. Videos of the Portland protest posted to social media showed a group shouting "F*** Joe Biden" while marching.
"We don't want Biden. We want revenge for police murders, imperialist wars, and fascist massacres," a banner that the Portland group was marching under read, according to Reuters. About 150 protesters went on to allegedly vandalize a Democratic Party headquarters building and fight with police officers on bicycles, while an Immigration and Customs Enforcement (ICE) building was vandalized with graffiti.
In Seattle, an ICE building was also vandalized, as were multiple businesses including a building containing an AmazonGo store. Protesters could be heard denouncing both Biden and former President Donald Trump and three arrests were made, for property damage, burglary and one assault, according to The Seattle Times. The Wall Street Journal reported that police photos show an anarchist symbol and the words "Skin Biden + Kopmala" spray painted on the AmazonGo building.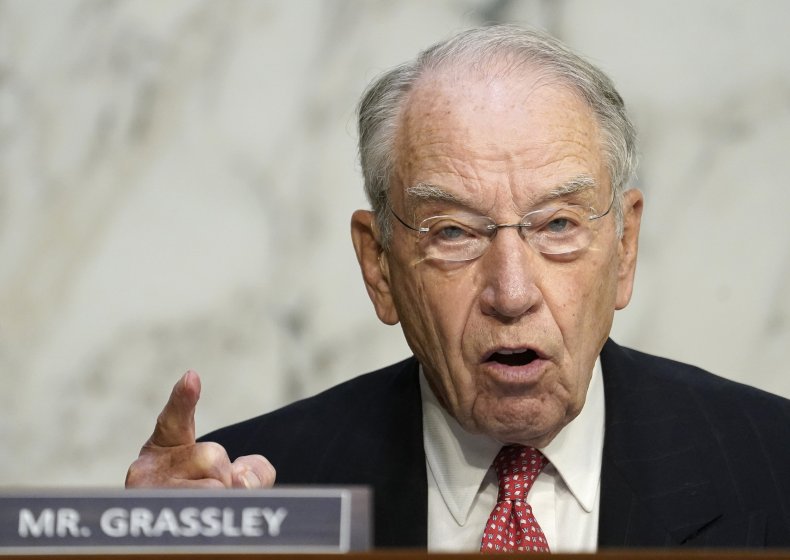 Some Republicans have been quick to highlight violence from those associated with the political left in response to Democrats condemning the January 6 U.S. Capitol riots. At least five people died when an angry mob of Trump supporters violently breached the Capitol in a failed attempt to force Congress to disregard the will of the voters and overturn Biden's election victory.
Massive protests against racial injustice and police brutality erupted throughout the country last summer following the May 25 police killing of George Floyd. Although most of the protests were peaceful, some violence did occur and property damage was not uncommon. However, there is no record of any prominent Democrat approving of the violence, and most key figures explicitly condemned it.
"Protesting such brutality is right and necessary," Biden said in a statement issued in late May. "It's an utterly American response. But burning down communities and needless destruction is not. Violence that endangers lives is not. Violence that guts and shutters businesses that serve the community is not."
Biden has gone on to denounce violence perpetrated by those on both ends of the political spectrum multiple times since then, despite memes shared in far-right social media circles falsely claiming that he has selectively ignored violence from far-left.
Newsweek reached out to the White House for comment.